Coca-Cola is the largest beverage company in the world with 4 of the world's top 5 sparkling (carbonated) beverages: Coca-Cola, Diet Coke, Fanta, & Sprite.
Coca-Cola also owns the following brands: Dasani, Minute Maid, Powerade, Simply Orange, Vitamin Water, Smart Water, Honest Tea, NOS Energy Drink, and Odwalla (among many more).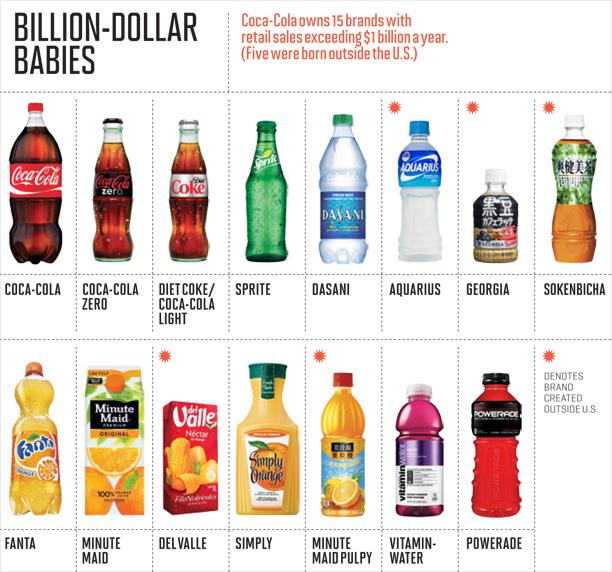 Source: Muhtar Kent's New Coke
Coca-Cola beverages are enjoyed in over 200 countries, with 1.9 billion servings consumed every day.
Investors in Coca-Cola benefit from the relative stability of the beverage industry. The slow changing nature of the beverage industry allows Coca-Cola to plow its cash flow into dividends, share repurchases, and advertising instead of research and development. Coca-Cola is a cash cow with a strong competitive advantage.
Valuation
Coca-Cola is fairly valued in relation to its peer group. Coca-Cola, PepsiCo, National Beverage Corp., and Soda Stream International all have a P/E ratio of approximately 20. Doctor Pepper/Snapple has the lowest P/E in the industry at 17.57, and Monster has the highest (due to rapid growth) at 34.88.
Peer valuation
Coca-Cola's average P/E ratio over the last 10 years has been 18.76. It currently trades at about a 7% premium to its historical valuation.
Based on Coca-Cola's peer group and historical valuation Coca-Cola is either fairly valued or trades at a very slight premium to fair value.
Growth
Coca-Cola grew constant-currency revenues by 3% in 2013. The Coca-Cola 2020 vision requires they grow revenues by 3% to 4% per year. Coca-Cola looks to achieve this goal through growth in their core brands, growth in developing markets, and strategic partnerships like their deal with Green Mountain (NASDAQ:GMCR).
Coca-Cola announced they will purchase 10% of Green Mountain for $1.25 billion. Green Mountain is introducing their Keurig Cold single cold serving drink machine in 2015. Coca-Cola products will be featured in this machine.
Source: Bloomberg, Shorts Lose Taste for Keurig
Comparison to Other Dividend Aristocrats
Coca-Cola compares favorably to other dividend aristocrats (stocks that have paid a rising dividend for 25+ years in a row) using the 5 buy rules from the 8 Rules of Dividend Investing,
Rule 1: 25+ Years of dividend increases
Pass: Paid increasing dividends for 52 consecutive years.
Why it Matters: The Dividend Aristocrats (stocks with 25+ years of rising dividends) have outperformed the S&P500 over the last 10 years by 2.88% per year
Source: S&P 500 Dividend Aristocrats Factsheet, February 28 2014, page 2
Rule 2: Rank Stocks by Dividend Yield
Rank: Coca-Cola has a Dividend yield of 3.16% which ranks them at 22 out of 102 stocks with increasing dividends for 25+ years
Why it Matters: The highest yielding quintile of stocks outperformed the lowest yielding quintile of stocks by 1.76% per year from 1928 through 2013
Source: Dividends: A Review of Historical Returns by Heartland Funds, page 2
Rule 3: Rank stocks by payout ratio
Rank: Coca-Cola has a payout ratio of 64.29% which ranks them at 80 out of 102. Coca-Cola's payout ratio is higher than the majority of other dividend aristocrats.
Why it Matters: High yield low payout ratio stocks outperformed high yield high payout ratio stocks by 8.2% per year from 1990 to 2006.
Source: High Yield, Low Payout by Barefoot, Patel, & Yao, page 3
Rule 4: Rank stocks by revenue per share growth
Rank: Coca-Cola has a revenue per share growth rate of 8.01% over the last 10 years, ranking them 16 out of 102
Why it Matters: Growing dividend stocks have outperformed stocks with unchanging dividends by 2.4% per year from 1972 to 2013.
Source: Rising Dividends Fund, Oppenheimer, page 4
Rule 5: Rank stocks by their standard deviation
Rank: Coca-Cola's long-term standard deviation of 18.71% ranks them at 7 out of 102
Why it Matters: The S&P Low Volatility index outperformed the S&P500 by 2.00% per year for the 20 year period ending September 30th, 2011.
Source: S&P 500 Low Volatility Index: Low & Slow Could Win the Race, page 3
Shareholder Return
Coca-Cola has returned 75% of operating income to shareholders over the last 3 years. They have paid this about evenly between dividends and share repurchases. Coca-Cola is set to return between $2.5 billion and $3 billion to shareholders in the form of repurchases in 2014. They are also expected to pay approximately $5 billion in the form of dividends. This equals a total shareholder yield for 2014 of between 4.5% to 4.8%.
Source: 4th Quarter Coca-Cola Earnings Call
Conclusion
Coca-Cola's strong brand, stable industry, and fair valuation create a compelling long-term investing opportunity. Coca-Cola compares favorably against other stocks that have paid increasing dividends for 25+ years. They have consistently rewarded shareholders in the past with growing dividends and share repurchases. Coca-Cola is set to continue this tradition in the future. Their dividends and share repurchases (4.5% to 4.8%) plus revenue growth (3% to 4%) should result in a return to shareholders of between 7.5% and 8.8% for the next several years.
Disclosure: I am long PEP. I wrote this article myself, and it expresses my own opinions. I am not receiving compensation for it. I have no business relationship with any company whose stock is mentioned in this article.