As we've done with some of our recent articles, we're focusing on a relatively new high dividend stock this week. This LP had its IPO in August 2013, but is supported by a strong business model, with many long-term customers, and a fairly wide moat, due to regulations, environmental controls and niche expertise.
Profile: World Point Terminals, LP, (NYSE:WPT), is a fee-based, growth-oriented limited partnership formed to own, operate, develop and acquire terminal assets relating to the storage of light refined products, heavy refined products and crude oil. WPT provides integrated terminal use and storage to oil refiners, distributors, marketers and traders that require access to large, strategically placed storage capacity with efficient access to transportation infrastructure and in close proximity to refineries, demand markets and/or export hubs.
WPT's storage facilities are strategically located in the East Coast, Gulf Coast and Midwest regions of the US, and, as of 12/31/13, had a combined available storage capacity of 12.8 million barrels. Refiners typically use WPT's terminals because they prefer to subcontract terminaling and storage services or their facilities don't have adequate storage capacity or dock infrastructure or do not meet specialized handling requirements for a particular product. WPT also provides storage services to distributors, marketers and traders that require access to large, strategically located storage capacity with efficient access to transportation infrastructure and in close proximity to refineries, demand markets or export hubs.

Click to enlarge
(Source: WPT 3/26/14 10K)
Dividends: WPT has paid 2 quarterly distributions based on the 2013 earnings from 8/14/13 through 12/31/13 - an initial $.1565, and then $.30 in February 2014. Its targeted quarterly distribution rate is $.30/unit, which gives it a 5.6% forward dividend yield at its current price/share. As such, we've added it to the Energy section of our High Dividend Stocks By Sector Tables.

Even if WPT's adjusted EBITDA remains flat in 2014 ,which seems unlikely, given analysts' forecasts, it will still cover the $1.20 payout by 1.35x. (Note: We calculated Adjusted 2013 EBITDA to be Net Income + Depreciation + IPO Expense, and didn't add back any taxes, so this might be better termed EBDA).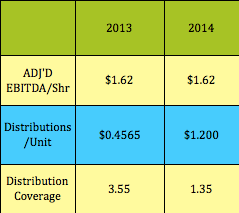 Of course, it's also possible that WPT's distributions could increase. WPT's 10K lists its target distribution schedule, which accounts for increases. Unitholders and Incentive Distribution Rights holders would receive 100% of any quarterly distributions up to $0.345/quarter:

Click to enlarge
(Source: WPT 3/26/14 10K)
Options: We haven't added WPT to our Covered Calls Table or to our Cash Secured Puts Table as there are no options available yet.
Earnings: Since WPT only went public in August 2013, 2014 will be its first full year of operations as a publicly traded company. Analysts are forecasting an average of $1.12/unit EPS in 2014, which makes WPT look very undervalued on a 2014 PEG basis.

The 2015 growth forecasts aren't nearly as dramatic, but, given the arrangement for right of first offer to buy assets that WPT has with its parent/sponsor, Apex, the 2015 estimates may possibly be too conservative.
WPT has a strong customer base, which affords recurring base revenues and renewals: "Some of our terminal services agreements currently in effect are operating in the automatic renewal phase of the contract that begins upon the expiration of the primary contract term. While a significant portion of our tankage may only be subject to a one-year commitment, historically these customers have continued to renew or expand their business. Our top ten customers have used our services for an average of more than ten years."
In its 10K, WPT makes it pretty clear that CEO Novelly's interests are fully aligned with WPT's: "One of our principal attributes is our relationship with Apex, which is controlled by Paul A. Novelly and members of his family. Approximately 34% of our revenue for 2013 was derived from Apex. Formed in 1932, Apex is a distribution and marketing company that supplies, distributes and markets
refined petroleum products to refiners, wholesalers, distributors, marketers and industrial and commercial end users throughout the US and international markets. For the three years ended September 30, 2013, Apex has averaged annual revenue in excess of $6.0
billion and sales in excess of 50 million barrels of refined products. Our terminals provide critical logistics services that support Apex's distribution and marketing operations."
In addition, APEX owns 20% of the Incentive Distribution Rights to WPT, and PAN Group LLC, another company controlled by Mr. Novelly, owns 60% of the Incentive Distribution Rights to WPT. (There's a very large ownership structure chart on page 3 of the 3/26/14 10K.)
Right of First Offer Assets List:

Click to enlarge
But, what if oil prices tank? WPT may actually benefit from this near-term:
Even if demand for refined products and crude oil decreases sharply,however, our historical experience during recessionary periods has been that our results of operations are not materially impacted in the near term.

We believe this is because of several factors, including: (NYSE:I) we mitigate the risk of reduced volumes and pricing by negotiating contracts with minimum payments based on available capacity and with multi-year terms, and (ii) sharp decreases in demand for refined products and crude oil generally increase the short and medium-term need for storage of those products, as customers search for buyers at appropriate prices.
Valuations: WPT's 2014 P/E brings it closer in line with industry averages, but its other metrics are still a bit higher than its peers:

Financials: WPT paid off a $8.1 million note with its IPO proceeds, and currently has a $200 million revolving line of credit. So far, it has very superior metrics in these categories:

Performance: Although WPT has lagged the market since its IPO, it has outperformed the market so far in 2014:

Disclaimer: This article was written for informational purposes only.
All tables in this article were furnished by DoubleDividendStocks.com, except where noted.
Disclosure: I have no positions in any stocks mentioned, but may initiate a long position in WPT over the next 72 hours. I wrote this article myself, and it expresses my own opinions. I am not receiving compensation for it (other than from Seeking Alpha). I have no business relationship with any company whose stock is mentioned in this article.