Johnson Controls Inc. (NYSE:JCI) is a highly diversified technology and industrial leader operating through three functional segments: power solutions, building efficiency and automotive experience. The company serves customers in 150 countries around the globe.
The following discussion throws light on the reorganization efforts on the part of the company to shift its focus toward more profitable businesses and exit the ones with low margins. Let us see if Johnson Controls comes off as a good investment opportunity or not.
Revenue Drivers
Dividing the company's revenues into its various geographical segments, it is apparent that developed economies like the US and Europe are the largest contributors to the top line of the company. However, over the past three years, revenues from the US have increased, while Europe's contribution has declined. A plausible reason for the decline in Europe's chunk of net sales is the declining automotive and construction industries in the region.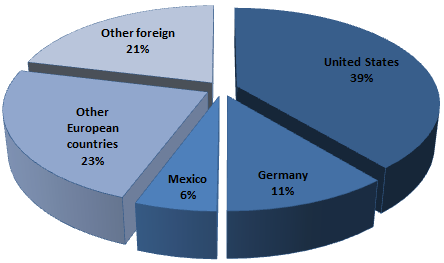 Source: Annual Report, 2013
Now, let's take a look at the breakdown of the company's revenues, based on its reported functional segments. More than half of the revenues of the company are attributed to its automotive experience segment that provides seating, interiors and integrated electronics to car manufacturers. However, the segment's net profit margin hovers around low single-digits. The profit margins of building efficiency are found in the same range. The power solutions segment presently contributes just 16% to the net sales of the company, but is actually the most profitable segment, with NPM trailing around 17%.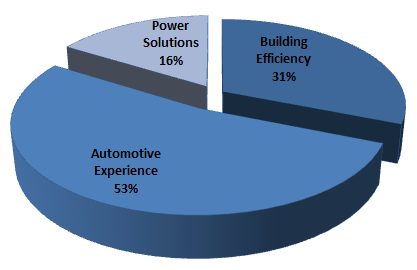 Source: First Quarter Earnings Release
Shifting Focus to High-Margin Segments
Johnson Controls is reportedly shifting its focus to the high-margin segments, as opposed to holding on to its low-margin segments. The company has already divested an entire segment, automotive electronics, in parts to Gentex Corp. (NASDAQ:GNTX) and Visteon Corporation (NYSE:VC) for aggregate proceeds of over $965 million.
Moreover, the company has recently sold off its headliners and sun visors unit to Atlas Holdings, a private equity firm in Greenwich. Automotive interiors is a very low-margin unit (around 1%). The company believes that selling this unit will improve the margins of its automotive experience business. The remaining parts of the business are expected to be divested in the coming months.
More likely than not, proceeds of these divestitures will be invested in the company's high-margin businesses, such as power solutions, that manufactures and markets lead-acid automotive batteries for every type of passenger car, light truck and utility vehicle.
To further its battery business, Johnson Controls recently signed a collaborative agreement with Europe's largest organization for applied research, Fraunhofer-Gesellschaft. The aim behind the agreement is to come up with a more energy-efficient and cost-effective cooling system for vehicle batteries. Reportedly, scientists at Johnson Controls will be working in close collaboration with Fraunhofer's Institute for Environmental, Safety and Energy Technology (UMSICHT) and Institute for Manufacturing Technology and Advanced Materials. The successful completion of the project, which is quite likely, will enable the company to meet stricter environmental laws enacted by the European economy. Note that Johnson Controls has historically demonstrated its ability to come up with innovative ways to reduce fuel consumption and make vehicles more cost-effective for consumers. As announced by the company, the technology is expected to be introduced in Europe first, and shortly after to the US, with global adoption expected to come around 2020.
Other Growth Areas
We are all aware that China offers great potential for companies seeking to expand their operations. The Chinese automotive industry is rapidly developing, which makes China a very critical market for Johnson Controls, whose profits are being compromised due to a declining (rather than stabilizing) automotive industry in Europe and increasing competition in developed economies. China alone contributed 33% to total segment sales of $5.8 billion. Overall, revenue from China is expected to grow at a CAGR of approximately 12% from 2013 to 2018.
North America is the second-most crucial market for the company. Throughout the recently ended quarter, the region boosted its automotive experience segment's sales by 11%, compared to the industry's production increase of just 5%. Overall, the automotive experience segment's revenue grew by 130% YoY.
Construction Efficiency
The housing industry has remained weak in the US over the past year due to a weakened economy, among other factors. Nonetheless, Johnson Controls experienced an 11% growth in its residential and commercial business sales. Segregating the revenue further indicates that North America contributed 30% to the segment's sales, and made up 51% of the segment's total income. Going forward, the company's management has presented optimistic, though conservative, guidelines regarding heating, ventilation and air conditioning in North America.
The company is doing further research, and has recently announced its York Smart Thermostat that can be controlled through Wi-Fi. The company possesses a demonstrated capability to incorporate ease and efficiency into its products.
Shareholder Profits
Johnson's dividends are increasing, while another $3 billion have been added to the company's share repurchase program in November 2013. Presently, the total authorized amount allocated to the share repurchase program has reached $3.65 billion. During the first quarter of fiscal year 2014, the company repurchased approximately $1.2 billion of shares, including $800 million as part of an accelerated share repurchase agreement under these authorizations. In addition to that, dividends paid by the company have increased at a CAGR of 14% over the past five years, as evident by the graph below.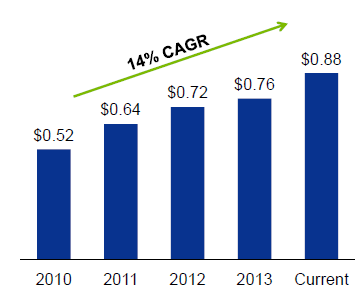 Source: Company Presentation
Conclusion
The company is divesting its less profitable segments and investing in high-margin markets to grow its cash flow generation. Divestment of the said segments will enable the company to improve its margins, grow its top line and improve its ROI. Furthermore, Johnson's growing dividends and share repurchase program promise reasonable returns to its shareholders. The company looks like a good investment for the long run, in my opinion.
Disclosure: I have no positions in any stocks mentioned, and no plans to initiate any positions within the next 72 hours. I wrote this article myself, and it expresses my own opinions. I am not receiving compensation for it (other than from Seeking Alpha). I have no business relationship with any company whose stock is mentioned in this article.