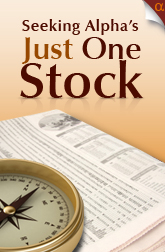 Several times a week, Seeking Alpha's Jason Aycock asks money managers about their single highest-conviction position - what they would own (or short) if they could choose just one stock or ETF.
---
Holly Thompson, a 22-year veteran of the financial industry, is the founder of Thompson Wealth Management, a Brazoria, Texas-based independent fee-only financial advisory firm serving the Gulf Coast area.
If you could only hold one stock position in your portfolio (long or short), what would it be?
China Automotive Systems (NASDAQ:CAAS) is at the top of our "Buy" list right now. We have added it to our clients' portfolios that are looking for long-term growth in an industry that is seeing huge expansion.
Tell us more about the company behind the stock.
China Automotive Systems through its business operations manufactures and sells a full range of auto parts incorporated into steering systems for both passenger automobiles and commercial vehicles. CAAS owns two trademarks covering automobile parts and 12 Chinese patents covering power steering technology. The company is in the process of integrating new advanced technologies such as electronic chips in power steering systems into its current production line and is pursuing aggressive strategies in technology to maintain a competitive edge within the automobile industry.
CAAS has signed a 10-year licensing agreement with Bishop Steering Technology Limited, a leader in automotive steering gear technology innovation which offers advanced technology for steering valves within the contract period. It also has signed a technology transfer agreement with Nanyang Ind. Co. Ltd., a leading steering column maker, for the technology necessary for electronic power steering (EPS) systems.
This company has strong technology and R&D resources. It has three technology and R&D centers and more than 200 technical experts devoted to R&D, testing, production and process improvement, and new material application. In addition, CAAS has established Tsinghua University, a steering systems research institute designed to develop electronic power steering (EPS) and electronic hydraulic power steering (EHPS) systems.
Can you talk a bit about the industry/sector? How much is this an "industry pick" as opposed to a pure bottom-up pick?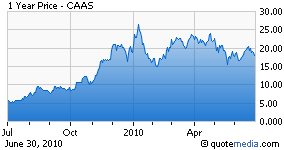 CAAS is a leading supplier of power steering systems and components to China's automotive industry; China has been a boon for auto makers even as sales in developed countries slumped amid the financial crisis.
So far this year, China is the largest market for General Motors. The U.S. automaker's first-quarter sales in China rose 71% from a year earlier to 623,546 vehicles, compared with a 16% rise to 477,322 vehicles in its home market.
Daimler's (DAI) Mercedes-Benz Cars division's first-quarter sales in China more than doubled from a year earlier to 23,610 vehicles, while Ford Motor's (NYSE:F) sales rose 84% to 153,362 vehicles. Toyota's (NYSE:TM) March sales in China rose 33% to 61,200 vehicles.
But is this a case where you like auto parts and are picking a best of breed, or did CAAS catch your attention chiefly on fundamentals?
CAAS is actually a global play considering the immense amount of growth to be had there. When you drill down from just wanting to own a stock where you can benefit from China's growth, and start to look for a company with fundamentals that show signs of maturity and a position to take market share in the current economy, CAAS is at the top of the list.
How is China Automotive Systems positioned with regard to competitors?
China Automotive Systems is the only publicly traded company of its kind that directly relates to the Chinese automotive industry. Its closest competitors are Japan's JTEKT Corp. (OTC:JTEKF) and Shanghai Automotive, which have been serving the local automotive markets. CAAS has been able to introduce advanced technology in its field and continually takes market share from their rivals in order to produce the remarkable results we have seen from them.
Let's talk about the results; how does valuation compare to the competitors?
Zacks notes that on May 6, China Automotive reported better than expected Q1 results. Revenue for the period was up 88% from last year to $84.2 million and earnings came in strong at 34 cents. CAAS added to its top-line growth with solid cost management, with its gross margin climbing to 26.8% from 24.4% last year.
Operating income was up 124% to a quarterly record of $16 million. With the strong operating cash flow, the company was able to boost its cash position by $8 million to $51 million against short/current long-term debt of $33 million. On the recent weakness in shares, the valuation picture has improved with its forward P/E multiple of under 14 beating its peers' 23.
How does your view differ from the consensus sentiment on CAAS?
Several big firms have taken notice recently that CAAS is one stock to add to your portfolio. Oppenheimer initiated with an Outperform rating, Maxim group upgraded from a Hold to a Buy, and Merriman upgraded from Neutral to Buy. We have been following China Automotive for 2010 and have been happy with what our research has shown us. Now, it is a positive to see the big guys follow suit.
Does the company's management play a role in your position? If so, how?
Qizhou Wu has served as the CEO since September 2007, just as the global economic turmoil began to emerge. During 2008, CAAS did not lose any key customers, but added new ones. They further penetrated the domestic OEM automotive market by adding ChangAn Auto and captured their first global automotive OEM headquartered in North America. Mr. Wu and his team made remarkable, steady progress during the downturn and have proven that they have the knowledge and ability to sustain through tough times worldwide.
What catalysts, near-term or long-term, could move the stock significantly?
Mr. Wu noted that China Automotive continues to focus on expansion within existing customers and penetration into new customers. As they continue to win contracts from high-quality OEMs who have proven growth records, they will establish a larger customer base and will have the ability to optimize production cycles to meet the surging needs of the top sellers. This is the reason CAAS can consistently outgrow the overall auto market in China.
What could go wrong with this stock pick?
There is little hint of headwinds in the future of this stock. The overall global economy fear left with investors is the leading drag on CAAS. As we continue to wait out this shaky market, it is always good to find great companies at great bargains.
What sort of effect would a revaluation of the yuan (if it really develops) have on CAAS? Is there currency risk that would slow down its growth? Is it more of a domestic growth story?
Currently, the revaluation of the yuan is on hold. If we do see changes in the currency in the near future, it will primarily affect sales from outside of China itself, which is not as large a market as domestically. They are primarily focused within their region and will continue to look for growth through partnerships and acquisitions.
Thanks, Holly, for sharing your choice with us.
Disclosure: Thompson Wealth Management is long CAAS.
Read more Just One Stock articles »
If you are a fund manager and interested in doing an interview with us on just one stock or ETF position you'd hold, please email Rebecca Barnett.