As gold and silver enjoy the best run they have seen since the 1970's, silver continues to lag gold. This is true from the fact that it bottomed two years after gold, in 2003, to the fact that it is still more than $20 off of its all-time highs. The latter fact was highlighted by Jim Rogers in an interview last week. As such, Rogers is currently sitting on his position in the yellow metal, while ramping up his purchases of silver. Based on the historical seasonal performance of silver, it is no surprise that Rogers is buying right now.

As we transition from spring to summer, a few recent articles on this website have covered the seasonality of gold. After crunching some numbers, I have reached roughly the same conclusion with silver. Historically, the period from May to September has been, at best, a tepid period for gold and silver. If not a lukewarm gain, a slight correction is usually experienced. This trend has not been broken definitively during the seven year-old bull market that began in 2003. As such, it provides good entry opportunities, especially against the backdrop of rising prices. So far, 2010 is shaping up to be one of these years.

According to data from the 1980's until 2009, silver declines more often than it rises from May to September, averaging out to slightly below zero. As such, years that witness a decline can provide a good entry point for the last three months of the year. As any serious commodities investor knows, the last quarter of the year usually bears witness to robust gains in precious metals, and this has been particularly true since the bull market commenced earlier this decade.

I used data from 1984 until the present day. As has also been the practice of other commentators, I am excluding the highly volatile years of 1979-83. Additionally, data available prior to 1979 was not 100% reliable. The data sets are available on my blog.
The Seasonal Performance of silver 1984-2009 (Refer to Chart)
1) In 11 of 26 years (42% of the time), silver managed to gain in the period from May 1-Sept. 30. However, the gains are somewhat underwhelming compared to its performance during other periods within the year. Five of these years came since 2003. Average Gain: 9.57% Median: 8.02%
2) In 15 of 26 years (58% of the time), there was a decline in silver from May 1-Sept. 30. Average Loss: 7.49% Median: 5.62%

3) Due to the declines being more numerous, from 1984 to 2009 silver's Average performance From May 1- Sept. 30 was -0.27%.

Season Performance of silver Since 2003
1) Since the bull market commenced in 2003, silver has gained from May 1- Sept. 30 in 5 of 7 years (71% of the time). Average Gain: 13.20% Median: 9.87%

2) In 2 of 7 years, silver experienced a loss. It should be noted that both of these summer declines (2006 and 2008) took place after silver experienced a great run-up in price during the previous September-March period. 2008 had more to it, of course. Average Loss: 19.57%.

3) Despite large summer declines in 2006 and 2008, the gains balance out Silver's overall summer performance since 2003 to an average of 3.84%. If you remove the volatile years of 2008 and 2009, this is reduced to 2.72%.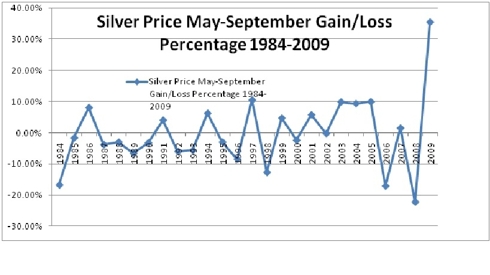 What This Means For 2010
The year 2010 has thus far seen silver correct, digest its gains of late 2009, and resume its upward climb. While this is still below the peak of March 2008, it is far below the all-time highs. With silver currently hovering around its 50-day MA and not uncomfortably high above the 200-day MA, any dips should be considered an opportunity to buy (one such chance occurred June 4-7). Based on its seasonal performance before and after 2003, this summer is unlikely to offer much in terms of further discounts without a severe correction and/or a sudden 2008-type market swoon. Based on the summer performance since 2003, this should be considered an opportunity.

As mentioned, in the 26 years of data the summer performance averaged out to slightly below zero. Since 2003, it has been higher, 2-3%, depending whether one includes the volatile years of 2008/09. Whether 2010 will be a volatile year or not remains to be seen, but the fact of the matter is that silver is currently on pace to have a below-average summer performance for the May-September period. The price of silver is currently trading slightly below the level it was at on May 1 (see chart). Given its recent summer performance, and the possibility of large price increases in the next few years, a lukewarm summer should be interpreted as a welcome opportunity to buy. The lack of a serious decline could be indicative of a base forming, ready to slingshot above $20 (a major level of resistance on both a technical and psychological basis) in the near future.

Price of silver in USD July 2007-Present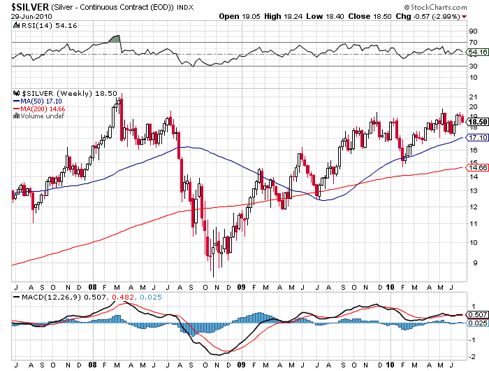 Disclosure: No positions