Amit Daryani, an analyst from RBC Capital Markets, raised his price target for Hewlett-Packard (NYSE:HPQ) from $33 to $36. Daryani explained that he expects HPQ to improve its operating margin and new inroads in new products. HPQ is planning to enter the additive manufacturing printers. HPQ closed at at $32.64 yesterday, April 4.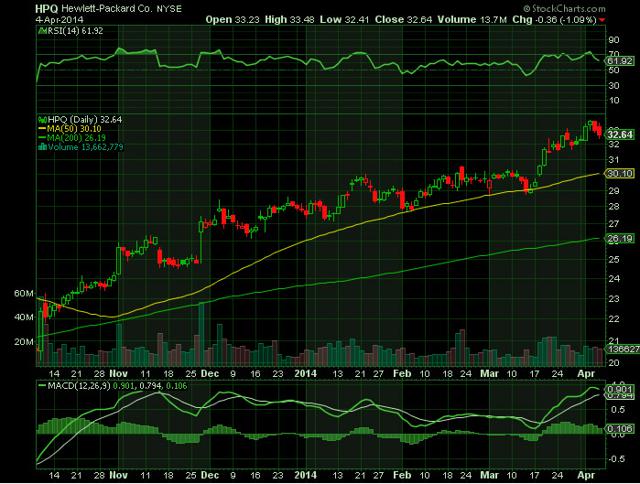 Free Microsoft Windows 8 Helps HPQ
HPQ will likely see better operating margins now that Microsoft (NASDAQ:MSFT) is offering free Windows 8.1 licenses for any gadget that has 9-inches or smaller display size. As the world's leading PC vendor, HPQ can now extend its might in the tablet arena with Nadella's Build 2014 announcement of free Windows 8.1 for tablets, phablets, and phones.
This is a game changer for HPQ because, despite its position as the biggest vendor of traditional desktop computers, it has been a laggard in the high-growth tablet sector. Hewlett-Packard can now offer Windows 8 tablets with lower price tags. It is now also possible for the company to make profitable mid-range Windows 8.1 tablets in the $200 to $350 range.
The new $739 Windows 8 64-bit ElitePad 1000 can now have a lower asking price because HP doesn't have to pay $50 for Windows OS license. The ElitePad 1000, with its stylus, is perfect for the enterprise market. HPQ can even make a cheaper version of this high-end tablet by using the upcoming AMD (NYSE:AMD) Mullins tablet and using cheaper components.
AMD's Mullins promises to be a killer SoC for tablet gaming. HPQ can focus on the gaming/enterprise market for better average selling price. The low-entry market is already dominated by cheap white-box Android tablets from China, which sells for less than $150. HPQ will have a hard time making money competing on this thin-profit category, even with a free Windows 8 license from Microsoft.
I bought the very excellent Ainol Novo Aurora II for $180 in 2012, now it's just selling for $112. Chinese vendors are coming up with high-quality 9.7-inch tablets that retail for around $200 too. HPQ can just forget about making entry-level Android tablets and concentrate on mid-range Windows 8 tablets for gamers and corporate users.
A $250 HP-made AMD Mullins-powered Windows 8 tablets with BlueStacks is much more attractive than $200 Android tablets. BlueStacks will cheaply let HP tablets become dual-OS power mobile gaming machines. I doubt if HPQ can make much money from selling the $170 HP 8 Android tablet.
Windows Phone Is Another Revenue Stream
HPQ can make some money from selling Android phablets, but it may also be good for the company to consider releasing a Windows 8 VoiceTab phablet. It took HP 16 months to come up with a good smartphone, but the 6-inches size of the HP Slate6 VoiceTab Android phablet's target size of customers may be limited.
The Slate6 VoiceTab is now available in India for 22,900 Rupees or $379.64. I am sure Rory Read can help HP make a Windows 8 version of the Slate6 and Slate 7 VoiceTab for similar price tags. With the free Windows 8 offer, it is possible to make a $300 HP-made gaming phablet with AMD Mullins SoC.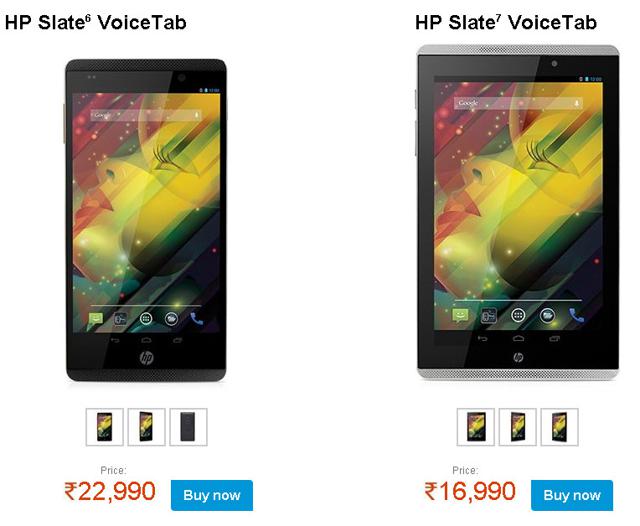 Source: HP India
Last year was the Year of the Phablet. HPQ did the right thing in making a phone-enabled tablet this year. However, I would like to see Whitman come up with a more pocket-friendly Android or Windows 8 smartphone with display sizes of around 4 to 5 inches. HPQ can hire Foxconn to design and build an Android-powered iPhone clone with Qualcomm or MediaTek SoC and sell it reasonably for $399.
HPQ can also hire Nokia to design and manufacture Windows 8 phones that are more professional looking than candy-colored Lumias. HPQ has a huge presence in the enterprise market thanks to its server and services products. HP can bundle some of its future Windows 8 phablet and phones with server or cloud services sales.
Conclusion
Satya Nadella's decision to give away free Windows 8 licenses is a game changer for Hewlett-Packard. This development will help HPQ gain better traction in tablets and smartphones. On a forward basis, I believe Hewlett-Packard will earn more revenue and net income from selling smartphones and tablets than joining the fray in 3D printing.
Looking at the chart below, I rate HPQ as a Strong Buy at current price levels. HPQ has solid fundamentals and it has future tailwinds from tablets and smartphones. The free cash flow position of this company is just amazing. P/FCF of 8.42 plus a forward P/E of only 8.51, and a very low Price/Sales ratio of only 0.55, compels me to believe that HPQ is currently underpriced.
Considering the great fundamentals of HPQ, I agree with the $36 PT of Daryani. I'm not a financial analyst, but trust Daryani - HPQ will hit $36 before 2014 ends.

Source: Finviz
Disclosure: I am long AMD. I wrote this article myself, and it expresses my own opinions. I am not receiving compensation for it (other than from Seeking Alpha). I have no business relationship with any company whose stock is mentioned in this article.
Additional disclosure: I may also buy some HPQ soon.