There has hardly been any good news in the real estate sector of late. In fact, the degree of depression has been so significant that I just penned an article entitled "U.S. Real Estate - All the News is Bad". Mortgage activity, for instance, has been sluggish all winter, but more recent reporting of activity has offered a glimmer of hope. For major mortgage lender Bank of America (NYSE:BAC), that's important news. I named Bank of America my real estate relative bet for 2014 at the start of the year, and despite the latest slippage Friday and the overwhelming flow of bad news about real estate lately, I remain as confident in the pick today as I did then.
The latest Weekly Applications Survey produced by the Mortgage Bankers Association (MBA) mostly reflected more of the same malaise we have seen for months now. Published two days ago, the report covers the most recent period measured, the week ended March 28. It showed that the MBA's Market Composite Index of total activity fell by 1.2%. That was after falling 3.5% the week before. Refinance activity fell 3.0% after an 8.0% drop the week before. But there was a bit of good news to be found, and it's the glimmer I mentioned.
The MBA's Purchase Index, which measures mortgage applications tied to the purchases of homes, increased by 1.0%, according to this week's report. The modest gain followed last week's charge higher of 3.0%, and that is good news for housing and for Bank of America.
It's especially good news for Bank of America and its mortgage signing pals like Wells Fargo (NYSE:WFC) and JPMorgan Chase (NYSE:JPM) because it came while effective mortgage rates were on the rise. Across the board of various types of 30-year fixed rate mortgage loans, effective interest rates rose last week.
| | | | |
| --- | --- | --- | --- |
| Mortgage Loan | Ave. Contract Rate | Rate Change | Effective Change |
| 30-Yr. Fixed Conforming | 4.56% | Unchanged | Increase |
| 30-Yr. Fixed Jumbo | 4.46% | +1 Basis Point | Increase |
| 30-Yr. Fixed FHA Backed | 4.21% | +5 BPS | Increase |
| 15-Yr. Fixed | 3.62% | Unchanged | Unchanged |
| 5/1 ARMS | 3.25% | +3 BPS | Increase |
Admittedly, the increase in mortgage rates was marginal in the reported period. There's been some concern about whether the real estate market is ready to handle higher rates, which appear to be on the horizon if you believe the Federal Open Market Committee's (FOMC) Economic Projections.
The kicker for Bank of America, though, is that an increase in interest rates that coincides with a growing and improving economy and labor market situation translates into increased earnings to the bottom line. We gathered from the bank's last earnings conference call that it estimates that a 100 basis point increase in the Fed Funds Rate should translate into a $3 billion dollar increase in net interest income. If the entire yield curve shifts higher, which is likely in my view, then that's even better news for the bank that borrows short to lend long. So a rise in rates is not a bad thing for BAC, as long as it does not hamper business activity across the U.S. generally. Since no one is forecasting hyper inflation anytime soon, the outlook is rosy. Now, the 10-Year Treasury Yield dropped on Friday, but it's been trending higher.
Take note as well that however important BofA is to residential real estate nationally, the bank's Consumer Real Estate Services (CRES) segment generated just about 10% of its total revenue net of interest expense in 2013. Therefore, the latest malaise in housing, should it continue through the spring selling season (I do not think it will), might not even hamper share rise this year.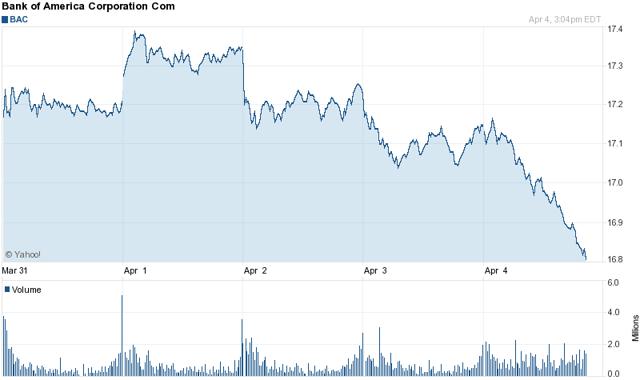 5-Day Chart of BAC at Yahoo Finance
Despite the approximate 7.4% gain year-to-date in BAC shares, and the roughly 40% charge higher over the trailing twelve months, the stock slid into the close Friday. BAC dropped 2.5% alongside a market dive, with the SPDR S&P 500 (NYSEARCA:SPY) dropping 1.2%. BAC is super-sensitive to macro driven market moves, as forewarned by its beta coefficient of 1.95, so macro issues are certainly a key factor here.
Up until last week, I would have said that good news was coming quickly for those seeking alpha, with Bank of America's EPS report in 12 days, on April 16. The conference call is scheduled for 8:30 ET that morning. However, because the company continues to exorcise demons tied to the financial crisis, its report will be hampered by a recent settlement with the FHFA and NY Attorney General. It will cost the company $0.21 from its Q1 2014 EPS result and is the reason why EPS estimates have recently taken a hit. Then yesterday, we saw news about this much smaller anticipated settlement on its credit card operations.
| | | | |
| --- | --- | --- | --- |
| Bank | Price | Tangible Book Value Per Share | Price-to-Book |
| Bank of America | $16.72 | $13.79 | 1.21 |
| Wells Fargo | $49.56 | $29.48 | 1.68 |
| JPMorgan Chase | $59.81 | $40.81 | 1.47 |
As a result, BAC is facing a special challenge today. However, the stock was already priced for it and is still trading at a discount to peers on a price-to-book basis. Soon these settlements will be matters of history, and investors will have nothing else to focus on but improving earnings. When that happens, BAC will have two catalysts for appreciation: EPS growth and the ground it must make up to reach its peers. Granted, its value is harmed by payouts for past issues, but it's all coming to an end and the business environment is improving. The stock has already begun correcting toward its peers. Therefore, I see this weakness today as a new opportunity for long-term investors to buy into BAC.
Disclosure: I have no positions in any stocks mentioned, and no plans to initiate any positions within the next 72 hours. I wrote this article myself, and it expresses my own opinions. I am not receiving compensation for it (other than from Seeking Alpha). I have no business relationship with any company whose stock is mentioned in this article.