The U.S. economy is slowly emerging from the quagmire created by the Great Recession and is expected to grow by 2.8% this year. In late January, the IMF forecast global growth of 3.7% revising estimates upwards by 0.1% from October. Other large economies like Russia and Brazil have seen their growth expectations slow considerably to 2% and 2.3%, respectively.
Click here for more information on the stocks listed in this article.
Emerging markets, for the most part, are finally seeing their meteoric growth begin to slow down, although most estimates for 2014 are still higher than the global average, giving investors plenty of time to take advantage of opportunities there.
In Latin America, Brazil has gotten the most attention, but Chile's economy has been growing aggressively in the shadows. Chile's economic growth should equal last year's at 4.2% - a stagnant figure but still higher than the global average. GDP is anticipated to expand 26.6%, however, to 4.75% this year from 3.75% last year.
Bright spots for the Chilean economy lie in its inflation and unemployment numbers. Over the next 2 years, inflation is expected to stay under 3% while unemployment has stayed at historic lows of around 5.5%. The domestic currency, the Chilean Peso, has kept pace with the US Dollar creating stability and encouraging investment. In 2013, the World Bank named Chile the best Latin American country to do business in due to the country's open regulations regarding trade and entrepreneurship.
Going forward, Chilean stocks should provide investors with plenty of growth opportunities. Call the economy sluggish at your own risk - it's still growing at twice the rate of the United States.
Investors looking for broad access to Chile's economy should consider iShares' MSCI Chile Investable Market Index (NYSEARCA:ECH). The ETF hasn't performed well in the past year, down about 27%, but most of that can be attributed to the sickly copper market. However, copper may have bottomed allowing the ETF to finally breakout.
Click here for more information and charts on ECH ETF.
For an emerging market fund, the Index's expense ratio of 0.59% is relatively cheap, and it holds 93% of its portfolio in Chilean equities. The fund's top holding is international retailer S. A. C. I. Falabella, a strong company that is taking advantage of the growing market base for the global middle class.
Another company well positioned to profit from the expansion of Latin America's middle class is Compania Cervecerias Unidas S.A. (NYSE:CCU), a diversified beverage company and brewer. The stock trades at just 14 times earnings and has long-term EPS growth expectations of over 10%. It comes with a dividend yield of 1.4% as well. While the stock has been trending downwards over the past year, it's now just 5% off of a 52-week low and looks to have finally stabilized. A conservative estimate based on next year's EPS puts the fair value of the stock at around $26 - a potential gain of 21%.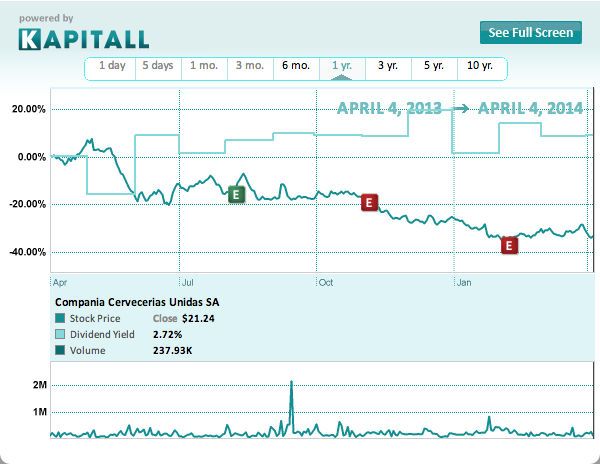 Click here for more information on Compania Cervercerias Unidas.
Chemical & Mining Company of Chile Inc. (NYSE:SQM) is a diversified chemical company specializing in plant nutrients and industrial chemicals. It exports nearly its entire product which gives it a high negative correlation to the Chilean Peso - as it falls, the company's exports rise on lower relative costs. The stock trades at 15 times earnings with EPS growth of over 27% over the past 5 years. It comes with a hefty dividend yield of 3.9% providing investors with some downside protection. The stock has performed well to start off 2014 posting gains of almost 20% YTD.
Disclosure: I have no positions in any stocks mentioned, and no plans to initiate any positions within the next 72 hours.
Business relationship disclosure: Kapitall is a team of analysts. This article was written by Daniel Cross, one of our writers. We did not receive compensation for this article (other than from Seeking Alpha), and we have no business relationship with any company whose stock is mentioned in this article.