I am going to say it again… M&A growth is not a quicksand but really is an advantage for 3D Systems (NYSE:DDD). Canaccord Genuity analysts Bobby Burleson and Prabhakar Gowrisankaran reinforced their BUY rating for DDD and raised their price target from $75 to $100. It's a lot higher than my $82 PT but they are the experts, so I agree with their assessment.
The two analysts explained their bullish sentiment over DDD based on the strength of the company's Phenix printers. 3D Systems is enjoying a great demand for its metal printing machines. The company has a long backlog order of its Phenix PX Direct Metal printers. The two Canaccord Genuity analysts estimate that 3D Systems can deliver 15-20 Phenix machines per quarter.
Burleson also made it clear that 3D Systems' recent purchase of Medical Modeling gave the company immediate foothold in customized surgical modeling and orthopedic implants. While the stock market reaction to this deal was again negative, I'm happy about it. Medical Modeling is not a mom & pop operation - it's a well established company with over 15 years in additive manufacturing for personalized medical-related services.
Phenix's metal printing IP complements Medical Modeling's metal & biocompatible plastics-based personalized surgical devices and services. Medical Modeling's Electron Beam Melting (EBM) technology is used to produce patient-specific titanium implants.
3D Systems Did Right In Buying Phenix Last Year
3D Systems' decision to buy France-based Phenix Systems last July 2013 is now proving to be a bonanza for the company. The company is overbooked with orders of Phenix direct metal additive manufacturing products. 3D Systems paid $15.1 million to get a controlling interest of Phenix Systems. Now Phenix is a linchpin for the $100 valuation of DDD by Canaccord Genuity analysts.
This deal won't have happened if Andreas Hopf was the CEO of 3D Systems. Hopf dislikes inorganic growth and keeps berating 3D Systems' penchant for acquisitions. I, on the other hand, appreciate how CEO Abe Reichental and Chuck Hull shrewdly used Mergers & Acquisitions to make allies out of competitors. The increase in the number of shares outstanding is printing money for the future.
3D Systems, with the Phenix Systems IP, is now the undisputed leader in direct metal printing, not Arcam, not Stratasys (NASDAQ:SSYS). DDD now offers five direct metal laser sintering machines for industrial and dental purposes. Per the report of Canaccord Genuity analysts, 3D Systems direct metal printers division is overbooked. I wish Abe or Chuck can speed up the production to 40 machines per quarter.
3D Systems' metal additive manufacturing machines can output high-quality and complex metal parts in matters of hours, not days. The company's QuickParts service can quickly produce custom metal components with the help of Phenix Systems technology.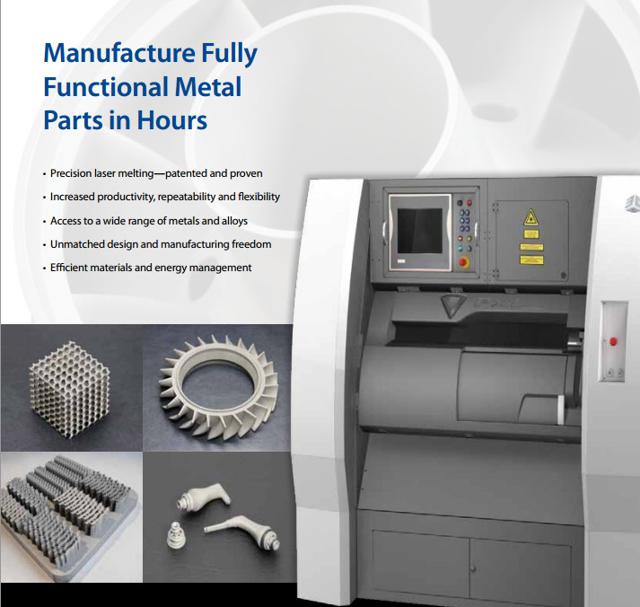 Source: 3D Systems
The Canaccord Genuity analysts also emphasized that 3D Systems' powder bed fusion (NYSE:PBF) as the best solution for serious production of metal parts. PBF, as popularized by Phenix Systems, is better than binder jetting and directed energy deposition.
Phenix Systems also gave 3D Systems a strong presence in the dental additive manufacturing market. Phenix pioneered lower-cost faster 3D printing of prosthesis using laser sintering of Cobalt-Chromium. The PXS Dental and PXM Dental machines were easy to use with the bundled Phenix Dental V4 software.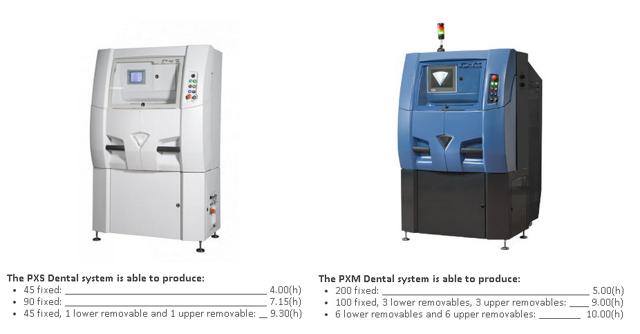 Source: Phenix Systems
Medical Modeling Complements Phenix Systems
Abe and Chuck again made another smart acquisition of a potential gold mine firm. Medical Modeling is the leader in personalized surgical guide and modeling. I don't care too much if 3D Systems overpaid for Medical Modeling. I am impressed with Medical Modeling's Virtual Surgical Planning (VSP) technology.
3D Systems, with the Medical Modeling acquisition, just made itself the leader in medical-centric additive manufacturing. VSP, ClearView, Arthtroview, and AccuDental are just some of the assets that Medical Modeling brought to 3D Systems.
Medical application is part and parcel of the projected 2018 $16.2 billion market size of the 3D printing industry. Medical Modeling and Phenix Systems insured 3D Systems will get a big share of that $16.2 billion cake.

Source: Canalysis
Conclusion
The $100 price target projection by Bobby Burleson and Prabhakar Gowrisankaran is based on 3D Systems hitting sales of $949.5 million by FY 2015. I share their optimism, I expect DDD to hit $100 by end of 2015. 3D Systems will continue to deliver double digit revenue growth rate.
Unlike SSYS, DDD has also been profitable for the last 5 years.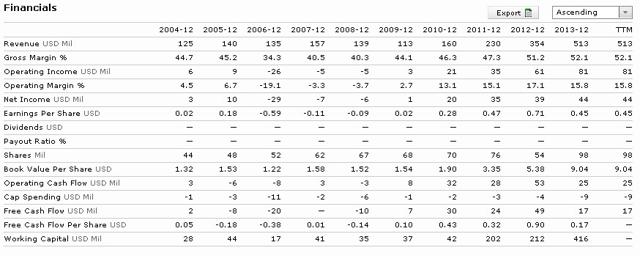 Source: Morningstar
If HPQ screws up the December 2014 presentation of its 3D printing initiative, I predict DDD to hit a new 52-week high this year too. I'll keep holding on to DDD even if it goes down to $50. I'll buy more if it really goes down to $50.
Yes I already understand the risks involved. 3D Systems has reached bubble stock valuation because of its high P/S and EV/EBITDA, but it is not the fault of the company. Speculators and rumors of IBM takeover propelled DDD to its $90+++ range in January. I'll buy low now and sell high next year when DDD hits $100.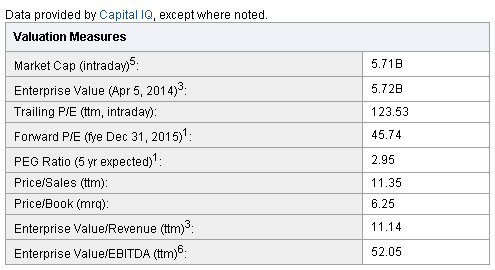 Source: Yahoo Finance
Disclosure: I am long DDD. I wrote this article myself, and it expresses my own opinions. I am not receiving compensation for it (other than from Seeking Alpha). I have no business relationship with any company whose stock is mentioned in this article.