The third time may be a charm for MannKind (NASDAQ:MNKD) as after seven long years and two complete response letters (CRLs), its ultra rapid-acting mealtime insulin combination drug-device product Afrezza may finally be approved by the FDA. The FDA's Endocrinologic and Metabolic Advisory Committee voted Tuesday to recommend that it be granted FDA marketing approval to treat type 1 and type 2 diabetes in adults. The PDUFA date for Afrezza is April 15th, and it has at least an 80% to 90% chance of approval, first, because it is safe and has met all primary endpoints, second, because the Committee vote was near unanimous (13-1 for Type 1 Diabetes and 14-0 for Type 2 Diabetes), and third, because the FDA almost always agrees with the Advisory Committee's recommendation.
The crux of the debate among investors and analysts now has rightfully shifted away from whether Afrezza will be FDA approved this time, with most treating that as a foregone conclusion. Rather, the hard question now seems to be whether after approval it will be a commercial success, with much of the speculation now centered on the probability that it could capture a significant share of the $7 billion injected insulin market based on its ease of use vs. the current standard of care of daily subcutaneous injections of insulin. There is tremendous disagreement on that among Wall St. analysts. As an example, among the 7-8 analysts that cover the stock, and have published revenue and earnings estimates, projected revenue for FY 2015 ranges from a low of just $31.5 million to a high of $358 million. This is an extremely wide range of disagreement, even for a development-stage biotech stock.
Analysts that subscribe to the bullish thesis base it on Afrezza's safety profile and ease of use, arguing that it is the holy grail of diabetes management, that it is the solution many diabetics have been waiting for, and that as a result adoption would be swift. It is easy to see how subscribers to such a story would come up with high peak sales numbers. As an example, in an interview with Seeking Alpha contributor Ben Yoffe, the head of healthcare research at MLV & Co., Graig Suvannavejh, outlined their outlook that Afrezza could achieve peak sales of $3 billion worldwide, which is in line with 2013 sales of $3 billion for Novo Nordisk's NovoLog (NYSE:NVO) and $2.6 billion for Eli Lilly's (NYSE:LLY) Humalog, both of which could face huge threats to their market share if Afrezza is as successful as the bulls predict.
In contrast, many other analysts estimate Afrezza peak sales to be well under $1 billion. They question the trial study results, especially whether non-inferiority vs. injected insulin was sufficiently proven, and whether safety was adequately addressed, especially with regard to pulmonary malignancy, and how that would affect its sales. Also, Summer Street, in their release, points out that many on the Committee who voted in favor of Afrezza stated they had a confidence of 2/10 that they were making the right decision, based on concern that Afrezza is inferior to injectable insulin in controlling blood glucose.
Others point out the failure of Pfizer's Exubera, another inhalable insulin formulation for delivery directly to the lungs, that was withdrawn in 2007, a year after introduction due to poor sales. Exubera, besides being expensive vs. injectable insulin, had a different size and form factor that was also difficult to operate. In the spirit that a picture is worth a thousand words, we illustrate below how MannKind's Dreamboat inhaler compares to Exubera, and it will be evident that it may not quite face the same resistance from diabetes patients to being seen with it in public as Exubera did.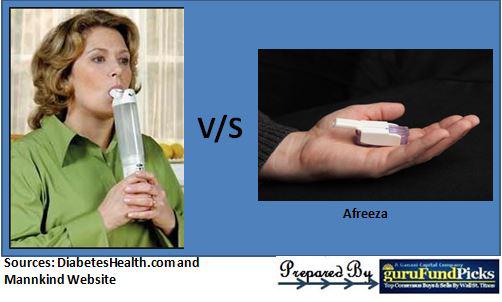 It is in these situations where there is a high degree of disagreement between the bullish and bearish arguments, that we have found strong merit in analyzing the collective or consensus buying and selling by our hand-picked 330+ leading fund managers (see Table). On our site, GuruFundPicks.com, we scan, track and analyze their latest buying and selling to determine their top collective or consensus picks in over 200 industry groups. Their ownership change over multiple quarters, and net buying and selling, both in shares and in number of funds, and the percent outstanding shares held by these leading funds, especially when compared to similar sized peers in the same industry, is like reading tea leaves. It gives us the extra edge, increasing the probability of making the right decision, and in many cases saving us from making a wrong decision on a stock.
The collective or consensus buying and selling activity of these leading fund managers in MannKind in the last seven quarters, up to 2Q/2012 is shown in the Table below.

As illustrated in the Table, and in the Chart below, leading fund managers have been aggressively buying MannKind, adding 117% in the last five quarters to their 25.19 million share position at the end of 3Q/2012 (ending Sept. 2012). While ownership has gone up only slightly from 23 to 29 leading fund managers, about 50% more funds bought than sold during this period. Given that MannKind shares went up about 200% during this period, from a range of $2 to $3 at the beginning of this accumulation period to about a $5 to $8 trading range at the end of the period, this is a tremendous ring of endorsement by leading fund managers on their belief in MannKind and the prospects for its leading drug Afrezza.
The largest leading fund manager holders of MannKind shares at the end of 4Q'13 were:
BlackRock, the world's largest and most prominent asset manager, with $3.6 trillion in assets under management, that holds 16.66 million shares, including adding 1.95

million shares in 4Q'13.

Investment management company Vanguard Group, with $2.1 Trill. in AUM, that holds 11.25 million shares, including adding 1.19

million shares in 4Q'13; and

mutual fund company FMR or Fidelity Investments, with $1.6 Trill. in AUM, that holds 6.46 million shares, including cutting 1.09

million shares in 4Q'13.
The ownership base also includes biotech-focused hedge fund Perceptive Advisors, headed by Sankin Andrew, and with $833 million in 13-F assets, that holds 3.80 million shares, including adding 3.51 million shares in 4Q'13; San Diego-based biotech-focused hedge fund Tang Capital Management, with $143 million in 13-F assets, that added a new 1.07 million share position in 4Q'13; and billionaires Glenn Dubin & Henry Swieca's multi-strategy hedge fund Highbridge Capital Management, with $29 billion in assets under management, that holds 1.58 million shares, including adding 0.22 million shares in 4Q'13. You can view complete summarized 13-F's of all of these funds, and over 330 more on our website, GuruFundPicks.com.
The following chart illustrates the summarized change in ownership data graphically.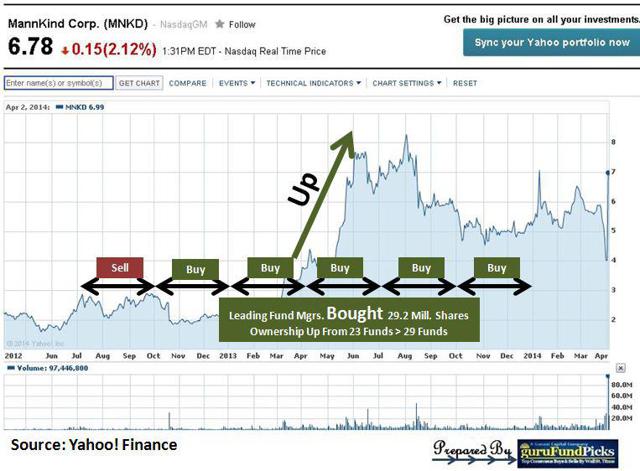 In our research, we have observed strong correlation between leading fund manager ownership, including their buying and selling activities every quarter, and the stock's immediate and long-term performance. We have documented many such cases on our website and in our archive of articles on Seeking Alpha, including three cases we discussed in just the past week on Gilead, Facebook and BlackBerry.
Based on the chart, we can see that leading fund managers have been bullish on MannKind, buying its shares aggressively even in the second half of 2013 after its price had gone up ~200% to the $5 to $8 from earlier trading in the $2 to $3 range during most of 2012. Given that the overwhelming number of leading fund managers follow a value-oriented investment philosophy, this should be re-assuring to the bulls. Obviously, with their deep industry knowledge and expertise, many of them reached a consensus that MannKind shares were buyable also in the $5 to $8 range, and this before the FDA Committee decision earlier this week that almost certainly means a positive FDA decision on approval of Afrezza by the April 15th PDUFA date.
In the latest 4Q'13 (see Table), the world's largest or mega fund managers, billionaires and billionaire fund managers, and healthcare and biotech-focused hedge funds added to their holdings. In the case of biotech, we pay even closer attention to the buying & selling by sector-focused funds as biotech more than other industry groups requires deep industry and even disease-specific knowledge to make a prudent investment decision, and it is reassuring to note that even in the latest quarter at prices in the $5 to $7 range, two biotech funds bought 4.58 million shares, and this before Tuesday's positive Committee recommendation to the FDA.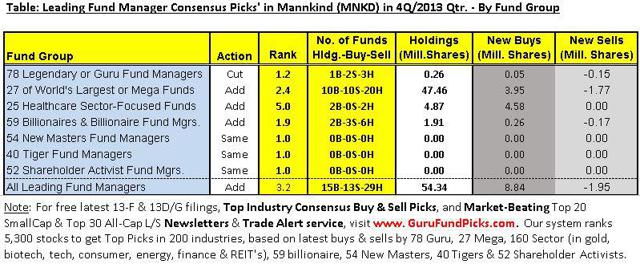 So, in summary, we believe that after Tuesday's positive Committee recommendation, there is near certainty that Afrezza will be approved for both Type 1 and Type 2 diabetes. These in total are huge and growing end markets, and Afrezza's Dreamboat inhaler due to its convenience and form factor has the potential to take significant share away from injectable insulin, and achieve peak sales of well over $1 billion, maybe as high as $2.5 billion to $3 billion, comparable to the current sales of injectable insulin products, NovoLog and Humalog.
With MannKind shares still priced in the same range as when most leading fund managers bought it in recent quarters, and potential blockbuster status, we believe that shares are priced attractively at current levels. In fact, most likely prices would have been much higher if it wasn't for the massive correction going on in biotech right now, with the biotech index off ~12% to 13% in the last two weeks, with many smaller biotech's off by two to three times that from recent highs. It is very likely that shares may start taking off to the upside in the days before the April 15th PDUFA date, in anticipation of a positive FDA decision, so we would start buying here.
Disclosure: I have no positions in any stocks mentioned, but may initiate a long position in MNKD over the next 72 hours.
Business relationship disclosure: Business Relationship Disclosure: The article has been written by the Hedge and Mutual Fund Analyst at GuruFundPicks.com. GuruFundPicks.com is not receiving compensation for it (other than from Seeking Alpha). GuruFundPicks.com has no business relationship with any company whose stock is mentioned in this article.
Additional disclosure: Additional Disclosure: Use of GuruFundPicks' research is at your own risk. You should do your own research and due diligence before making any investment decision with respect to securities covered herein. You should assume that as of the publication date of any report or letter, GuruFundPicks, LLC, has a position in all stocks (and/or options of the stock) covered herein that is consistent with the position set forth in our research report. Following publication of any report or letter, GuruFundPicks intends to continue transacting in the securities covered herein, and we may be long, short, or neutral at any time hereafter regardless of our initial recommendation. To the best of our knowledge and belief, all information contained herein is accurate and reliable, and has been obtained from public sources we believe to be accurate and reliable, and not from company or persons who have a relationship with company insiders. Also, in our preparation of this article, we referred investor resources such as Zacks.com, Marketsmith and Sentieo.