Paris-based Natixis upgraded Alcatel-Lucent (ALU) to a BUY rating last April 2. Natixis further strengthened BMO Capital's upgrade of ALU last March 10. With the new thumbs-up from Natixis, Alcatel-Lucent should attract more institutional and retail investors. I expect ALU to hit the $5.50 price target set by BMO Capital.
The $1 billion contract from China Mobile (NYSE:CHL) is just the tip of the iceberg, Alcatel's superiority in NFV and SDN hints of more contracts to come from China and other emerging markets. I expect more investment firms to follow the leads of BMO Capital and Natixis. The four downgrades for ALU this year got negated by Natixis and BMO's positive assessments.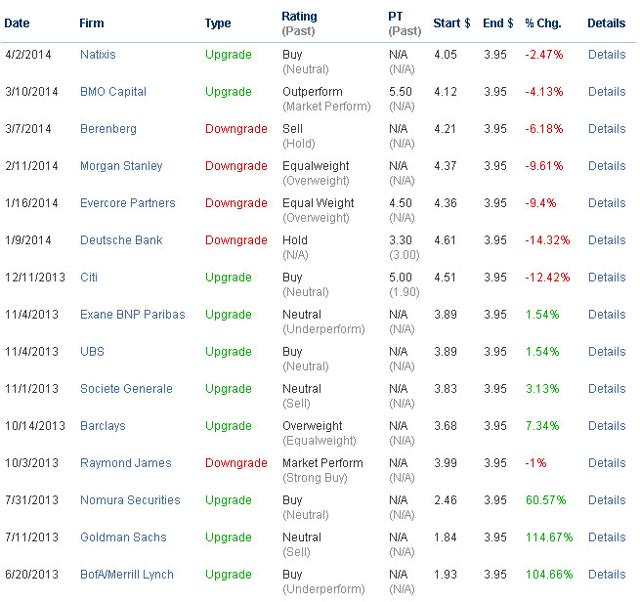 Source: Streetinsider.com
The bloodbath last Friday made ALU 4.36% cheaper so I will most likely increase my position in ALU next week. I'm still waiting for the bears to make Alcatel-Lucent hit the bottom. I am expecting the overall market pullback to continue next week.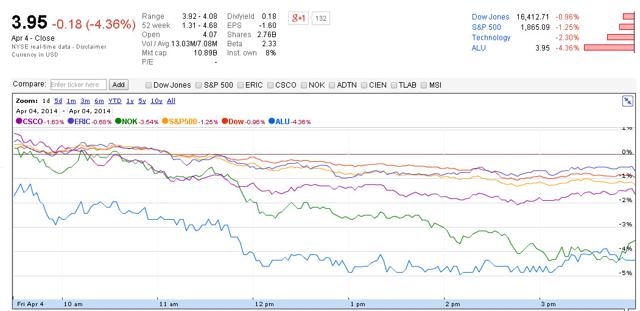 Source: Google Finance
The sharp fall of momentum stocks last April 4 brought NASDAQ to its lowest point since 2012. ALU, being the most debt-laden player among its peers, got a heavy shot of collateral damage.

Source: Seeking Alpha
I am going to take this bearish weather as a good opportunity to buy tickers like ALU on the cheap. Michel Combes is quickly and surely turning Alcatel-Lucent into a profitable firm.
Alcatel-Lucent Wins Another SDN Contract
The Network Functions Virtualization (NFV) and Software-Defined Networking (SDN) solutions of Alcatel-Lucent are winning the hearts of multinational corporations. Last October 2013, Alcatel's CloudBand NFV platform has been adopted by 15 big-name companies like Intel, Deutsche Telekom, Telefonica, Red Hat, Citrix, and HP.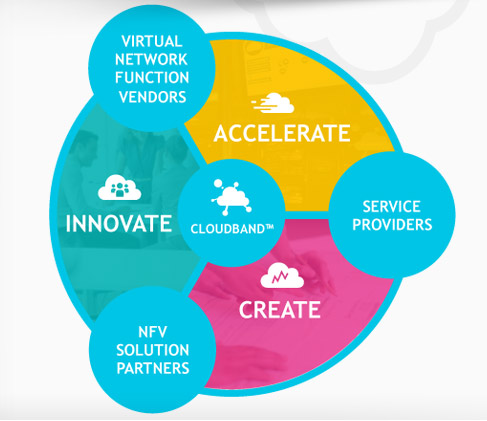 Source: Alcatel
China Mobile and Alcatel-Lucent also demonstrated the LTE RAN virtualization power of CloudBand 2.0 during the Mobile World Congress last February. CloudBand 2.0 is Alcatel-Lucent's solution to managing hardware-independent LTE mobile networks. Alcatel has signed contracts to deliver three CloudBand NFV deployments and four Nuage Networks SDN contracts.
Nuage Networks Wins New SDN Contract
Aside from the $1 billion contract from China Mobile, Alcatel's subsidiary Nuage Networks also recently won an SDN contract with Numergy. Nuage Networks will provide its Nuage Virtualized Services Platform (VSP) and 7850 virtualized services gateway to Numergy which is putting up two data centers this year. Numergy is part-owned by the French government. The deal is significant because Numergy plans to open 10 more data centers within the next three years.
Nuage Networks is greatly positioned to become a dominant player in the SDN market which is projected to grow to a $35 billion business by 2018.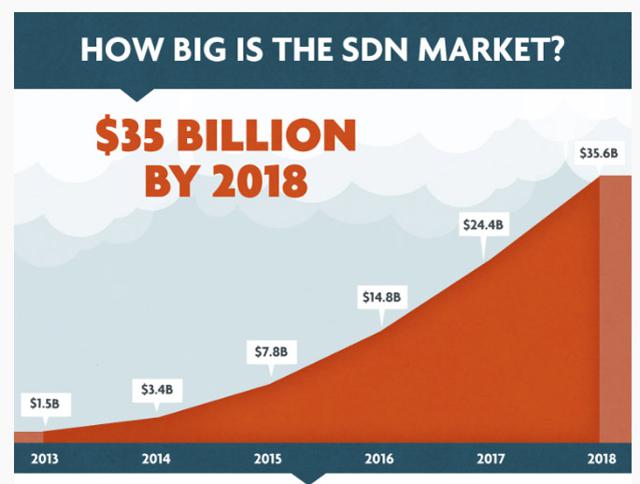 Source: SDN Central
The Network Functions Virtualization market will also enjoy a healthy 51.57% CAGR from 2013 to 2018. It won't only be the mobile telecom service providers who will accelerate the adaptation of NFV. Cloud computing providers and enterprise data centers will help Alcatel Lucent propagate its CloudBand and SDN solutions.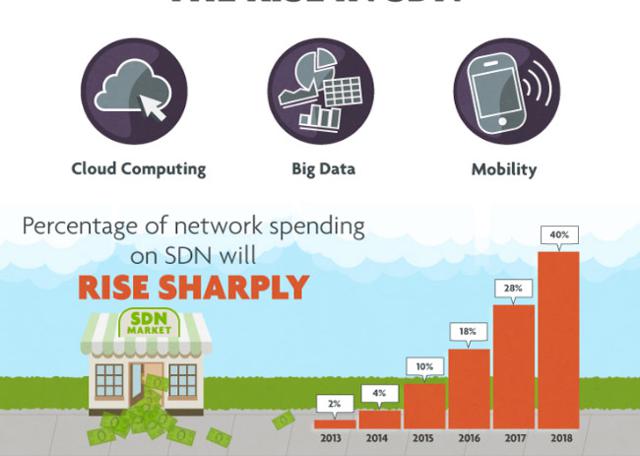 Source: SDN Central
Conclusion
The China Mobile deal is just one reason why I believe in the $5.50 price target of BMO Capital. I also am taking into consideration Alcatel-Lucent's leadership position in the new growth industry of NFV and SDN. Alcatel-Lucent is still a major player in the traditional router and switch hardware-based networking.
Cisco (NASDAQ:CSCO) is still the clear leader on routers and switches but Alcatel-Lucent is way ahead of Cisco when it comes to NFV and SDN.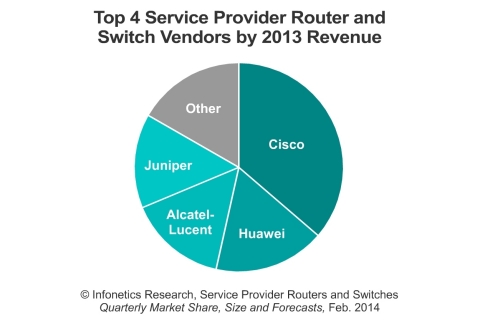 Source: Infonetics Research
Infonetics is also predicting the service providers routers/switches market to grow to just $17.2 billion by 2018 - just half of the $35 billion market that the SDN is projected to become. Alcatel-Lucent is a good buy-on-the-dip long-term play. It is already an early leader in SDN and NFV so Alcatel-Lucent has a great chance of hitting $5.50 this year, or early next year.
I like ALU a lot because it offers significant upside potential. The company also has low EV/Revenue and Price/Sales ratio. I hope when Nokia finally gets the $7.2 billion cash from Microsoft, Combes will be more amenable to a merger with Nokia.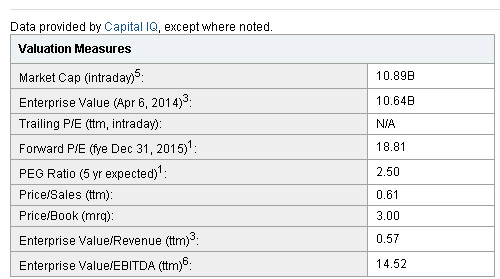 Source: Yahoo Finance
Disclosure: I am long ALU. I wrote this article myself, and it expresses my own opinions. I am not receiving compensation for it (other than from Seeking Alpha). I have no business relationship with any company whose stock is mentioned in this article.