Apple (NASDAQ:AAPL) is priced at $542/share for a market cap of around $484B. I attempt to arrive at a sum-of-the parts valuation based on Apple's currently reported lines of business, without factoring in any new products lines and with extremely conservative assumptions around sales and margin growth on existing products. My analysis shows that Apple is easily worth more than $650/share.
Revenue and Gross Margin model by product
Apple reports unit sales and revenue numbers for its major products (iPhone, iPad, Mac, iPod); but does not break out its COGS by product. Accordingly, I have used a mix of external sources and my own assumptions to model COGS and gross margin percentages by product line. Apple reports an all-up COGS number, and I do reconcile to those in my assumptions.
iPhone:
The iPhone has been a game changer for the mobile industry and the primary source of Apple's revenue growth and profits. The iPhone is facing stiff competition from high-end Android phones, in particular to a somewhat dated product (no large screens and incremental improvements over the past couple of years). Yet, it boasts extremely high user satisfaction (96% based on a December 2013 survey by ChangeWave) and no shortage of users who will upgrade to the next version no matter what. In my model, I have assumed no unit growth off 2013; 2% ASP decline and sustained gross margin decline (1ppt/yr) for the iPhone through 2020. This is the scenario in which Apple retains its existing users but does not expand, and competition forces gross margin pressure.
iPad:
iPad margins have been compressed by the launch of the iPad mini and the shift towards smaller screen tablets with lower gross margin. There have been rumors of Apple trying to move into the commercial tablet segment with a 12.9 inch "iPad max", but in my conservative scenario I assume only flat unit growth for the iPad, along with a 2% annual decline in ASP and a 1ppt decline in GM.
Mac
The Mac has held up relatively well and gained share in a declining PC market. In my valuation, I assume flat ASPs, 2% unit decline p.a., and 1ppt GM decline.
iPod
I assume a 20% decline YoY in unit sales for the iPod line, which means that it is almost irrelevant to the valuation.
iTunes, Software and Services
This has been a fast growing business, and the large installed base and high monetization of Apple customers mean that there is continued room for growth. I assume 10% growth, but at pretty low gross margins of 5%, since this line of business is all about increasing user engagement through rich content. For context, this business has grown 70% from 2011 to 2013 (Source: Apple 10-k).
Accessories
I am assuming only 1% growth for this line of business, in line with the assumptions around the other businesses. However, the accessories business carries relatively high gross margins.
Below is a chart of the unit, revenue and GM forecasts by line of business, as well as the detailed calculation.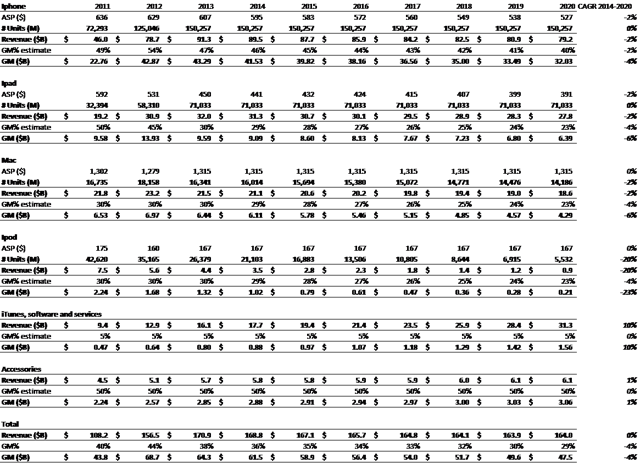 This completes the major piece of the valuation exercise. I assumed R&D, SG&A and tax rates to be pretty consistent as a percentage of sales and operating income.
Using a discount rate of 10% and a terminal growth rate of 2%, I get to a valuation of $610 billion, which is 26% above the 4/2 closing price. Note that this does not assume any impact of wearable products/Apple TV that Apple is rumored to be bringing out later in 2014. Any impact of those would be further upside. Below is the complete valuation model: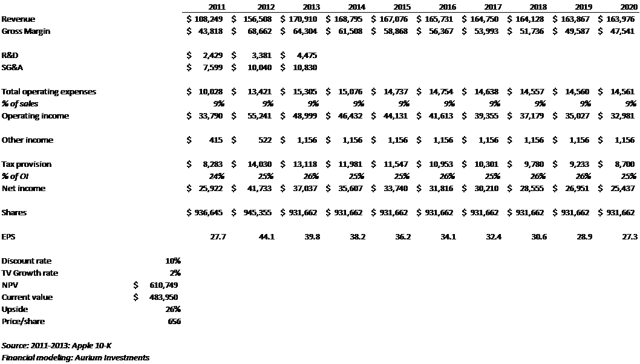 From a risk perspective, I believe the major downside to the scenario I have modeled above is that iPhone margins compress faster than expected, with sales remaining stagnant. However, a further 1ppt decline in iPhone gross margins still leaves us with a valuation of $588/share, or a 13% upside to current prices. Note that this scenario would mean that iPhone margins compress by 14 points from now through 2020 - which seems unlikely.
To sum up, Apple looks like a great buy. For a company with history of great execution, Apple seems to get very little respect. Through my analysis, I have demonstrated that the bar for Apple to justify the upside scenario is very low. As long-term buy and hold investors, we would do well to pick up shares now.
Disclosure: I am long AAPL. I wrote this article myself, and it expresses my own opinions. I am not receiving compensation for it (other than from Seeking Alpha). I have no business relationship with any company whose stock is mentioned in this article.