So far this year, investors in Coca-Cola (NYSE:KO) have seen the value of their shares drop by 7.84%. At the current price of $38.07, it's trading close to its 52-week low of $36.83. In the same timeframe, the S&P 500 (NYSEARCA:SPY) went up by 2.18%. In fact, as the table below demonstrates, Coca-Cola has underperformed the S&P 500 over the past couple of years.
| | | |
| --- | --- | --- |
| | Coca-Cola returns | S&P 500 returns |
| Year to date | -7.83% | +2.18% |
| 1 year | -5.86% | +20.37% |
| 2 year | +2.89% | +34.10% |
| 3 year | +13.26% | +41.75% |
| 4 year | +39.35% | +61.90% |
| 5 year | +69.31% | +124.18% |
However, most investors don't buy Coca-Cola looking for a high growth in share price. Instead, Coca-Cola is seen as one of the safest dividend growth stocks, delivering increasing dividends year after year. Its 5 year dividend growth rate stands at a very impressive 8.06%, while the 3 year DGR is 8.37%. This means the dividend doubles roughly every 9 years. Reinvesting dividends should speed this up even more. Coca-Cola pays a quarterly dividend of $0.305, putting its current yield at a respectable 3.20%. This is much higher than its largest competitor PepsiCo (NYSE:PEP), which only yields 2.74% in dividends.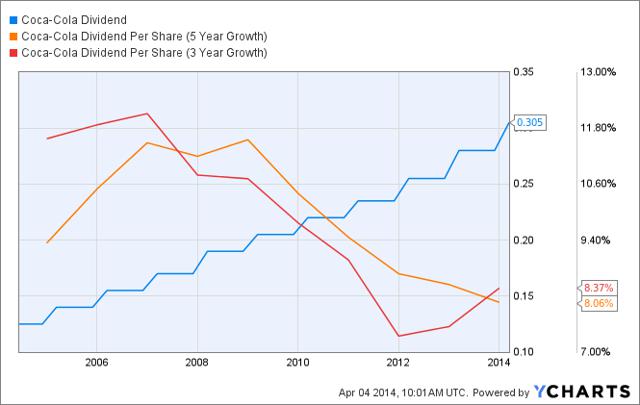 Click to enlarge
KO Dividend data by YCharts
In fiscal year 2013, Coca-Cola had earnings per share of $1.90, while paying out $1.12 in dividends. This gives us a payout ratio of 58.8%, which is quite high. In fact, over the past decade there has been only one year (2008) in which the payout ratio was higher.
For the current fiscal year, analysts are expecting earnings per share to reach $2.09, an increase of 10% to last year's $1.90, giving the company an opportunity to reduce the payout ratio whilst increasing the dividend.
There are some risks associated with an investment in Coca-Cola. Growing health concerns have led to a decrease in sales of carbonated soft drinks in the U.S. However, as fellow Seeking Alpha author Trefis stated in a recent article, Coca-Cola is trying to tackle this problem by developing low calorie products using stevia, a natural sweetener.
Coca-Cola sells its products in over 200 countries around the world and uses over 80 different currencies. This means a strong dollar could reduce the company's international profits and revenues. However, the fact KO has revenues in so many different currencies also means weakness in one currency might be compensated by strong growth in another currency. Furthermore, the company's hedging activities reduce the risk even further.
Coca-Cola has a very strong balance sheet with $20.27 billion in cash and short-term investments. This is $4.60 for each of the 4.4 billion shares, or 15 quarterly dividend payments of $0.305. This large pile of cash gives a bit of extra safety to the dividend. Coca-Cola's current ratio stands at 1.13, indicating good short-term financial health.
Looking at the price to earnings ratio, Coca-Cola seems somewhat expensive compared to PepsiCo, with a p/e of 20.0 versus PepsiCo's 19.2. However, great forecasts for the current fiscal year mean KO's forward p/e is slightly lower than PEP's. KO's 5-year average price to earnings ratio stands at 18.3.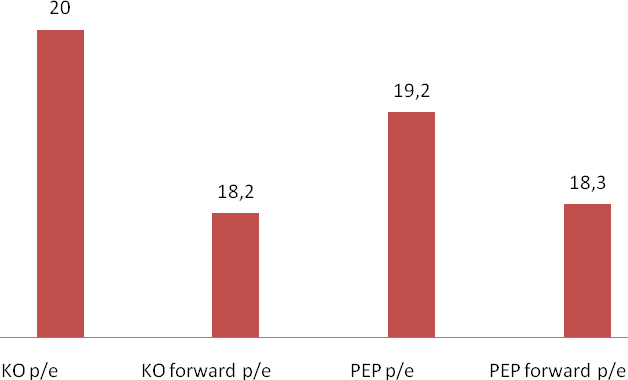 Coca-Cola's revenues are expected to reach $46.81 billion this year, giving the company a forward price to sales ratio of 3.58. KO has a 5 year average price to sales ratio of 3.9.
It's quite rare to see Coca-Cola trading at a discount to its fair value, but after having dropped over $5 from its 52-week high of $43.43, shares are looking very cheap. Add a 3.20% dividend yield and KO is too good to miss.
Disclaimer: I am not a registered investment advisor and do not provide specific investment advice. The information contained herein is for informational purposes only. Nothing in this article should be taken as a solicitation to purchase or sell securities. Before buying or selling any stock you should do your own research and reach your own conclusion. It is up to investors to make the correct decision after necessary research. Investing includes risks, including loss of principal.
Disclosure: I have no positions in any stocks mentioned, and no plans to initiate any positions within the next 72 hours. I wrote this article myself, and it expresses my own opinions. I am not receiving compensation for it (other than from Seeking Alpha). I have no business relationship with any company whose stock is mentioned in this article.