Sina's (NASDAQ:SINA) social blogging unit Weibo (NASDAQ:WB) is expected to go public by selling 20m shares priced between $17 - $19, implying a $3.5b to $3.9b valuation. Post IPO, Sina's stake would be lowered to 56.9% from 77.6%. Alibaba, which bought an 18% stake in Weibo last year, will see its stake increase to 32%.
Going into the IPO, I am a seller of Sina as I see the biggest risk to Weibo is its ability to maintain and increase user base and engagement against more popular and bigger competitors such as Tencent's Wechat. I also see regulation as another key risk to Weibo given its public-oriented nature. As the government ramps up efforts to maintain social stability amid a soft Chinese economy, Weibo's information flow will be under close scrutiny. The government will step up to shut down Weibo should there be any eruption of negative public sentiment over the platform.
Falling behind in user engagement and time spent
Weibo operates in a highly competitive social networking landscape in China that is dominated by Tencent's Wechat and QQ messaging apps, and various blog sites from Sohu (NASDAQ:SOHU) and NetEase (NASDAQ:NTES).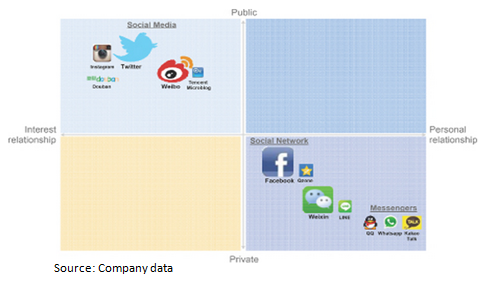 Regardless of whether the social networking platform is public (ie.Weibo) or personal (ie.Wechat), we must first understand that the ultimate goal of a social networking platform operator is to win user engagement, which could translate to potential monetization opportunities such as mobile ads and mobile payment.
While I acknowledge that Weibo is not the best comparable against Wechat, it is worth noting that Wechat is far more popular in China than Weibo in terms of user engagement and time spent. As long as Wechat can maintain its ability to maintain and grow its user engagement (which I think it can), Weibo's value as a social blogging tool will gradually wane, especially in the age of mobile internet when users spend more time on mobile devices rather than desktops.
According to iResearch, Weibo had 92mn mobile app MAU spending 205m hours in the month of February, implying 2.2 hours spent per user per month.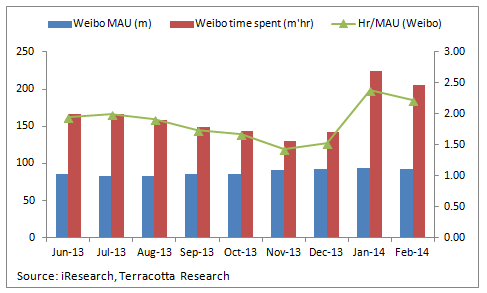 Tencent's Wechat, on the other hand, has 231m mobile MAU spending over 1.3b hours on the chat app, implying ~6 hours spent per user per month.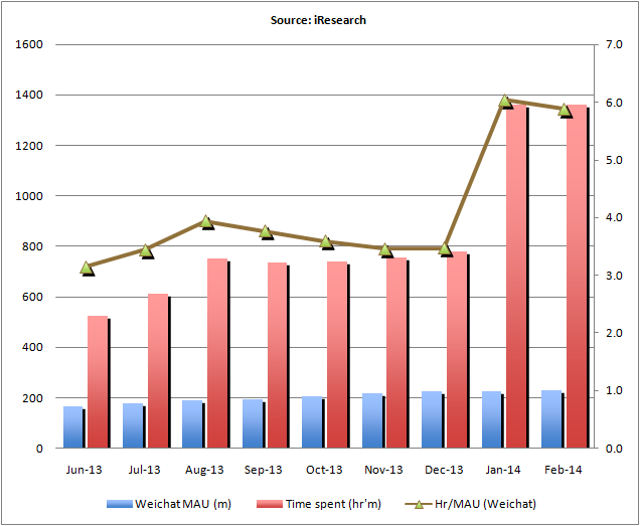 I credit the increasing user engagement in Wechat to its personal nature in which users can check their friends' update and post new updates for others to comment. This enhances user engagement in that I believe mobile users are more interested in the updates of their close friends rather than celebrities and public figures.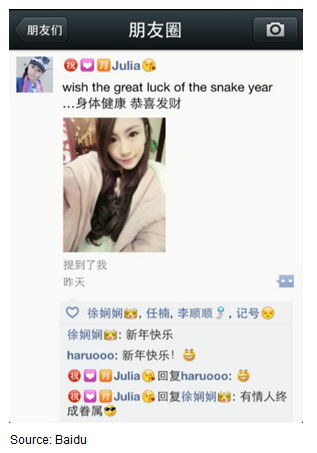 When compared with Wechat on a time spent metrics, Weibo is clearly falling behind, and I note that in recent months Wechat has increased its lead over Weibo on time spent to 2.6x in February from 1.6x in June 2013.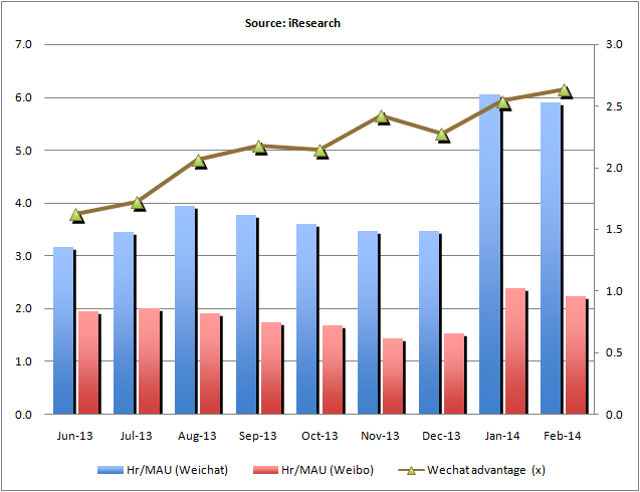 I expect Wechat to continue to increase its user engagement via additions of new services and verticals. So far, Wechat has incorporated functions that allow users to call taxi and purchase movie tickets, which prove to be widely popular among the Chinese users, including the author of this article. I note that in the month of February, 21m taxi rides booked via Wechat alone. Unfortunately, this feature is not available on Weibo.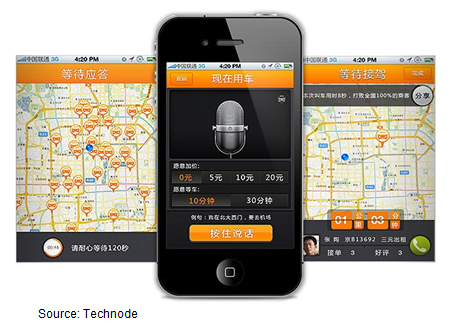 Regulatory risk the key overhang
Contrary to the market, I believe Weibo faces greater regulatory risk than Wechat given its public nature. There is no denial of China's soft economy as indicated by the weak export growth, HSBC flash PMI and debt default that have recently surfaced. A weak economy would mean that the younger (and free thinking) generation would have a harder time finding employment, which may lead to social unrest and challenges to the communist party.
While Weibo has become an essential platform for government to build public relations with the local constituents, I would not rule out the possibility of the government shutting down parts of or the entire Weibo in an event that public discontent spread over the platform. Any shutdown of Weibo would negatively impact both the users and advertisers. Wechat, given its personal-oriented nature, will unlikely face the same regulatory risk as Weibo.
Going into the IPO, I would be seller of Sina as I am skeptical of Weibo unlocking Sina's value via an IPO given the competitive nature of the market - in other words, I believe this IPO could hurt, rather than help, Sina's long-term valuation.
The only catalyst for Weibo investors is under an M&A scenario in which Weibo is acquired by Alibaba. I note that Alibaba is building up its mobile resources via the acquisition of AutoNavi, a digital map provider, and will soon hold 30% of Weibo. Unless, Weibo is acquired by Alibaba, it is difficult to see Weibo's long-term value to investors. At the same time, such scenario is could be a wild shot given an acquisition of Weibo by Alibaba would leave Sina with no competitive advantage against other online portals, thus further depressing the value of the stock.
Disclosure: I have no positions in any stocks mentioned, and no plans to initiate any positions within the next 72 hours. I wrote this article myself, and it expresses my own opinions. I am not receiving compensation for it (other than from Seeking Alpha). I have no business relationship with any company whose stock is mentioned in this article.