ViryaNet (OTCQB:VRYAF) is a mobile workforce and field service management software provider. The company has carved its niche in a booming mobile workforce management industry that remains just 25% penetrated, and is expected to grow by 40% annually for the next few years in North America. These industry tailwinds helped the company report a blowout of a fourth quarter, with earnings doubling and software license revenues increasing over 80%. Despite a 4-fold rise in 2013, I believe ViryaNet's shares offer one of the most attractive risk/reward profiles in the market today, trading at merely 7X my estimated 2014 earnings and less than half the valuation of their larger publicly traded peers.
Business
Companies in field service intensive industries, such as utilities and telecoms, rely on ViryaNet's solutions to optimize their mobile workforce and respond to real-time scheduling changes. The company's core product, ViryaNet G4, provides web-based solutions, optimizing the full lifecycle of field service operations. This software allows service intensive companies to perform critical tasks, including creating work orders, scheduling and dispatching field personnel, and receiving real-time reports from the field.
As anyone with Comcast experience knows, poor service provided by field technicians can be a prime cause of customer attrition. A recent survey conducted by TechValidate showed that ViryaNet's software proved effective in finding a solution to these issues, with over 75% of customers reporting improved field technician efficiency, on-time arrival, and workforce utilization. This value proposition has allowed the company to achieve nearly 100% client retention rates and a blue-chip customer base rarely experienced by a company of ViryaNet's size:
Up to now, ViryaNet's solutions have been primarily deployed through an on-premise model with up-front licenses (ranging from $300-500K to a few million) and recurring maintenance contracts priced at ~20% of the up-front license fee. A key feature of the ViryaNet sales strategy is the utilization of channel partners that "white-label" the company's software and sell it as their own mobile workforce management solution. Accounting for roughly 30% of the company's sales, channel partners include household names such as GE Energy and Vodafone.
Industry Overview
Over 70% of the world's economy is comprised of service businesses and they're continuing to grow in share. Gartner estimates the field service management market is valued at $1.5B annually, with software sales making up $329M of that total (ViryaNet February 2014 Investor Presentation). Most importantly, the market remains under-penetrated and is expected to grow at a rapid pace; research by Frost and Sullivan points to a 40% CAGR in North America through 2018 (source).
The mobile workforce management market is highly fragmented and consists of a large number of niche players in addition to that traditional ERP and CRM software vendors. ViryaNet's primary competitors are ClickSoftware Technologies (NASDAQ:CKSW), Astea International (NASDAQ:ATEA), TOA Technologies, and ServiceMax. Despite the competitive landscape, the company has found its niche and been recognized as an innovator in the industry. Lately, ViryaNet's markets have been in a heavy consolidation phase with two of the company's primary competitors acquired in just the last three years: Ventyx (acquired in 2010 by ABB Ltd.) and Metrix LLC (acquired by IFS in 2012).
Financials
Below is a summary of the company's financial performance over the past seven years:

Note: The company's 2013 10-K was not filed at the time of this writing so CFO for that year has been excluded.
ViryaNet's recurring business has kept revenues stable, and a rationalizing of the cost base brought the company to profitable operations over 2008-9, which it has since maintained. The company experienced a breakthrough year in 2013 with record revenues, operating income, and a large jump in shareholder's equity as debt was paid down. A closer look at the company's quarterly financials reveals that the business accelerated in the fourth quarter of last year:

The company's maintenance and service revenues have remained stable over the last seven quarters, but a surge in software licensing revenue doubled operating income and put it at a record 27% margin. This outsized effect can be attributed to software licensing gross margins, which - at approximately 95% - are far higher than the 60% margins associated with services revenue. The company accredits the strong licensing revenue to the performance of their channel partners, particularly GE Energy, which have become increasingly adept at selling their product as these relationships have matured.
Valuation
Here is where ViryaNet's valuation stands in relation to their larger publicly traded competitor, ClickSoftware Technologies: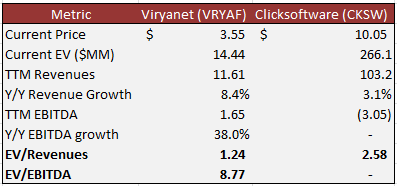 As seen above, ViryaNet trades at just over 1X revenues and 8.8X TTM EBITDA - a modest valuation for a software company that grew EBITDA 38% y/y. The market has awarded ViryaNet less than half the revenue multiple of ClickSoftware, which was not even profitable and experienced a decline in revenues. Recent transactions in this space also illuminate ViryaNet's undervaluation, with Metrix LLC being acquired at 2.2X revenues in 2010, and the larger Ventyx being acquired at 4X revenues in 2012.
While the valuation gap has closed over the last six months, it will have a long way to go if the company delivers another record performance in 2014. ViryaNet's business is notoriously lumpy, so, let's consider three potential 2014 scenarios. For the base case, we will assume the company continues its high single-digit revenue growth rate and achieves operating leverage with a greater mix of software licensing revenues. The bear case will have licensing revenue trending back to the levels of 2012, and we will annualize the company's blowout fourth quarter performance to form a bull case. Put together, here are the scenarios: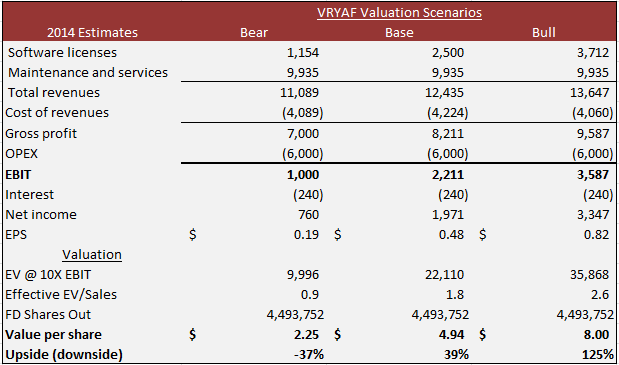 Note: The company has a large amount of NOL carry-forwards ($35M for parent company, $62M for US subsidiary) that although valuable, have not been considered in the valuation.
In the base case, I believe that the company is capable of putting $.50/share toward the bottom line, which would put the valuation at a paltry 7X earnings. Assuming the company holds its current 10X EV/EBIT multiple, shares would then rise to $5 in the base case and provide nearly 40% upside from current levels. Should business continue to accelerate, shares could easily be valued at $7 and offer investors well over 100% upside. Considering the company revealed a multi-million dollar service order shifted from Q4 of last year to Q1 of this year, and just launched a cloud-based version of their flagship software, I feel there is plenty of upside to the scenarios I have outlined.
Catalysts
I see a number of near-term catalysts that could drive shares to new highs in 2014:
Launch of ViryaNet G4 Cloud Offering - the company only began offering cloud-based deployment in November of last year and has already indicated strong demand. ViryaNet's solution had previously been offered as a cloud model by only a couple of channel partners, but now the company is offering it to their entire direct customer base. The new cloud service should appeal to small- and medium-sized businesses that are weary of making a large up-front investment in the software, and will provide valuable source of recurring revenues.
Acquisition Potential - as discussed previously, the field service and mobile workforce management markets have been consolidating rapidly. Management attributes it to the difficulty involved in building this complex software, which took ViryaNet over a decade with over $100M in paid-in capital. As the mobile workforce management market expands, I believe large software vendors look to ViryaNet as one of the few niche players left on the market - and with recent transactions occurring in the 2-4X revenue range, this scenario could result in a big payday for investors.
Exchange Up-listing - with ViryaNet's stock rising well above $1 in 2013 and the shareholder equity now at $2.5M, the company is in a good position to improve the liquidity of their shares by up-listing to an exchange such as the NASDAQ. With only a couple million shares in the float and the average daily trading volume at just over $50K, many interested investors are likely waiting on the sidelines for improved liquidity. Though management has not set a timetable, I believe an up-listing could occur as early as year-end, which should increase interest among institutional investors and assist in closing the valuation gap.
Risks
ViryaNet faces customer concentration risks, with four customers accounting for roughly a third of their revenues. The company is also dependent on the channel partners that have fueled their recent growth. Should ViryaNet experience the loss of a large customer or one of their partners find a replacement solution, the company would likely be faced with operating losses until new business is won.
ViryaNet also operates in a highly competitive and emerging industry characterized by rapid technological obsolesce. Should they be unable to keep pace with new innovations and industry trends, like cloud-based delivery, the business might face declining sales and an eroding competitive position.
Insiders
ViryaNet is a closely held company, with insiders collectively owning over 47% of the shares outstanding. Both CEO Memy Ish-Shalom and Chairman Samuel HaCohen have individual stakes standing at over 10%. Acting as true owners, management has done an excellent job achieving consistent profitability, organically growing the business, and moving the company toward a debt-free position.
Also of note, management has built their stakes with open-market purchases. In March of last year, Memy Ish-Shalom purchased 135,000 shares at $0.52 each, which increased his holdings by 50% to 10% of the company. I will point out that following the rapid rise in share price over the last six months, some insider selling has occurred - but, as Peter Lynch says, insiders sell for a variety of reasons and I don't believe these actions are tied to management's view of the company's future.
Conclusion
ViryaNet's position is enviable, with a blue-chip customer base and an innovative solution that is gaining traction in the rapidly growing mobile workforce management industry. Investors have the opportunity to partner with a highly incentivized management team that has consistently delivered on product innovations and sales growth, at a price that is less than half of where comparable companies trade. With the company's new cloud offering, up-list potential, and attraction as an acquisition target, I predict 2014 will be another breakout year and shares could climb a long way as more investors learn about this hidden gem.
Disclosure: I am long VRYAF. I wrote this article myself, and it expresses my own opinions. I am not receiving compensation for it. I have no business relationship with any company whose stock is mentioned in this article.
Editor's Note: This article covers one or more stocks trading at less than $1 per share and/or with less than a $100 million market cap. Please be aware of the risks associated with these stocks.