Introduction
North American Palladium (NYSEMKT:PAL) owns mainly the "Lac des Isles" site, which is located approximately 90 km northwest of Thunder Bay, Ontario in Canada. Access to the site is provided by a year-round gravel access road that connects to a provincial highway. The mine commenced production in 1993 and expanded production underground in 2006.
When the surface zone called the Roby zone was almost mined around 2010, the company started to work on a shaft from the surface to -1400m level in two phases. Phase I, which is now completed at around -860m, and Phase II that remain to be implemented. The shaft is mining the Offset zone at about 4.5g/t of palladium.
PAL has also a mill on-site with a capacity of 15,000 tpd, which is used right now at around 50%. The actual shaft capacity is 8,000 tpd, but guidance for 2014 indicates between 3,100 tpd to 5,000 tpd by Q4 2014.
tpd= tonne per day
What we know about actual production?
1 - 2013 snapshot.
PAL production in 2013 was 135,138 oz of palladium at a realized price of $724, and at a cash cost of $560. Cash cost is including the revenue from the by-product metals (Gold, Platinum, copper, nickel, rhodium and silver). By-product ratio is about 26%.
Here is the filing 6k on February 20, 2014,
Conference call transcript February 20, 2014,
Investor March 2014 presentation,
Reserve report on March 21, 2014,
Financial situation at 12/31/2013. (Table)
PAL

Production

oz

Pd

price $ US

Grade

g/t

Cash cost

$

Adj. EBITDA

$ million

EBITDA

$ million

Rev.

$ million

Cash

$ million

2013
135,138
724
2.8
560
13.4
-5.6
153.23
9.79
2014 Forecast
172,500
*745
-
550
-
-
-
-
* As of March 31, 2014
As of February 19, 2014, the company indicated in its last presentation that it had 244,645,558 fully diluted shares. The outstanding count on 12/31/2013 was 187,176,329. This amount was at 296M fully diluted in March 2014 presentation, an increase of 58% in three months.
Also in its reserves report, PAL said it has a life reserve extended to 2019. "Cash costs of the base case averages US$440 per ounce of payable Pd." Reserve grade at 1.44g/t, 2.24g/t and 4.25g/t.
Here is the YTD chart for palladium-Spot price: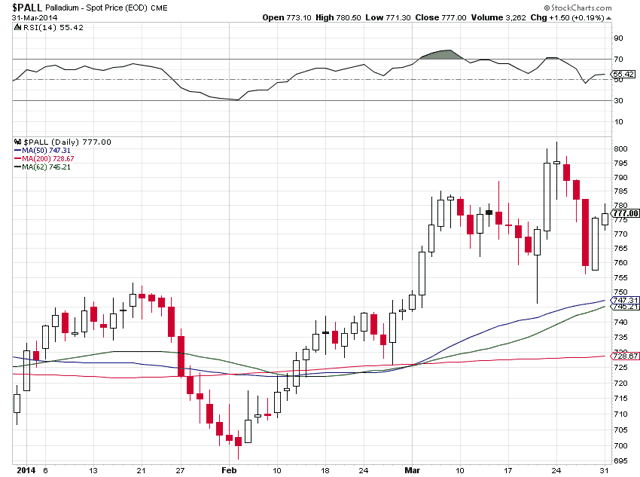 Click to enlarge
2 - 2014 Forecast
The actual forecast for 2014 is production between 170k oz to 175k oz, and 5,000 tpd by Q4 2014 at a cash cost of $550. The company realized also around 80.7% for the mill recovery by the end of 2013 and expects to increase it to 84% for 2014. Cash cost is expected to go down to $450/oz by Q4 2014.
PAL indicated at the last conference call that production for January 2014 was 15,200 oz at 3.9 g/t average and 4.9 g/t from the offset zone. Mill recovery was 84%.
What is the debt burden?
Recently, the current situation has reached an alarming point, and is still deteriorating as we speak; worse, I do not see any end forthcoming with this new equity financing going out of control.
1 - The bulk of the money owed comes from the Brookfield's (NYSE:BAM) loan (06/07/2013) and it is huge at an exorbitant cost. PAL owes $169.7 million now at 19% (from 15%) due in June 2017 after amending the original loan on 11/12/2013.
2 - C43M ($39 million) in debenture at 6.15% due September 2017.
3 - $31.2 million of a $60 million operating line of credit due July 4, 2014. With an interest unknown to probably 10%? The company said at the conference call: "Our USD 60 million credit facility is limited by borrowing base calculation, and was fully utilized at year-end at a level of USD 31.2 million."
4 - $17.1 million in operating leases and finance leases (I presume at 10%?). (Finance leases $11.732 million, Operating leases $4.448 million and Purchase obligations $0.951 million).
5 - Recent debenture(s) that have been converted or will be converted in shares with an amount of shares 58% higher than end of 2013 on March 2014 or 109 million shares added, not including the tranche II. CFO Carlo Langille said at the conference call:
"As stated in our January 12, 2014 news release, we are looking to raise up to $43 million in additional financing. The actual amount required to meet our 2014 needs will largely be dependent on how our operations perform, and we are encouraged by the progress made to date."
The company indicated a long-term total debt at $239.086 million, not including the $17.1 million leasing item. Total: $256.19 million
The average interest is around 15.3%/Y or $39.2 million/Year.
3 -All-in sustainable cash cost. (AISC)
AISC is a non-GAAP measure. The mining company is calculating the AISC as the sum of the total cash costs (net of by-products credits), sustaining capital expense, corporate, general and administrative expenses (net of stock option expense).
The gold-mining industry that has underperformed the precious metal for each of the past six years is pledging to report costs more accurately as part of its efforts to win back investors' confidence.
The palladium-mining industry should follow this trend. From an article written by Calum K. Semple, Consulting Eng. partner at Mining Consulting leader for the Americas:
"Investors and analysts are increasingly calling for a more complete and transparent disclosure of total costs of production in the mining industry as margins have been squeezed by the recent decline in commodity prices."
PAL is indicating a "cash cost" that does not include the expenses required to maintain a long-term sustainable mining operation. Without this AISC clarification, it is nearly impossible to conclude if the company is operating unprofitably or not. What is the true cash cost?
All-in sustainable cash cost for PAL (Table)
I am getting the AISC value from the production forecast 2014: Production between 170koz to 175Koz. (I will take 175koz to get better results); G&A are about $11 million for 2014; Interest cost is $39.2 million, and cap ex has been indicated at $30 million for 2014.
| | | | | |
| --- | --- | --- | --- | --- |
| Description | Cash cost | G & A | Debt % | Capex 2014 |
| Value $/oz | *440-550 | 63 | 224 | 171 |
* Future cash cost has been indicated for 2014 at around $550/oz and also has been indicated at $440 in the reserves report on March 21, 2014.
"Accordingly, cash costs per ounce are forecasted to be higher in the first half of 2014, and are expected to decrease to approximately US$450 in the fourth quarter. The Company estimates that cash costs per ounce will average around US$550 for the year." Forecast January 6, 2014
The basic AISC is between $900/oz to $1,000/oz
Conclusion: PAL is actually losing money to produce palladium
Palladium spot-price is averaging $746 for the first three months of 2014, and my projection is $770 for 2014. Based on $770, It is a loss between $130 to $230 per oz of palladium produced.
This AISC value is less than what I estimated in my previous article, mainly because the recent debentures are not included in the AISC calculation. However, it will cause a direct and huge dilution by greatly inflating the shares outstanding since December 2013.
The outstanding shares count is already around 296M (fully diluted), and with the second tranche offering of $43 million, it will be much higher, although it is nearly impossible to calculate how many shares will be issued if the offering takes place.
4 - Huge dilution coming with tranche 2 and tranche 3
Tranche 1 was $32 million face amount and matures in five years at 7.5% plus warrants. However, investors were entitled to all five years of interest regardless of when they choose to convert.
They do not need to hold to maturity to get their five years of 7.5% interest. The tranche 2, will have the same effect if converted immediately (It was the case for tranche 1).
Tranche 2 will have a total of $43 million and matures in five years at 7.5%, plus five years of interest at 7.5%, which is $18.75 million compounded interest (Not counting the warrants, 33% of the principal at 20% over pps).
How many shares total outstanding with warrants are we talking about?
It is really difficult to answer this question, but we can say that the dilution will be Big.
"The number of common shares issuable in respect of the Make-Whole Amount is determined by dividing the Make-Whole Amount by the average five-day VWAP of the common shares on the TSX for the five consecutive trading days ending on the second trading day immediately preceding the conversion date. (Make-Whole Amount" represents the amount of unaccrued and unpaid interest that would have been paid if such debenture were held to maturity.)" - In a notice to shareholders March 3, 2010.
Then PAL will need more cash for the completion of the shaft phase II (Tranche 3 by 2015).
This situation has been going on for many years and has resulted in a long-term total debt of $256 million, and a rapid increase of shares outstanding since 2014. The outstanding count was 147,436,394 common shares on May 10, 2010 and will be probably between 400 million to 500 million after tranche 2 is converted.
4 - What will happen?
It is not difficult to imagine what PAL is actually facing. I called it a "financial death spiral" in my prior article, and I still do unfortunately. PAL has more debt now that it can ever repay. The new CEO Phil du Toit and his team are doing the best they can to win this battle for survival but numbers are telling the real story.
The question is to know if PAL can possibly avoid bankruptcy.
BAM loan represents $169.7 million at 19%, and will be around $290 million in July 2017. (The company chose not to pay interest and pay 19% instead of the initial 15%.)
What are the possible alternatives?
1 - Cost reduction, increase in ore production, and higher palladium price?
PAL will have to reduce drastically cash cost to under $300/oz somehow, and will need also a palladium spot-price well over $900/oz on average for the next three years, in order to barely break even.
The company has clearly indicated that the basic cash cost will go down by Q4 2014, but not under $450. However, if we look at the past forecasts released by the company, we are almost certain that the cash cost will be higher and production will be lower than what has been forecasted.
Already the new management is indicating 5,000 tpd from the shaft by end of 2014, which is about 10% down of what was the forecast by 2015 with a cash cost going from "$250" to about $440. Phase II was not required, but now it is again.
If we base our calculation on a cash cost at $550 average for 2014 and $440 from 2015 to 2017, PAL will have an AISC at around $900-950/oz, which means that to operate at break-even the company will need a palladium price well above $900, and it is sadly improbable. Basically, the mine is not producing enough to survive. Ore grade is too low and ore feed tpd to the mill is insufficient.
Most of the analysts in the palladium sector are not forecasting palladium above $825 for 2014, 2015, 2016, and 2017. PAL is indicating a palladium price until 2017 from 25 analysts as follows: (March Presentation, page 18)
| | | | | |
| --- | --- | --- | --- | --- |
| Year | 2014 | 2015 | 2016 | 2017 |
| Price $ | 786 | 844 | 824 | 827 |
2 - A take-over?
It could be possible but, in fact, BAM is preventing it, in my opinion. If you read the BAM covenants, it is "clear" that if a company wants to acquire PAL, it will have to pay an exorbitant price to BAM or probably around $275 million.
Look at the debt covenant 2.3:
"The Borrower acknowledges that, in consideration of the Lender having committed to provide the Loan pursuant to the Commitment Letter, a commitment fee has been earned and is payable to the Lender in accordance with the Fee Letter (the "Commitment Fee").
In consideration of the Lender making the Loan available, the Borrower agrees that the Lender will have earned a make whole fee (the "Prepayment Fee") (representing a genuine estimate of the loss of profit of the Lenders arising from such repayment or in the case of an Event of Default, accelerated or delayed payment, and not as a penalty) payable upon any voluntary loan repayment pursuant to Section 3.5 and as otherwise set forth herein (representing a genuine estimate of the loss of profit of the Lenders arising from such repayment or in the case of an Event of Default, accelerated or delayed payment, and not as a penalty) equal to the product of (NYSE:X) the amount being prepaid multiplied by (NYSE:Y) the interest rate exigeable pursuant to section 3.1 multiplied by (NASDAQ:Z) a fraction, the numerator of which is the number of days from (but excluding) the date of the related payment to and including the Maturity Date, and the denominator of which is 365."
What price are we talking about?
X = $169.7 million multiply by Y=19% multiply by Z = numbers of days until July 2017/365 days
Price = 169.7 + (169.7 x 0.19 x 04/02/2014-06/31/2014 = 1185 or 3.25 years/365) = $275 million
Debt covenant 3.5.1 voluntary prepayment.
"3.5.1 The Borrower may, at its option, prepay the Principal Amount, in whole or in part, together with accrued and unpaid interest on the Principal Amount being prepaid, on any Business Day, without premium or penalty but subject to payment in cash of the Exit Fee stipulated in Section 3.9 and the Prepayment Fee stipulated in Section 2.4"
See also, debt covenants 3.8 and 6.4, which are required by a Canadian company. Also read debt covenants in case of bankruptcy.
3 - Bankruptcy or CCAA (Companies' Creditor Arrangement Act. To avoid bankruptcy in Canada)
The assets may be auctioned out under the CCAA down the road. I assume the mine will continue to operate even under the CCAA, and that would probably be the best outcome for the mine and BAM.
It is a complete restructuring of the balance sheet, and actual shareholders will get not much in this process as usual, but the mine will be saved.
The CCAA is not very different from any real bankruptcy and the size of the BAM debt plus interest is so exorbitant that I wonder what can be left for shareholders when BAM will be paid off. BAM debt alone including accrued interest will be $275 million at auction or $0.95 per share at today's price! Then we have the $32 million note, the leases etc.
I think it is what will be the most likely outcome, in my opinion. By the way, Jaguar Mining (OTC:JAGGF) was part of this program on December 23, 2013 and trade now at $0.04.
Note: The company is not commenting on any eventual restructuring and instead said that it intended to get back to profitability.
CEO Philippus Du Toit said at the CC:
"Our first strategic objective is to capitalize on the new shaft infrastructure and increase our underground production. Recall that our target is to increase from 3,000 tonnes per day up to 5,000 tonnes per day by year-end. This is a critical objective that will be instrumental in reducing operating cost and therefore improving bottom line financials. And I'm pleased to say, we are on track...Our second strategic objective is to continue with our optimization programs, aimed at improving operating performance at our mine and mill complex so that we can realize additional cost savings...Our third strategic objective is to identify future growth opportunities so that we can increase the utilization of the shaft and the mill complex."
Disclosure: I have no positions in any stocks mentioned, and no plans to initiate any positions within the next 72 hours. I wrote this article myself, and it expresses my own opinions. I am not receiving compensation for it (other than from Seeking Alpha). I have no business relationship with any company whose stock is mentioned in this article.
Editor's Note: This article covers one or more stocks trading at less than $1 per share and/or with less than a $100 million market cap. Please be aware of the risks associated with these stocks.