There was a lot of "red" on our screens last Friday. Having multiple monitors helps tremendously with getting the data in your face, so to speak.
Most trading platforms these days allow an investor to filter market data configured to a particular strategy. It was interesting to see many of the momentum names being displayed simultaneously in various "bearish" filters we use.
Some of the usual suspects bear mention (no pun intended) as they illustrate how distribution can be swift and merciless.
Keurig Green Mountain (NASDAQ:GMCR): Shares fell more than five percent on Friday. The stock is down over 16% since the February highs.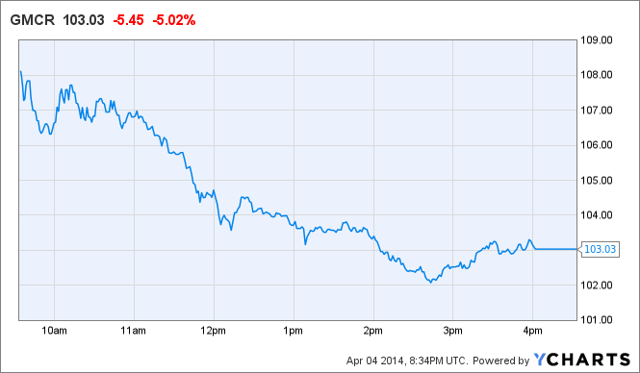 Netflix (NASDAQ:NFLX): Shares of NFLX shed almost five percent of their value on Friday. NFLX stock has declined more than twenty-five percent since the March high.
Selling begets selling, but Friday's tape could be signaling a market top. With the Dow and S&P 500 at record highs, extreme selling pressure in momentum stocks tells us the easy money may have already been made.
While GMCR and NFLX are only two examples of the momentum NDX universe (S&P-100), their respective valuations peaked prior to the major indexes advancing to new highs.
When market leadership breaks down at the same time, it might signal that "distribution" is in play. Over time, selling pressure results in a dearth of "buyers." Eventually, downside leadership dries up, setting the stage for a market advance.
The pullback in shares of NFLX and GMCR for example, do not guarantee that the NDX or broader market is headed for a correction or consolidation, but it is anecdotal evidence of market headwinds.
If the distribution in stocks were to escalate, overall market leadership potentially could shift in favor of the bears. Friday's sell-off lacked panic, but it does indicate that traders, money mangers and investors are in the mood to take some chips off the table.
The laws of gravity extend far beyond stocks like GMCR, NFLX or another high-flyer Tesla (NASDAQ:TSLA). But, the aforementioned names represent market leadership considering that each significantly outperformed the S&P 500 in the last year.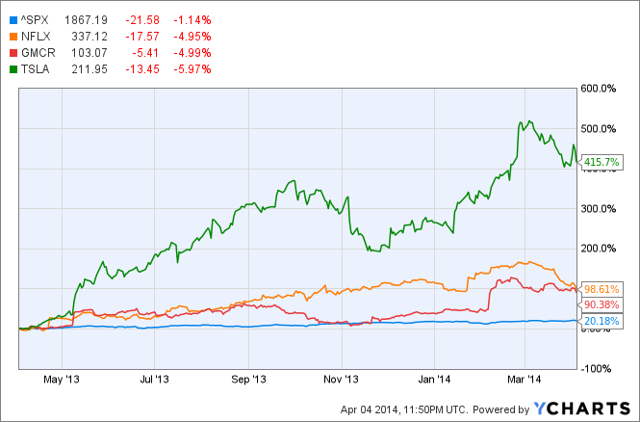 We are actually relieved to see stocks pull back. A one percent hit to the S&P 500 is not a problem when the index has just made fresh record highs. The more dramatic five-percent declines in the momo names should not surprise either.
The concern here would be if money continues to move towards the exits. NFLX and GMCR are not proxies for the market, but both stocks have been in a stealth decline during the past one and two months respectively.
As for the broader market, the recent record high in the S&P 500 was a struggle. The last two days (April 3-4) saw intra-day new highs for the index, but stocks closed near the lows. Declining stocks led advancing stocks by almost two-to-one on Friday.
Perhaps Friday was a simple case of profit-taking disguised as rotation. But the screens we observed Friday revealed a lack of discrimination by market participants. There were more sellers than buyers, and momentum favorites dominated the retreat.
We rarely see leadership groups decline in concert with major indexes setting record highs. It could be argued that valuations and fundamentals are disconnected in areas of this market.
Regardless of one's market perspective, Friday April 4th made it abundantly clear that investor sentiment is exhibiting a bias which leans towards caution. If anything, it indicates a lack of conviction.
For those investors unfamiliar or uncomfortable with portfolio-hedging tactics (i.e. options, inverse instruments, etc.), keep your powder dry. It does not require an abacus to understand the virtue of capital preservation.
Meanwhile, update your wish-list, and in the event of a meaningful correction, resources can be put to work.
Disclosure: I have no positions in any stocks mentioned, and no plans to initiate any positions within the next 72 hours. I wrote this article myself, and it expresses my own opinions. I am not receiving compensation for it (other than from Seeking Alpha). I have no business relationship with any company whose stock is mentioned in this article.