Shares of Facebook (NASDAQ:FB) are down 22% from mid-March all-time highs as the strong selling pressure in momentum names intensifies. The recent acquisitions of WhatsApp and Oculus may be adding fuel to the fire, since there is a lively debate over the benefits of those acquisitions, as some believe that Facebook is throwing away money (and stock). However, I believe that the recent acquisitions may be good long-term investments for the company, as I will discuss in this article. In addition, a look at the past forward valuation range points to the fact that the bottom may be near and may prove to be a solid long-term buying opportunity.
Strong selloff in momentum stocks
The recent selloff in the leading areas of the market has taken a toll on Facebook, which is down more than 20% in less than a month. Biotech (NASDAQ:IBB), Internet (NYSEARCA:FDN) and Social Media (NASDAQ:SOCL) stocks were among the hardest hit, as their valuations come down from steep premiums over the overall market. A look at their respective charts reveals the steepest correction in more than two years and after a tremendous run of the three ETFs. Although there is no way of knowing where the decline will stop, a logical point of support is their respective 200 day moving average lines (which roughly correspond the 40 week moving average lines that are presented in the charts below). The Social Media ETF has pierced through the 40 week moving average line without signs of stopping, while the Internet and Biotech ETFs are close to their lines of potential support. Facebook might also receive buying support at its 40 week moving average line, which translates into 12% more downside risk.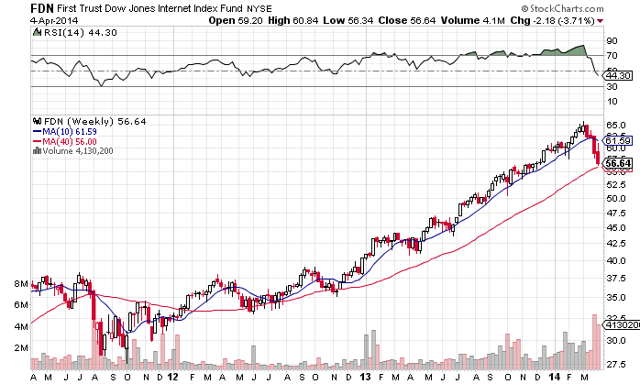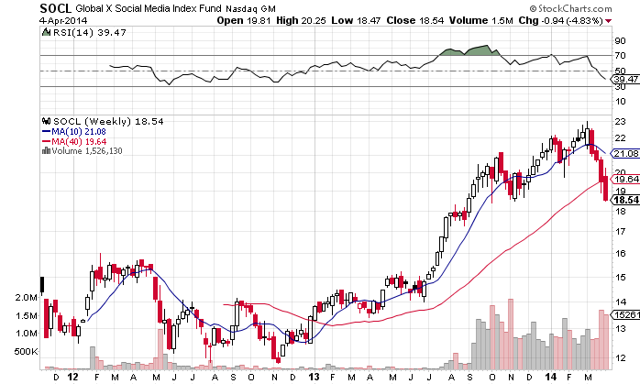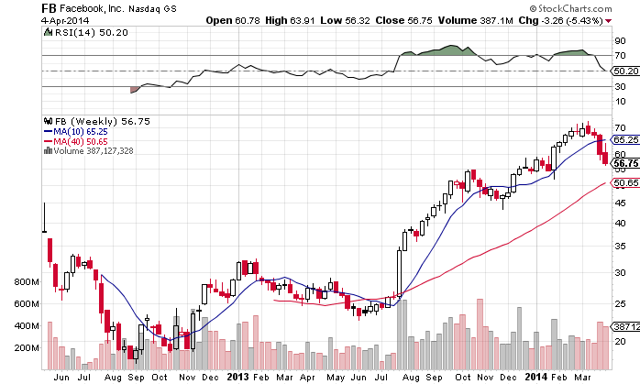 Source: Stockcharts.com
WhatsApp and Oculus acquisitions
While most of the media are rushing to label Facebook's WhatsApp acquisition as a desperate and costly move to buy a potential competitor, I believe that the deal is a great long-term move for Facebook, although the $19 billion price tag is out of proportion with the current value of WhatsApp. However, the value of the deal is not in the current business model. While WhatsApp charges its users $1 annually, it is in the broad user base, which might enable Facebook to disrupt the global communication market. Ovum Research indicated in late February that free social-messaging applications like WhatsApp cost phone providers around the world $32.5 billion in texting fees in 2013. That cost is projected to reach $54 billion by 2016. In addition, I agree with most of the conclusions from New Capital's article "WhatsApp Acquisition Is A Great Deal For Facebook." The author analyzed the current revenue stream and user base, and notes that the acquisition values WhatsApp users four times less that Facebook's users. There is certainly more than meets the eye regarding the WhatsApp acquisition, and there may be more ways for robust monetization of its user base than we are currently aware of. There is also room for growth acceleration and synergies between WhatsApp and Facebook.
The most recent acquisition of Oculus shows Facebook's intent to make the world "more open and connected." Facebook's CEO Mark Zuckerberg said that "this has mostly meant building mobile apps" in the past few years, but the company will now focus on platforms that will enable "even more successful and entertaining personal experiences." I cannot recall the source that said that Facebook is becoming "The Google (NASDAQ:GOOG) Of Communication," and this is exactly what the company is doing. Google started doing business in the internet search market, but now encompasses far more than you could have imagined when the company went public ten years ago, and probably will be a more complex company in the future than we might be anticipating. That is what investors who own or are buying Facebook now are investing for - the future. Oculus will probably go beyond the gaming industry and will enhance Facebook's social offerings. Facebook intends to make Oculus a platform for many other experiences, like sports events and education.
WhatsApp and Oculus acquisition are intended to broaden the user experience and will accelerate the future growth, and I think that the long-term growth prospects are even more compelling now, and bound for upside revisions going forward, which will make the forward valuation more attractive than it is right now. The valuation is the next assumption for my optimistic assumptions about Facebook's future.
Past valuation trends also suggest that the bottom may be near
A look at the TTM EV/EBITDA and forward EV/EBITDA chart reveals that Facebook's valuation is near the low end of its range since July 2013, which marked a turning point for Facebook, after the company showed strong results in mobile monetization and accelerating revenue growth. I think that a forward EV/EBITDA ratio of 15 is a gift for Facebook investors, since the company is expected to grow EBITDA 30% in the next two years, and probably beyond, and Facebook needs to go down 25% to trade at a forward EV/EBITDA ratio of 15. Since Facebook is expected to report Q1 earnings soon, the forward EV/EBITDA ratio will contract about 10% (or more if Facebook beats estimates and guides higher), and we get a more limited downside target of about 15%. This might roughly coincide with the expected technical downside target of $50, which might be regarded as a strong buying opportunity. On the other hand, upside potential could be between 40% and 60% if Facebook can manage to rise to the upper end of its forward EV/EBITDA valuation range, giving investors an asymmetric reward/risk trade.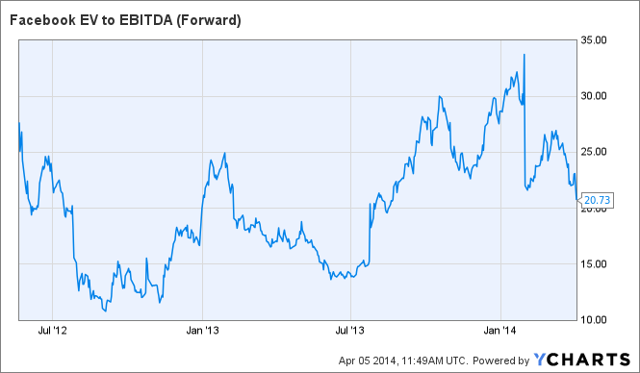 Source: ycharts.com
Conclusion
Facebook is at the forefront of innovation, and investors should continue to benefit from strong growth of the company that might become "The Google Of Communication." WhatsApp and Oculus might prove as very important pieces of that puzzle going forward, and the priced paid might have been low if the company achieves what it intends to do with them. The strong selloff in momentum names has dragged Facebook's share price to attractive levels, and Facebook could have between 40% and 60% upside in the next couple of months. Downside should be limited to 10% to 15% and regarded as a strong buying opportunity for long-term investors.
Disclosure: I have no positions in any stocks mentioned, and no plans to initiate any positions within the next 72 hours. I wrote this article myself, and it expresses my own opinions. I am not receiving compensation for it (other than from Seeking Alpha). I have no business relationship with any company whose stock is mentioned in this article.