Coca-Cola (NYSE:KO) has been in the news recently for a lot of negative reasons. Criticism about executive compensation and studies about the risks of diet soda have dominated the coverage recently.
We acknowledge that Coca-Cola's classic returns are perhaps a thing of the past. With a saturated market in the U.S, currency fluctuations (though temporary), and international competition, things aren't getting any easier for the company. But does that mean it's all gloom for big red and its investors? To play the devil's advocate, this article presents a few short-term and long-term positives for the stock. Let us get into the details.
The Flight To Safety: In case you haven't noticed, most high-flying stocks have taken a beating recently. Tesla Motors (NASDAQ:TSLA) and Amazon (NASDAQ:AMZN) were some stocks that got hit hard last week. In contrast, a safer stock like AT&T (NYSE:T) has gained 10% in the last few weeks.
The flight to safety is perhaps just getting started, given the historic run we've seen since 2013. It will not be too long before investors recognize Coca-Cola's 3.2% yield and low beta of 0.35 are too tempting to ignore. It is not surprising at all that UBS recently picked Coca-Cola as one of its "Q-GARP" stocks. Check this link for more details.
Insider Support: There are a few key points to note about Coca-Cola's insider transactions over the past few months.
The CEO had a direct purchase in February at $37.91, not too far off from the current price.
Looking at the number of purchases at $37 and $38, it will not be a stretch to assume that the stock will see support at those levels from insiders.
In contrast, the last direct insider purchase at Pepsico Inc. (NYSE:PEP) was in February 2013.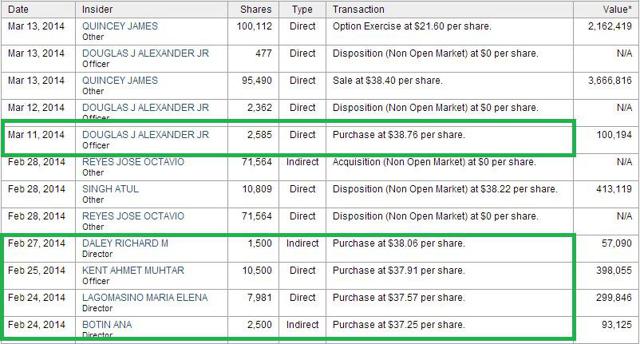 (Source: Yahoo Finance)
Price Target: Estimates are not fool-proof, but it does help to track earnings as well as price target estimates.
17 analysts on Yahoo Finance have a mean price target of almost $44, representing 15% upside.
25 analysts on Marketwatch have the same price target as above.
Trefis.com has a price target of $41.11, up 7.5% from the current share price.
The 3.2% yield does not hurt either. Plus, Coca-Cola is no stranger to buybacks. While investors would like to see more spent on buybacks, the 4.4 billion shares outstanding at the end of 2013 represented the lowest count in the last 5 years.
Long Term Technical Pattern: As surmised in the "Insider Support" section above, Coca-Cola has had monstrous support at the $37 level over the past 2 years. The stock has bounced from $37 multiple times in the last two years. If you extend the chart to the last 5 years, one can see similar support whenever the stock's yield reached 3.20% to 3.50%. This support is so well-established that Coca-Cola's highest yield in the last 5 years has been just 3.67% (reached during the 2009 crisis). In other words, unless there is a market catastrophe, it is very hard to imagine Coca-Cola yielding much higher than it does now.

(Source: Yahoo Finance)
The Brand and Growth:
Coca-Cola is not just a company. Coca-Cola is not just a sugary soda either. Coca-Cola is "the franchise," and it is no surprise that it was the #1 brand worldwide until Apple (NASDAQ:AAPL) unseated it recently.
To realize Coca-Cola's brand image and advertising genius, take a look at this advertisement for "Small World Machines." This advertisement took "bringing people together" to a whole different level. Anyone who knows the political history between India and Pakistan will be able to appreciate the effectiveness of this advertisement and Coca-Cola's brand.
To put it in simple terms, Coca-Cola just knows how to operate in pretty much every country. The company's initiative in Ghana to bring in more women to the workforce (not just to Coca-Cola) has been met favorably. This follows similar efforts in 4 other countries: Brazil, India, South Africa, and Philippines. Okay, but what's the net benefit to the company? Did the revenues increase? It's hard to say exactly, but all these efforts have a lasting impact on the brand awareness and customer loyalty.
This article talks about the company's efforts in rural India for further expansion, including endorsements by actors. This is nothing new in Indian markets, but continuing the efforts will likely pay dividends as rural consumers are expected to make up 45% of total sales.
In a nutshell, do not assume what you see in the U.S is indicative of the entire World. Coca-Cola can still show overall growth in other markets while expanding in the non-soda section in the developed countries, as evidenced here.
Conclusion: Let us get one thing clear. If you are looking at growth, you have no business holding Coca-Cola. Do not buy the wrong stock at the wrong price for the wrong reasons and blame the company or the market. It is hard to say where Coca-Cola's stock price will be in 5 years. But we can be almost assured that the yield on cost for anyone buying today will be near 4.50% (8% annual dividend growth rate assumed based on recent increases) and keep going up each year.
This is a classic dividend growth stock that:
pays almost double the market average.
increases dividend each year at a rate much higher than inflation.
preserves your capital and is as safe as it gets.
has a proven, sweet buying spot when it yields above 3%.
This is not to say there will be no growth at all. The company will no doubt strive for earnings growth through as many means as possible: replacing the lost soda sales in the U.S through other products, international expansion, and cost-cutting. But if you believe in John Burr Williams' quote "A cow for her milk, a hen for her eggs, And a stock, by heck, / For her dividends. An orchard for fruit, / Bees for their honey, And stocks, besides, / For their dividends.", you are not going to find too many better stocks for their dividends.
Disclosure: I am long T, KO. I wrote this article myself, and it expresses my own opinions. I am not receiving compensation for it (other than from Seeking Alpha). I have no business relationship with any company whose stock is mentioned in this article.