The race to replace or alleviate the demand for palm oil is well underway, and one renewable oil company with an immediate solution is Solazyme (SZYM). Solazyme is a renewable oils and bioproducts company which utilizes a heterotrophic microalgae technology platform to convert low-cost sugars into tailored oils. Capable of replacing the largest sources of oils found in plants, animal fats, and petroleum, Solazyme is finally entering into a stage of commercial production after more than a decade of development. The company recently initiated commercial production at its 20,000 MT facility in the United States, and another 100,000 MT facility is expected to come online shortly in Brazil.
A Problem With Tropical Oils
The problem with palm oil and palm kernel oil [PKO] today is that these oils remain in such high demand, and yet production is restricted to a limited geographic region. There are many reasons why palm oil is so abundantly produced. One reason is that the palm tree is a very productive plant, and palm oil yields exceed most oil-producing plants. As I wrote about in my other article found here, oil productivity is another reason why Solazyme's technology appears to be attractive.
(Image Source)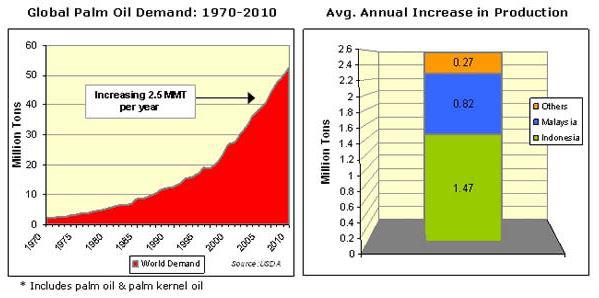 Shown in the chart above, the demand for palm oil and PKO have shown accelerated demand over the past few decades. This trend is only set to continue as the developing world continues to mature, and consumption habits begin to change. However, as seen by the top ten producing countries of palm oil, production remains largely restricted to island nations in Southeast Asia. The lack of available land has led to unintended consequences, of which the foremost is rampant deforestation. This is being carried out in order to make more room for additional palm production.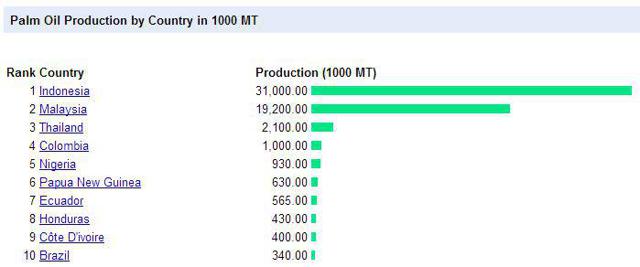 What makes Solazyme such an ideal company for addressing this pressing need is its ability to innovate within an industry that has seen limited changes to production. The company can create oils which not only replace, but also improve upon the ideal characteristics sought by product developers. Additionally, the technology is not restrained to a specific geographic region. There are cost savings to producers found in improved logistics. For instance, it is possible to establish an algal oil production facility using a localized sugar feedstock rather than having to ship palm oil halfway around the world.
Sourcing A New Oil
One recent company that shed additional insight into this concept of sourcing a new oil is a sustainable consumer products company named Ecover. In a Dutch interview found here, the company's innovation manager, Tom Domen, stated that Ecover is working closely with Solazyme. He even stated that there are plans for a European algal oil plant within two years. In another interview with The Guardian found here, Ecover stated that it would be producing algal oil close to its Belgian factory in three years. The company was examining different feedstocks, including agricultural and forest waste.
With over 35 products distributed in 40 countries, Ecover is a private European-based company with over $200 million in sales according to the article found here. The company prides itself on its sustainable record. A recent promotional video found here continues to show its enthusiasm for its upcoming use of Solazyme's algal oil. Attesting to the quality of the product, Ecover's Head of Research and Development stated the following in article by The Guardian:
Through our research into palm oil replacements, we discovered that algae are capable of producing one of the purest and cleanest oils available. Algal oils have a much smaller ecological footprint than most tropical oils, such as palm oil, making them ideal for home products, where tropical oils are widely used.

Dirk Develter, R&D Manager of Ecover
While this latest relationship with Solazyme continues to emphasize the growing demand for sustainable palm oil replacements, it is by no means the first time Solazyme has gained business because of it. In September 2013, the New York Times announced that Unilever (UL) signed an agreement to buy roughly 3 million gallons of algal oil from Solazyme over a 12-18 month period.
Unilever has previously stated that it will only use sustainable agricultural raw materials by 2020. The $119 billion company proved that sustainable palm oil was high on its agenda as it announced that 100% of its palm oil would be from traceable sources by the end of 2014. Through its purchase of algal oil from Solazyme, Unilever expects to incorporate this oil into key personal care products including Dove and Brylcreem. These are products that traditionally derive ingredients from palm oil and PKO. The oil to be supplied to Unilever is the direct result of a five-year partnership between the two companies.
A Look At Solazyme Now
Solazyme currently trades with a market capitalization of approximately $820 million based on the last price of $10.95 as of April 5. The company recently closed a round of financing in which it raised nearly $203 million. This adds to the $167.5 million in cash and cash equivalents owned by the company as of the 2013 year-end results. It is largely expected that this cash will be used to further increase the company's manufacturing capacity as it expands its production footprint.
With the opening of its Brazilian facility in the coming weeks, Solazyme will have effectively increased its production capability in 2014 by 120,000 MT from nearly 1,800 MT in 2013. This results in a more than 6,500% increase in capacity to be ramped up for commercial production. With the average selling price of the company's typical oils selling between $2000/MT to more than $3000/MT, this new capacity may be able to support in excess of $240 - $360 million in annual revenue. Such revenue far exceeds the $30 million to $50 million revenue range that Solazyme has experienced over the past 3 years.
(Image Source)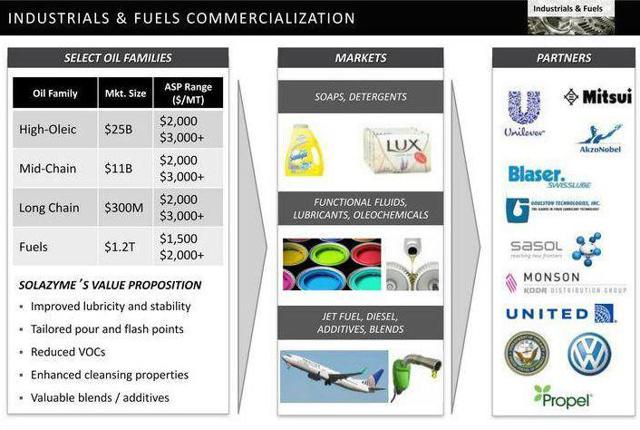 Final Thoughts
The drive to replace tropical oils such as palm and palm kernel oils remains one motivating factor for increased business for Solazyme. The company is currently entering into a phase of accelerated revenue growth as its primary manufacturing facilities come online. More importantly, the recently raised capital could allow for additional manufacturing facilities to be built and further drive the top-line growth in the years to come.
The latest announcement by Ecover highlights a few key revelations for Solazyme's investors. It further supports the notion that the Solazyme's products are being well-received from environmentally-supportive companies. It also introduces the concept of a European manufacturing expansion in the near future. Above all, it suggests that Solazyme's feedstocks could soon be diversified into non-traditional sugars found in agricultural and forest waste. All of these trends bode well for investors looking for long-term growth.
Disclosure: I am long SZYM, UL. I wrote this article myself, and it expresses my own opinions. I am not receiving compensation for it (other than from Seeking Alpha). I have no business relationship with any company whose stock is mentioned in this article.