The single day drop in the tech sector ETF (NYSEARCA:XLK) was one of the steepest we've seen in quite a while. Investors with a technology focus may find that it has become more difficult to outperform when compared to the S&P 500.
The outflows from technology-focused mutual funds, hedge funds, and exchange traded funds may cause a technology stock to drop even further. However, this recent pullback should be considered a healthy re-set rather than a precursor to another dotcom era-like bubble.
Tech stock trends
Some have speculated that the momentum trade is now over, and that if you're smart, you'll jump into value.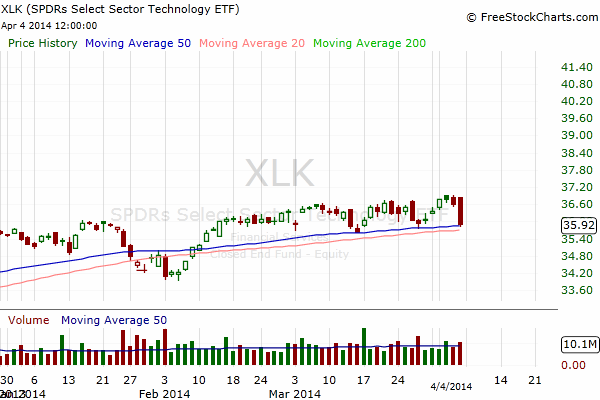 Source: FreeStockCharts
However, I'm pretty indifferent to value investing, because value stocks can turn into value traps and can become as volatile as growth stocks. Value can offer a more qualitative argument, and in times of underperformance, investors can always rely on balance sheet metrics to justify their investment rationale.
With growth investing, you have to rely on some empiricism (projection), and positive rationale (causal inference) for what may cause growth to go beyond what history suggests. I'm not here to promote either value or momentum, rather I believe a healthy mix of both philosophies can work during periods of volatility.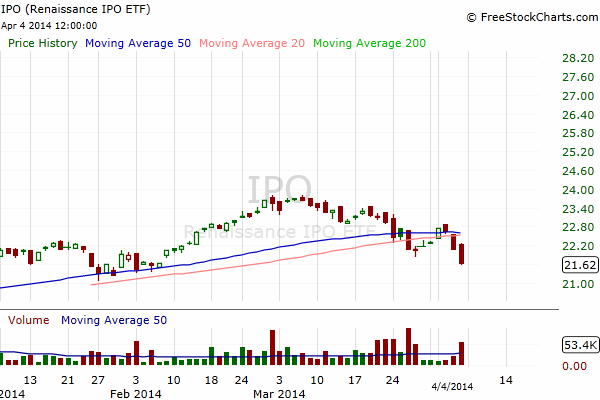 Source: FreeStockCharts
Technology IPOs have underperformed in the past month, according to the price chart of the Renaissance IPO ETF (NYSEARCA:IPO). New issuances, such as King Digital Entertainment (BATS:KING) fell on the day of the IPO and were unable to trade back above IPO levels. In my focus article on KING, I cautioned that investing on the day of IPO may be extremely risky:
In many instances, IPOs tend to underperform in the first year, and first-day trading tends to over-inflate the value of the equity initially. Eventually the steam runs out, and investors who bought on the day of the IPO are left holding the bag for a couple months or a couple years before experiencing an actual ROI.
Chase after stable tech businesses
In this environment of poor performance in really high momentum names like 3D Systems (NYSE:DDD) and Twitter (NYSE:TWTR), investors should consider a portfolio that offers a reasonable mix of earnings growth, dividend yield, and valuation. Here's a quick summary of what I would include in a conservatively-managed technology portfolio:
Microsoft (NASDAQ:MSFT) will limit a portfolio's overall volatility as it tends to trade within narrow ranges before being squeezed to the upside as a result of stable and sustained earnings growth. The stock pays a respectable 2.81% dividend yield, and has a five-year beta of 0.9. The stock trades at a 14.7 price-to-earnings multiple, which is below the S&P 500's average earnings multiple. Microsoft recent acquisition of Nokia (NYSE:NOK), further expansion of the Office Suite to Apple (NASDAQ:AAPL) and Android, along with new products in the cloud (Azure) should sustain the technology juggernaut's sales growth. Assuming a PC refresh from Windows XP to Windows 7 or 8, and Microsoft should report better performance from its OS licensing business as well.
Apple hasn't done a whole lot lately, and some will blatantly tell others to short the stock. I don't fall into this camp, primarily because it falls into the category of being a value investment that could unlock the potential of its balance sheet, resulting in massive earnings multiple expansion. Furthermore, many believe that Apple's release of a larger screen iPhone using a sort of sapphire laminate will differentiate it enough to maintain relevance with consumers. Apple's core portfolio of services and software is growing at really high rates and has high margins. It's likely that Apple's portfolio of services and software will sustain consolidated bottom line growth, which reduces the likelihood of Apple becoming a value trap. Apple trades at a 13.2 price-to-earnings multiple and offers a 2.29% dividend yield.
Google's (NASDAQ:GOOG) recent stock split hasn't been met with a whole lot of fanfare, and while it trades at a higher valuation against peers (28.57 trailing P/E ratio), Google's business portfolio continues to grow, and its core product of advertising hasn't suffered competitive pressure from other ad-networks like Yahoo's (NASDAQ:YHOO) Bing. Also, Google's application store is the largest when compared to other ecosystems. The Play Store charges 35% on financial transaction, and it streamlines/centralizes the process of buying digital movies, products, and services. Google's application store and ad-business should sustain high levels of growth. Ignoring upside from well-established business franchises, Google's creation of new product categories such as Google Fiber, Android Wear, Google Glass, and Google Cloud will sustain Google's long-term growth.
Intel (NASDAQ:INTC) has been a Dow Component dog for quite a while. The lists of concerns were practically endless by both analysts and investors. The most common concern was whether Intel could even deliver a successful mobile product, and whether CAPEX spending on better manufacturing technology was even worth it. It seems that these concerns have been adequately addressed, as Intel's performance in both modem and application processors are expected to reach that of Qualcomm's (NASDAQ:QCOM) chip solutions in 2015. Furthermore, Intel will have a manufacturing lead, as it will transition to 14nm sooner than Taiwan Semiconductor Manufacturing (NYSE:TSM). Over the long-haul better manufacturing tech will depend on who has the most cash left over to invest, which depends on cash flow. Many industry experts believe Intel will reach 10nm before Samsung (OTC:SSNLF), Global Foundries, and Taiwan Semiconductor Manufacturing. Currently, Intel pays a very healthy 3.4% dividend yield, and trades at a 13.84 P/E multiple.
Amazon (NASDAQ:AMZN) is on my list of stable tech businesses. Amazon is dominant in two product categories (online retail, and cloud). This dominance translates into high sales growth, and those future sales may be converted into a modest profit margin, which can translate into very rapid earnings growth over a short period of time. From a price-to-earnings perspective, it looks horrendous when compared to other technology stocks, so I'm not going to emphasize that specific value-metric. Instead, the most common way to measure Amazon's core performance has been its sales growth and price-to-sales. Amazon's current price-to-sales ratio is 2.06. It currently trades at a bargain as the stock has pulled back by 20% from its 52-week high. The stock doesn't pay a dividend, unfortunately. Five years into the future, Amazon may generate $200 billion+ in annual revenue. Assuming a 5% net profit margin, Amazon will earn $10 billion+ in profit. If Amazon trades at 30x earnings, it would translate into a $300 billion market capitalization (when compared to today's valuation of $150 billion, there's still a lot of upside left).
Final thoughts
My list is composed of Microsoft, Google, Apple, Intel, and Amazon for many reasons:
The list has three value investments, and two growth investments (we want a mix of growth and value).
I suggest Amazon and Google, because the outward growth trajectory of these two companies are sustainable, and easy to understand.
Even through periods of underperformance, it's likely that Microsoft, Intel, and Apple will trade in a narrow enough of a range to offset volatility.
It's also likely that Microsoft, Intel, and Apple will appreciate in value, and pay a stable dividend yield of 2% to 3% every single year assuming annual dividend increases.
These five companies, when equally-weighted in a portfolio, will slightly outperform indexed returns with much less volatility. The portfolio also offers a reasonable mix of growth, value, income, and appreciation.
The five companies, when combined, become a heavily diversified play on technology, as the five companies comprise information technology, software services, software, ecommerce, personal computers, semiconductors, cloud, and mobile.
Unlike a technology ETF, this portfolio limits overlap and invests into stalwarts rather than smaller companies that are likely to become further marginalized over time.
On the other hand, smaller companies offer the potential for higher returns. However, without a high enough risk tolerance, investors will close their positions during a market trough. Assuming an investor dumps smaller tech stocks through period of underperformance, the investor will miss the times when the stock will outperform against less risky investments. To avoid psychological stress, it may be more prudent to consider a portfolio of large tech names and ignore the smaller or less-known opportunities in their entirety.
Disclosure: I have no positions in any stocks mentioned, and no plans to initiate any positions within the next 72 hours. I wrote this article myself, and it expresses my own opinions. I am not receiving compensation for it (other than from Seeking Alpha). I have no business relationship with any company whose stock is mentioned in this article.