Last week, I discussed the possibility of Facebook (NASDAQ:FB) shares finding a bottom down 20%. While the week got off to a good start, the momentum selloff in the market continued later in the week. On Friday, Facebook shares closed at their lowest point since January 29th, which was the last earnings report. Luckily for Facebook shareholders, it could be worse. The social media giant has actually held up fairly well, much better than peers Twitter (NYSE:TWTR) and LinkedIn (NYSE:LNKD). Today, I'll detail why Facebook shares should continue to be the leader, and why the latest fall might be good for both the company and investors.
Outperforming the pack:
In the last week, Facebook shares lost 5.43%. While that obviously is not great performance, Twitter shares lost 8.79% and LinkedIn shares lost 12.99%. Additionally, it's not just the short term period that Facebook has fared better. As you can see in the chart below, Facebook has done much better than its peers, and I've thrown in fellow momentum names Amazon (NASDAQ:AMZN) and Netflix (NASDAQ:NFLX).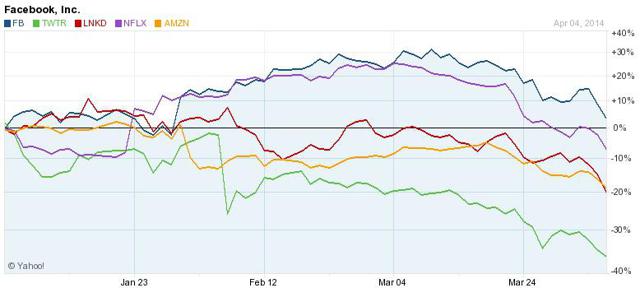 (Source: Yahoo! Finance)
How about some real profits?
Perhaps one of the reasons why Facebook has held up better, and will potentially continue to do so, is that Facebook is profitable. When I mention profitability here, I'm talking about GAAP profits, the ones actually reported on filings like the 10-K. In the table below, I've compiled revenues, operating income, and net income for the five names mentioned in 2013. These are all GAAP numbers.

Facebook reported net income of $1.5 billion in 2013. That was well above what any of these other names reported. Even Amazon, a company with nearly 10 times the revenues of Facebook, couldn't stack up. Profits are certainly important, and they also help with cash flow. One main criticism of Netflix over time has been cash flow, and the company has a few billion in liabilities that haven't even made the balance sheet yet. Amazon's cash flow has been lacking at times as well.
The ability to have, maintain, and potentially even grow profits and cash flow will certainly help Facebook going forward. If the economy does not improve, Facebook should still be profitable. Some of these other names could end up losing money if things get tough. When you look at GAAP valuations, Facebook's trailing P/E (using market cap and net income) of 96.5 looks incredibly high. On the face of it, that number is high, but it is not as high as the rest. Netflix actually has the next lowest number at 180, Amazon is at 541, and LinkedIn is at 740. Twitter doesn't have a GAAP P/E since it is still losing money. Having the lowest valuation is another reason why I think Facebook will hold up better than the rest.
Saving money on deals:
I mentioned in my prior article that the decline in Facebook shares could help the company lower its cost on the WhatsApp and Oculus purchases. When those deals were announced, the prices given were based on average trading prices of Facebook stock. Should Facebook close these deals with shares trading at much lower prices, the total consideration would seem to be a lot less.
Let's start with the WhatsApp deal. Facebook announced a $4 billion cash payment as well as nearly 184 million shares in stock. Those shares were valued at about $12 billion then, using an average trading price of $65.265. Using Friday's closing price, those shares are only valued at $10.43 billion or so. That's nearly $1.6 billion less. Additionally, the restricted stock units that were originally valued at $3 billion would now only be worth $2.61 billion. If Facebook closed this deal at current prices, the total price tag would appear to be about $2 billion less.
While the Oculus deal was a bit smaller, the gap in share price is actually a bit larger. Facebook announced a $400 million cash payment, as well as over 23 million shares of stock. Those shares were valued at $1.6 billion based on an average trading price of $69.35. With Facebook shares falling, those shares are worth about $290 million less. Facebook also said that another nearly 3.5 million shares would be paid in consideration if certain milestones were hit. Those shares have lost about $43.6 million in value.
I wanted to bring these deals up again because many were concerned about the prices paid. But if Facebook can close these deals while shares are a bit lower, the total prices paid would be a bit less it seems. I'd like to hear some of the responses from initial critics if Facebook were to pay these lower prices, or even lower, in the end. I don't think their concerns will be as large.
Next support - the 200 day:
In last week's article, I discussed how Facebook shares bounced off the 100 day moving average and that level seemed to provide some support. Unfortunately, the fall late last week sent shares below that moving average. The next level of major support is the 200 day moving average. That average is a little under $50 currently, but climbing by the day, as you can see below. The 200 day should crack $50 either late this week or early next week.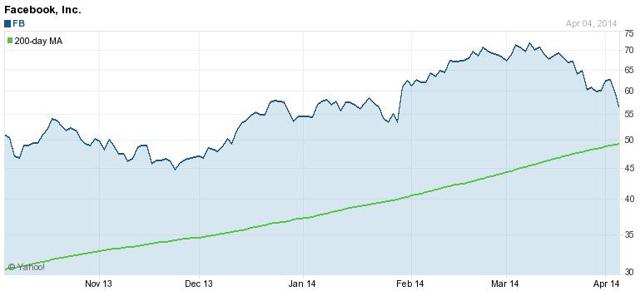 (Source: Yahoo! Finance)
Final thoughts:
The momentum selloff continued late last week, but Facebook shares held up relatively well compared to others. The social media giant is one name that actually has solid GAAP profitability, and investors seem to like that. Additionally, lower share prices mean that the two recent deals announced will have lower price tags, so concerns about overpayment should come down. Unfortunately, the next major level of support is at the 200 day moving average, which sits around $50 currently. I still think Facebook is the best name to own in this space, so investors thinking a bottom is coming should start to look at pulling the trigger as we get closer to $50.
Disclosure: I have no positions in any stocks mentioned, but may initiate a long position in FB over the next 72 hours. I wrote this article myself, and it expresses my own opinions. I am not receiving compensation for it (other than from Seeking Alpha). I have no business relationship with any company whose stock is mentioned in this article.
Additional disclosure: Investors are always reminded that before making any investment, you should do your own proper due diligence on any name directly or indirectly mentioned in this article. Investors should also consider seeking advice from a broker or financial adviser before making any investment decisions. Any material in this article should be considered general information, and not relied on as a formal investment recommendation.