I cannot call Apple (NASDAQ:AAPL) a General of the market... it is more like the Commander in Chief. The stock has broken the 50-day moving average, but that's no big deal; we've seen it happen three other times in the past two months and each time it has simply shaken out the technical traders and reversed right back up. What would worry me more is a "lower low," i.e. a break below $240. Close but no cigar thus far today. (Click to enlarge)
Let's keep an eye on this name since it's so influential, especially on NASDAQ.
As an aside, below is a video from a technician yesterday on CNBC who says Apple has the potential to fall to $115. While seemingly impossible, as this is Teflon Stock #1, it is true that Apple was in the $70s during the panic of 2008. Someone remind me to put the whole portfolio into Apple if it gets below $120.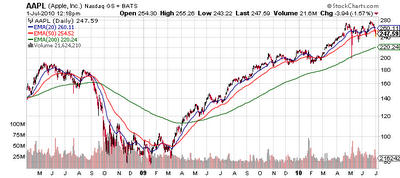 I just would advise Mr Zimmermann not to show up at any Apple store with that sort of thinking -- he might get tomatoes (or iPods) thrown at him by fanboys.
Via CNBC:
Walter Zimmermann, chief technical analyst at United-ICAP, tells CNBC he sees a "bearish rising wedge" in Apple's stock and advises investors to unload the stock.


Disclosure: No position