Microsoft (NASDAQ:MSFT) should really do its best to finalize the buy-out of D&S from Nokia (NYSE:NOK) this month. I'm now confident that Nokia's Lumia handsets will help Microsoft sell 50 million or more Windows Phone smartphones this year. My projection is based on historical perspective and recent developments.
Stephen Elop was appointed CEO of Nokia in September 2010. By February 2011, Elop overhauled Nokia's smartphone business. He discarded Symbian and Meego but instead of joining the Android OS bandwagon, Elop directed Nokia towards the loving arms of Microsoft's Windows Phone.
Some critics are saying that Elop was a Trojan Horse. He was accused of allegedly intentionally bleeding Nokia's phone business so that it will become vulnerable enough for a Microsoft takeover. I can't comment on this contention.
All I know is Elop's reign saw NOK lose more than 61% of its value. NOK even went down by as much as much 83% in 2012 due to massive D&S losses. However, Elop's gamble on Windows Phone paid off big time when Microsoft agreed to buy Nokia's phone unit for $7.2 billion, inclusive of a 10-year patent licensing agreement, last September.

Source: Google Finance
Stephen Elop got a fat bonus of €18.8 million for orchestrating the sale of D&S to Microsoft. He also got a new lucrative job heading Microsoft's Devices division. His gamble on Windows Phone was a big win for him… and it might also become a big win for Nokia shareholders.
The stock market is going bearish. The NASDAQ sell-off (-110.01) last April 4 compels me to believe that NOK will only get cheaper these coming weeks. Learned investors will take this down cycle as a good opportunity to buy beaten down stocks like NOK at a great discount.

Source: Finviz
Nokia and its peers also suffered from the sell-off of NASDAQ'S high-flying momentum stocks. It is therefore prudent for now to sit on the fence and wait until NOK hits the bottom. I am expecting NOK to really do another 50% YTD performance by December 31 this year.

Windows Phone Is Nokia's Saving Grace
I hate to admit it but recent events have convinced me that Elop's bet on Windows Phone in 2011 is proving to be a long-term winning bet. As a NOK investor, I now understand why he did what he did. Elop knew Microsoft will become frustrated with its many failures in the mobile arena that it will be forced to imitate Apple (NASDAQ:AAPL), a hardware/software company, so it can remain relevant in the future.
Looking back in 2011, IDC's chart showed Windows-based phones only accounted for 1.8% of the smartphone market. Nokia's Lumia handsets helped Microsoft sell 9 million units of Windows phones in 2011. But by 2012, during NOK's lowest moments, Lumia phones helped Windows Phone do a massive 98.9% Year-Over-Year growth. For 2012, Windows Phone unit sales were 17.9 million or 2.5% of the total smartphone market.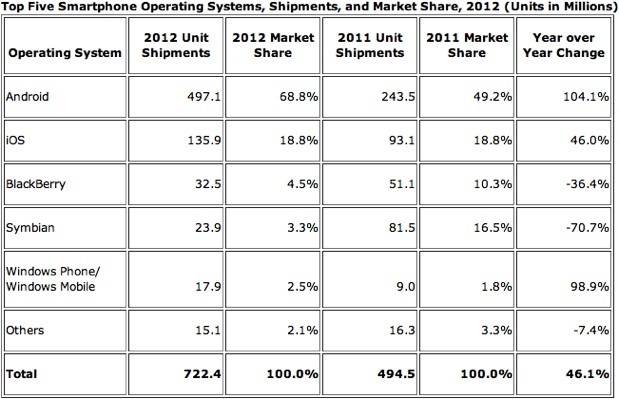 Source: IDC
Microsoft's release of Windows 8 and marketing subsidies again helped Nokia propel Windows Phones do another impressive 90.9% Year-over-Year growth. For 2013, Windows Phone was and still is the fastest smartphone platform for the next 5 years. Momentum is on the side of Microsoft and Nokia.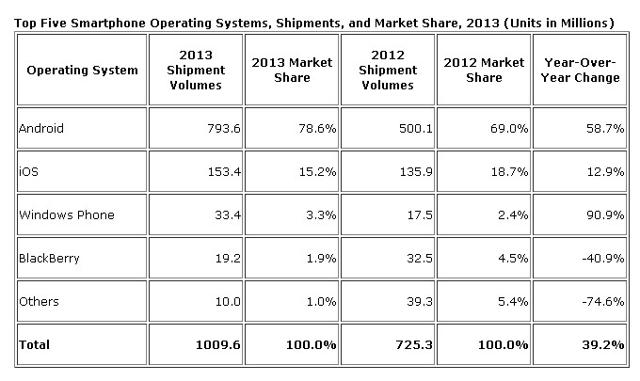 Source: IDC
Android OS will gradually slow down but will remain dominant. iOS will most likely decline in market share. As a mathematician and a poker grinder, implied odds convinced me a 50 million sales target for Windows Phone for 2014 is highly probable. The 50 million for 2014 is also just 49.8% Year-Over-Year growth guesstimate on my part.
I want to be conservative and I refuse to make predictions using the same historical 90%+++ growth for fiscal years 2011 to 2013, to conjure 2014 numbers. I'm not infallible though, Windows Phone sales for 2014 may hit 40 million, 60 million, or 70 million - whatever the final numbers will be, I'm 100% sure though that it will be higher than 2013's 33.4 million.
The success of Windows Phone is also good for NOK because HERE Maps and MixRadio will gain a larger pool of users. As of March 2014, Nokia accounts for 93.5% of global Windows Phone 8 smartphones. As per the terms of the D&S sale to Microsoft, Nokia can again make its own smartphones in 2016. Should Microsoft dislike manufacturing Nokia X Android phones, Nokia can continue pursuing the Android platform within 2 years time.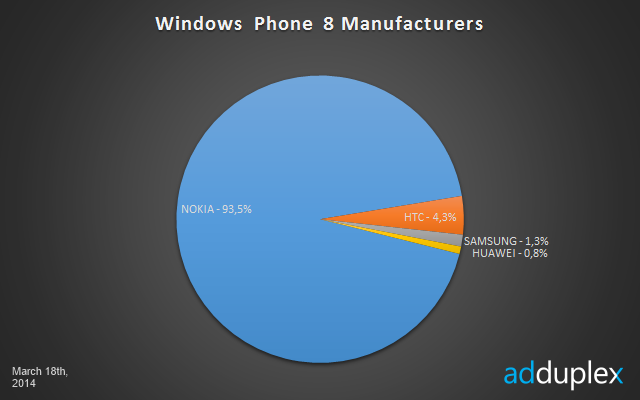 Other Reasons Why My 50 Million Guesstimate Is Viable
1. Microsoft is giving away free Windows Phone 8.1 licenses for devices with 9-inches or less display size. HTC, Samsung (OTC:SSNLF), Huawei will be more amenable to producing better and cheaper Windows Phone 8.1 handsets. Other OEM manufacturers like Lenovo, Asus, Acer, and HP (NYSE:HPQ) might get encouraged to make Windows Phone products since they won't have to pay the $50 OS licensing fee to Microsoft. More support from OEM companies makes my 50 million guesstimate more believable.
Free Windows Phone 8.1 helps lower the average selling price of Windows Phone 8 products, making them competitive with Android-powered phones. Data from AdDuplex also shows low-entry Lumia models like the 520, still account for the majority of Windows Phone 8 sales. The free Windows OS license will help the upcoming Lumia 630 and Lumia 635 make serious market grabs from Android phones in emerging markets. I expect those two phones to retail for less than $150 after Microsoft takes over D&S.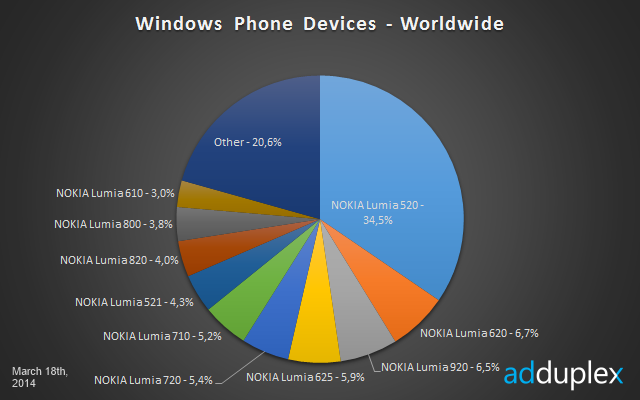 2. The Cortana personal assistant is a killer feature of Windows Phone 8.1. Microsoft's latest attempt to outdo Apple's Siri and Google Now is already a winner on my book. Cortana is superior to the current versions of SIRI and Google Now.
Watch this hands-on video review of the Cortana so you can comprehend why this feature makes high-end phones like the Lumia Icon and Lumia 930 attractive alternatives to the iPhone 6 and Galaxy S5. The Microsoft geeks are as smart as those found in Apple's camp. I expect Cortana to get more sophisticated with new updates to its Artificial Intelligence engine.
3. Nokia's SensorCore SDK will encourage more developers to make health-tracking apps for Windows smartphones. The iPhone is very popular among health conscious people it has thousands of health and fitness-related apps. Nokia can sell more Lumia phones if there are also health apps for the Windows Phone 8.1 platform.
The SensorCore technology will use sensors of smartphones and Microsoft's Bing to monitor the human body with minimal battery consumption. A health-tracking Lumia will attract more buyers - thus helping my 50 million unit sales projection for 2014.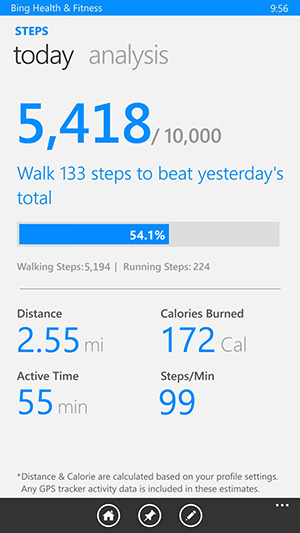 Source: Nokia
Conclusion
Smart investors should wait for Nokia to go lower this week. A buy on the dip for NOK is greatly recommended because recent positive events might help Windows Phone 8.1 handsets hit 50 million sales this year.
The smartphone competition is heating up. The Samsung Galaxy S5 is out, low-ASP specialist Lenovo now owns Motorola, and BlackBerry is getting back to its QWERTY roots and launching sub$200 BB OS 10 phones for developing markets.
Microsoft is therefore more compelled to wrap up the D&S deal as soon as possible. NOK is sure to shoot up once the $7.2 billion cash is in Nokia's bag. Nokia can use the money to entice Michel Combes to fold Alcatel-Lucent (ALU) under the Nokia banner.
ALU + NOK = semi-monopoly over fixed line and wireless upgrades, SDN, CDN, NFV, and LTE contracts from China and other emerging markets. I'm from the Philippines, I like monopolistic companies.
Even without D&S, Nokia will still greatly benefit from more sales of Windows Phone 8.1 handsets via patent licensing, HERE Maps, and MixRadio. I'm long and strong on NOK.
Disclosure: I am long NOK. I wrote this article myself, and it expresses my own opinions. I am not receiving compensation for it (other than from Seeking Alpha). I have no business relationship with any company whose stock is mentioned in this article.