Introduction
In this article I'll revisit Gold Resource Corp (NYSEMKT:GORO) which has recently released its financial results for the year 2013. I'll provide my view on the financial results and the company's balance sheet. Thereafter I will briefly talk about the company's outlook for 2014 which will result in my conclusion at the end of this article.
All images in this article were directly sourced from the company's website and SEC filings.
My view on the financial results
In 2013, Gold Resource Corp sold almost 83,000 gold-equivalent ounces after producing almost 34,000 ounces of pure gold, 3 million ounces of silver and approximately 22 million pounds of zinc and lead. Once again the revenue from the silver was much higher than the gold revenue, so Gold Resource Corp is actually Silver Resource Corp. The production rate is going up as the average amount of milled tonnes per day was approximately 906 versus 773 tonnes per day during 2012.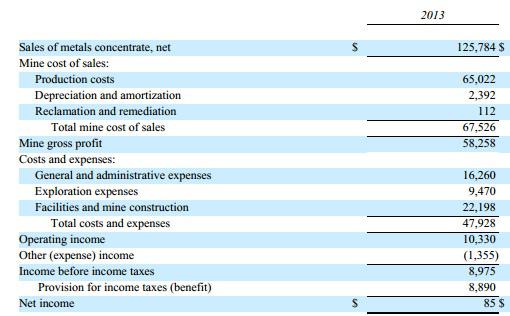 The total revenue in 2013 was slightly lower at $126M but, unfortunately for Gold Resource, the production costs increased by more than 50% to $65M which resulted in a 33% drop in mine gross profit to $58M. After deducting the G&A expenses, exploration expenses and the expenditures for mine construction, operating income was $10.3M and net income just $85,000 as the company took an $8.9M income tax charge.
Most of my readers know I also like to have a look at the cash flow statements of a company as I believe those statements offer a good indication about the real quality of the underlying operations. The official operating cash flow in 2013 was $6.6M and this was entirely spent on capital expenditures mainly to expand the El Aguila mill facility. The all-in sustaining cash cost was $1263/oz in 2013 but this should fall back into a triple digit territory in 2014.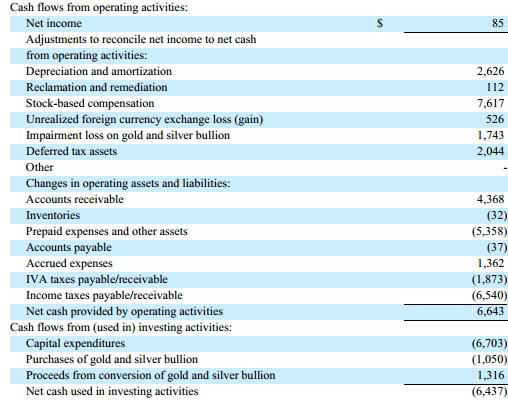 My view on the balance sheet
Moving over to the balance sheet, Gold Resource Corp had a working capital position of $33.6M as of at the end of 2013, which is approximately $12.4M lower than at the end of 2012. This was predominantly caused by the spending more money on the mill and mine development than there was an inflow of cash. As the expansion program seems to be complete and as the company expects to bring the all-in sustaining cash cost below the $1000/oz threshold, GORO should be able to increase its working capital position again.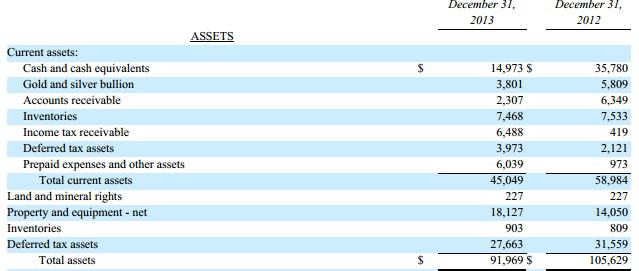 Gold Resource's book value at the end of 2013 was just $75.3M which equates approximately $1.39/share. This is mainly caused by the fact GORO officially is an exploration company and cannot add the capital expenditures on its balance sheet in the exploration stage.
Outlook for 2014
It's very interesting to hear in the conference call that GORO is looking to diversify outside of Mexico as a response to the new Mexican mining tax which is expected to hit the precious metals miners pretty hard. So I'm very curious to see what the company comes up with.
According to the official outlook, Gold Resource plans to produce 85-100,000 gold-equivalent ounces in 2014 which would result in a positive cash flow of approximately $25M (if the AISC of $1000/oz is based on the gold-equivalent production).
Conclusion
Gold Resource Corp had to slash its dividend for a second time in a short period, and a lot of investors were obviously disappointed with that. According to the company, most of the capital expenditures have already been incurred, so the all-in sustaining cash cost should go lower which will increase the operating (and free) cash flow.
The company has disappointed a lot of people in the past and I'm taking a very cautious approach here. I think (and hope) the expectations for Gold Resource have now been set so low that the company should be able to at least meet and hopefully beat the expectations. That being said, I'd first like to see an improvement before even considering taking a position in Gold Resource Corp.
Disclosure: I have no positions in any stocks mentioned, and no plans to initiate any positions within the next 72 hours. I wrote this article myself, and it expresses my own opinions. I am not receiving compensation for it (other than from Seeking Alpha). I have no business relationship with any company whose stock is mentioned in this article.