On March 25 the Chinese president visited France and a number of deals were signed with Safran (OTCPK:SAFRF) and Airbus Group (OTCPK:EADSF). Conclusions can be drawn who will benefit from these strategic deals and what the significance is for the Chinese, European and the US aerospace industries. Paradoxically, Safran and United Technologies Corporation (NYSE:UTX) benefit more than Airbus.
During the visit to France, the following deals were signed:
Co-production of 1000 Airbus EC175 - AC352 helicopters in China and Europe;
Cooperation on developing turbo-prop engines with Safran;
Sales of 70 Airbus airliners (including a frozen earlier order of 27 A330 airliners)
The following can be concluded from the deals:
Safran wins;
United Technologies wins;
Airbus and China are still negotiating;
For Boeing (NYSE:BA) the door is left open by China.
Deal 1: Co-production of 1000 helicopters
According to Airbus the co-production of the helicopters "cements the industrial partnership between Airbus Helicopters and AVIC on their jointly-developed EC175/AC352." The EC175/AC352 is a medium twin-engined helicopter for commercial and military use.
The agreement divides the production and sales between Airbus Group and Avicopter (which is part of AVIC):
500 AC352 helicopters will be produced in China mainly for the Chinese market. These will be primarily used to replace older helicopter types in the Chinese armed forces. The AC352 will be powered by 2 Safran Turbomeca Ardiden engines from France;
500 EC175 helicopters will produced in Europe [France] for the worldwide market. They will be powered by 2 Pratt & Whitney PT6C engines. Pratt & Whitney is one of United Technologies Corporation aerospace divisions.
For Airbus this agreement is not a huge order as also the Wall Street Journal also thought initially, but a division of global production and sales.
Although Airbus will probably get some revenue from the Chinese helicopters it seems logical that the bulk of this revenue will be for AVIC. Airbus Helicopters will have to sell the 500 EC172's first before they generate revenue.
It is significant that the EC175 (the French/European version) is powered by Pratt & Whitney engines (which is a division of United Technologies Corporation), while the Chinese AC352 is powered by French engines.
United Technologies Corporation
This indicates that selection of the Pratt & Whitney engine in the European EC175 might be a Chinese condition. As described in United Technologies And China: Time To Buy, China's AviChina and United Technologies Corporation have an extensive partnership. AviChina is a daughter of AVIC which contains the commercial activities of the Chinese aerospace industry.
Their partnership however is limited to commercial aviation only. Both UTC and China are very clear in making this distinction and the lessons learned by United Technologies Corporation in the selling of dual-use technology to China should not be neglected.
To avoid problems for UTC - because the Chinese AC352 will be produced mainly for military use - the engine switch could have been made to let UTC profit. This confirms that China will continue cooperation with UTC.
UTC will generate a lot of extra revenue from China as the 5-year plan on commercial and general aviation will be implemented. Pratt & Whitney has the following revenue now:
| | | | | | |
| --- | --- | --- | --- | --- | --- |
| Pratt & Whitney [UTC] | 2013 | 2012 | 2011 | 2010 | 2009 |
| Revenue | $14,501 | $13,964 | $12,711 | $12,935 | $12,392 |
| EBIT | $1,876 | $1,589 | $1,867 | $1,987 | $1,835 |
| EBIT% | 12.94% | 11.38% | 14.69% | 15.36% | 14.81% |
A rough calculation using The Wall Street Journal Chinese helicopter market figure of $69B means an extra revenue of $11B just for Pratt & Whitney over the next 20 years. The estimate is based on the 50% of the Chinese market which equals the value of the European part of the deal (which are the 500 helicopters powered by Pratt & Whitney) and extracts the engine-part of the total revenue.
The $11B is only the sales of new engines in the EC175, which have a lower margin than the MRO (maintenance, repair, overhaul) part of aerospace engines. When the MRO is included, it might easily double to $20B+ spread over the next 20 years for the 500 EC175's alone.
Another option is the announcement of a similar helicopter deal with UTC in the future. Sikorsky (which is the helicopter division of UTC) has developed the Sikorsky S-92 in cooperation with AviChina. The S-92 is a larger helicopter than the EC175/AC352 for another market segment.
The essence of the above is not the exact extra revenue generated by the agreement. The figures given are a calculated guess because the details and prices are not known. The calculated guess is also probably lower than the real results will show.
The essence is that the Chinese strategy UTC is implementing is already showing results. Without partnering with China it would be very unlikely that the European EC175 (which is built by the French part of Airbus Helicopters [Aerospatiale]) would have a US engine, while its Chinese counterpart would have a French engine! It is growth which otherwise would not have existed.
Safran
The same calculation can be used for Safran, but in this case the revenue is already certain as the 500 Chinese helicopters are firm orders. Safran's aerospace propulsion division has the following results over the last 5 years.
| | | | | | |
| --- | --- | --- | --- | --- | --- |
| Aerospace Propulsion | 2013 | 2012 | 2011 | 2010 | 2009 |
| Revenue | $10,752 | $9,667 | $8,432 | $7,734 | $7,829 |
| EBIT | $1,875 | $1,518 | $1,285 | $915 | $907 |
| EBIT% | 17.44% | 15.70% | 15.24% | 11.83% | 11.58% |
Not all of the revenue is probably for Safran. When compared with other Joint Ventures the Chinese have, this will be a 50% part of the $20B+ new engines plus MRO over the next 20 years.
Deal 2: Safran - AVIC cooperation on turboprop engines
Details on the turboprop engine project are limited. Safran has cooperated since 2008 on developing the Ardiden 3C engine for the AC352 helicopter.
According to Safran "the success of this cross-border partnership" will be continued in a new project for the development of a turboprop engine for fixed-wing aircraft.
As detailed in Winners To Pick In The Aerospace Industry, aerospace engine manufacturers are the best companies in the aerospace industry to invest in. Safran will generate a lot of revenue in China as China's aerospace market will continue to grow.
Deal 3: Airbus commercial airliners
As expected orders were announced when the Chinese president visited France. However, the order was much smaller than the 150 aircraft mentioned in What A Big Airbus Order From China May Mean For Boeing.
The following elements (or lacking of them) in the deal are significant:
An order for 70 Airbus aircraft includes 27 A330 long range aircraft (which had previously been on hold because of a conflict between China and Europe). This is less than the 150 aircraft expected and 'only' 43 new airliners were ordered.
Extension of the Tianjin A320 Final Assembly Line for another 10 years to 2025. In phase II [2017] the A320neo will also be assembled there and assembly capacity will be increased from 4 to 8 aircraft per month. In this period more than 1000 A320's will be assembled in China (for the domestic market)
A few days later Airbus also announced a cooperation agreement with the Bank of China. This will be used to help Chinese buyers finance airliners.
United Technologies Corporation
Considering the links between UTC and China, it is likely that the A320neo [new engine option] will be powered by Pratt & Whitney PW1000G engines which are developed by Pratt & Whitney and German MTU Aero Engines (OTCPK:MTUAY) (OTC:MTUAF).
There is no mentioning of opening a second Airbus production facility in China. Airbus states:
"The two parties will also develop cooperation activities on Airbus wide-body programmes. Airbus and relevant Chinese parties will work towards demonstrating the interest of setting up a wide-body aircraft completion centre in China, which includes cooperation on wide-body cabin interiors with AVIC."
The "demonstrating the interest" indicates that China has not agreed upon this. The limited 'new' firm orders may also show possibilities.
It seems that the door is still open for Boeing, but they will have to act on it.
(Source: Confero)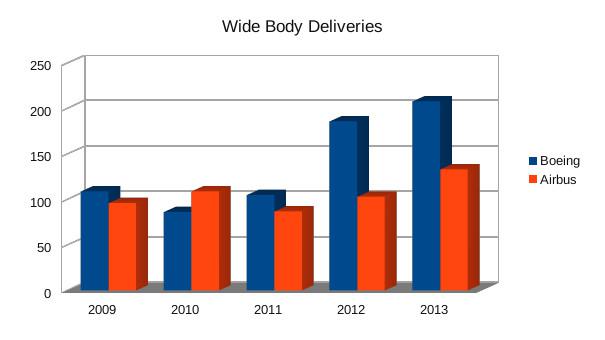 Boeing has more wide-body airliner types in production than Airbus and is also able to produce them faster than Airbus. It would seem logical (for China) to avoid becoming too dependent on Airbus alone.
It is off course also possible that China uses future orders as leverage, just as Airbus uses the second factory as leverage when negotiating a new deal. But as the saying goes: If you don't shoot, it's always a miss.
CONCLUSION
Both UTC and Safran have immediate benefits from the deals closed. The 1000 helicopter agreement generates revenue. In addition UTC will probably power the A320neo which will be produced in China after 2016. Safran will also develop a new turboprop engine for the Chinese market which has a huge potential.
Airbus doesn't get any immediate results from these deals apart from a number of airliners sold. On the long term it benefits from both the sharing of sales of the helicopters and being able to produce an extra 48 A320 each year in China after 2017.
Since China and Airbus do not have agreements on co-producing wide body airliners in China, this seems like an opportunity for Boeing.
Disclosure: I have no positions in any stocks mentioned, and no plans to initiate any positions within the next 72 hours. I wrote this article myself, and it expresses my own opinions. I am not receiving compensation for it (other than from Seeking Alpha). I have no business relationship with any company whose stock is mentioned in this article.