This article was written last month arguing that JPMorgan Chase & Co. (NYSE:JPM) does not get the credit and attention it deserves when compared with Bank of America (NYSE:BAC). All the big banks were in the news recently for the stress test and most banks came out with moderate success at least. Quite a few big names also increased their dividends to shareholders but still JPMorgan remains the best bet (along with perhaps one more bank) for income investors.
This article evaluates the basics of JPMorgan's dividend including dividend coverage and what the future returns could look like. Let us get into the details.
New Dividend and Yield: The new quarterly dividend of 40 cents per share gives JPMorgan a yield of 2.70%. This is bettered only by Wells Fargo & Company (NYSE:WFC) at 2.80%. None of the other major big banks have a yield above 2%.
Dividend Growth Rate:
The dividends have now been increased for 4 consecutive years, which puts JPMorgan very close to the minimum requirement of most dividend growth investors (5 years). However, most investors will be wary of banks after the 2009 fiasco.
Excluding the increase from 5 cents to 25 cents in 2011, the average dividend growth rate has been about 17%. It would be foolhardy to assume this dividend growth rate going forward but the fact that company is now building a little streak together should be encouraging for investors.
More importantly, the dividend is finally back above where it was in 2009 before the dividend cut. As a comparison, Bank of America's and Citigroup Inc.'s (NYSE:C) dividends are still no where close to where they were before the 2009 cut. Only Wells Fargo & Company has kept pace with JPMorgan Chase.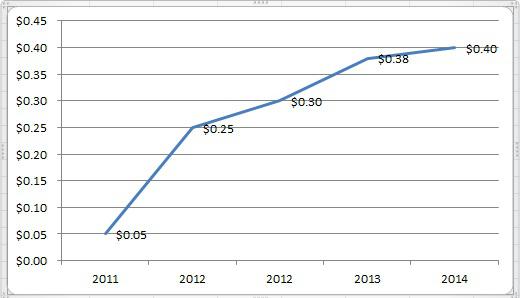 (Source: Yahoo Finance)
Dividend Coverage: Let us evaluate dividend coverage through payout ratio as well as Free Cash Flow.
Payout Ratio: The payout ratio currently stands at a manageable 36% based on EPS of $4.35 and annual dividend of $1.60. Again, Wells Fargo & Company is keeping up with JPMorgan with the same payout ratio.
Free Cash Flow Strength [FCF]: JPMorgan's average quarterly free cash flow over the past 5 years stands at $15.64 billion. With outstanding share count at 3.787 billion, JPMorgan is committing just about $1.5 billion/qtr to shareholders for its dividends (3.787 shares times 40 cents/share). There have been a few quarters for all the banks where free cash flow went into the negative but JPMorgan's average FCF seems sufficient to not just maintain but also increase dividends in the future.
Extrapolation and Future Returns:
The table below assumes an annual dividend growth rate of 5%/yr for the next 5 years. This is lower than what the company has averaged in the last 3 years but again with the banks it is safer to error on the side of caution.
The yield on cost will still reach about 3.50% for investors buying today. This might not look like lot but there aren't too many better alternatives when it comes to big banks.
JPMorgan's low payout ratio means that even if the EPS stays constant at $4.35, the expected 2019 annual dividend represents a moderate payout ratio of 47%.
However, earnings per share is expected to grow to $6.35 in 2015 and if that holds true, investors can expect a much bigger dividend. For example, even if the company holds on to the current 36% payout, the new quarterly dividend/share should reach 57 cents. That represents a 42% increase from the current 40 cents/share.

(Source: Current dividend and share price data from Yahoo Finance)
Conclusion: JPMorgan's dividend seems like the best of the lot. It has the right combination of reasonable yield, low payout ratio, and sufficient coverage through free cash flow. There is also the added benefit of buybacks. The stock also has massive insider support as covered in the article linked at the beginning. The average price target has also inched up to $66.17 from $65 in the last month, presenting 10% upside from here.
The company is expected to announce its quarterly earnings on April 11th and long term investors should be ready to pounce on any pullback in price.
Disclosure: I have no positions in any stocks mentioned, and no plans to initiate any positions within the next 72 hours. I wrote this article myself, and it expresses my own opinions. I am not receiving compensation for it (other than from Seeking Alpha). I have no business relationship with any company whose stock is mentioned in this article.