The mREIT sector is tough to beat when it comes to yield, offering double digit dividends when the 10 year treasuries yield are lingering below 3%. Unfortunately, in a rising rate environment, it comes with significant risks as we've seen in 2013 when sector bellwether stocks like Annaly Capital Management (NYSE:NLY) and American Capital Agency (NASDAQ:AGNC) dropped 30% and 35% respectively. The uncertainty surrounding the government taper of the bond buying program and the rising rate environment decimated the book value of the largest and most widely held mREITs as well their dividends in 2013 and cut their dividends 33% and 48% respectively.
Although the uncertainty around the taper program has diminished, missteps by the new Fed Chairwomen could happen and we remain in a rising rates environment. In addition, potential new threats to mREITs such as changes in the government guarantee of residential mortgages are lurking and could negatively impact NLY and AGNC's business model.
The Mortgage REIT ETF (NYSEARCA:REM) dividends fared better and stayed reasonably flat but the stock price took a beating as well, and dropped 18% in 2013. Is there a way to reduce volatility of both stock price and dividends? A number of articles were written advocating various methods of investing in mREITs from buy and hold to only holding them when the author's research calls for it. In this article I propose another approach of investing in mREITs that strives to lower volatility of both the portfolio and dividends in this rising rate environment.
Let's go back and look at what Annaly tried to do when faced with the uncertainty of the taper and the rising rates. What they essentially tried to do is reduce their exposure to long term fixed mortgages and increase their investment in commercial mortgages. Despite their resources and expertise, it takes a fair amount of time to reposition the company's sizable portfolio for the rising rate environment. The good news is that, as individual investors, we don't have the same constraints and can react quickly to adapt to the investment climate.
Much like Annaly, I looked to create an mREIT investment portfolio that would be less sensitive to interest rates and potential changes to the Fed's mortgage guarantee program while still maintaining a healthy dividend. To do that, I wanted my portfolio to consist of a mix of fixed rate, variable rate, and commercial mortgages. The variable rate portfolio would reduce the effect of interest rate changes and the commercial portfolio will both reduce sensitivity to interest rate and dampen the effect of any future or fear of future changes to the current residential mortgage guarantee program.
My favorite companies in the three mREITs sectors mentioned are NLY, Capstead Mortgage Corp.(NYSE:CMO), and Starwood Property Trust (NYSE:STWD). The graph below shows the performance of a basket of stocks comprised of equal dollar amounts of NLY, CMO, and STWD. Other companies representing those sectors could also be used based on one's preference and due diligence. So let's look at how my basket would have done over the last year as well as over a longer time period.
First, over the last year: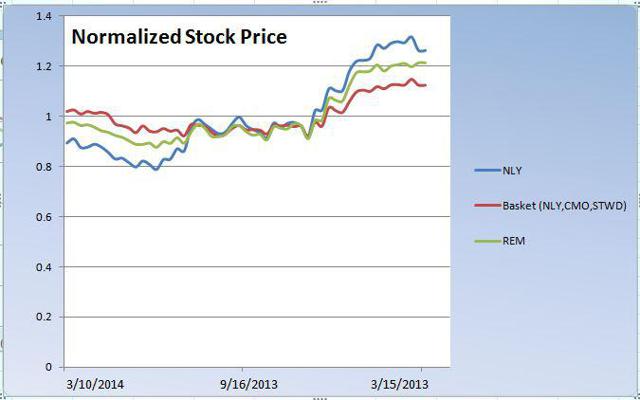 Click to enlarge
Chart from Mourad Zarouri and historical stock data courtesy of Yahoo Finance
I normalized the stock prices over their respective yearly averages to better compare graphically the performance of the basket when compared to NLY alone and the mREIT ETF REM. The graph above shows that the basket of stocks outperformed both. The combination of the three mREIT sub-sectors substantially reduced the volatility and the price decline caused by the taper uncertainty and rapidly rising rate in 2013. The volatility as measured by the standard deviation of the weekly averages is shown in the table below. The basket successfully cut the volatility by more than 1/2 over NLY and almost 1/2 over REM.
Price Volatility 3/15/2013 to 3/15/2014
| | NLY | REM | Basket |
| --- | --- | --- | --- |
| Average ($) | 12.28 | 12.95 | 37.94 |
| Standard Dev. ($) | 1.97 | 1.45 | 2.59 |
| Standard Dev (%) | 16.1% | 11.2% | 6.8% |
Let's now look at the dividends and how our basket dividend did when compared to NLY and REM:
Dividend Range 3/15/2013 to 3/15/2014
| | NLY | REM | Basket |
| --- | --- | --- | --- |
| Average ($) | 0.375 | 0.465 | 0.88 |
| Range ($) | 0.15 | 0.094 | 0.1 |
| Range (%) | 40% | 20.2% | 11.4% |
The basket of mREIT stocks dividend range was roughly 1/4 of NLY's and 1/2 of the ETF greatly improving dividend predictability. Note that I used the range as a metric for the dividend since there are only 4 dividends per annum, not nearly enough for a meaningful standard deviation.
I next wanted to look at how that same basket of mREITs comprised of NLY, CMO, STWD did over a longer time period. The max time period available was limited by when STWD went public roughly 4.5 years ago.
mREIT Basket performance over last 4.5 years:
Click to enlarge
Chart from Mourad Zarouri and historical stock data courtesy of Yahoo
The basket stock price remained fairly stable over the last 4.5 years and clearly outperformed the sector ETF as well as NLY over the last 18 months when the rapidly rising rates destroyed the book value of mREITs with portfolios dominated by fixed rate residential mortgages. The table below shows that the volatility of the basket as measured by the standard deviation of the weekly stock price averages was reduced by ~ 300%, and 40% when compared to NLY and REM respectively.
Price Volatility 8/2009 - 3/2014
| | NLY | REM | Basket |
| --- | --- | --- | --- |
| Average ($) | 16.03 | 14.17 | 50.59 |
| Standard Dev. ($) | 2.39 | 1.18 | 2.58 |
| Standard Dev. (%) | 14.9% | 8.4% | 5.1% |
The next table shows how the basket dividend did over that period.
Dividend volatility 8/2009 - 3/2014
| | NLY | REM | Basket |
| --- | --- | --- | --- |
| Average ($) | 0.59 | 0.06 | 0.12 |
| Standard Dev. ($) | 0.13 | 0.4 | 1.25 |
| Standard Dev. (%) | 21.6% | 16.0% | 9.8% |
Again, we see the dividend volatility improve dramatically with the basket portfolio; the dividend volatility improved by more than 1/2 over NLY and slightly less than 1/2 over REM.
Although the improved portfolio and dividend volatility is welcomed, it comes at a price. The average dividends over the 4.5 years for NLY, REM , and the basket were 14%, 11.3%, and 10% respectively.
In summary, the basket of stock comprised of NLY, CMO, and STWD achieved the design objective to reduce mREIT portfolio and dividend volatility while maintaining a healthy 10% dividend yield.
Investors should not become complacent because of the mREITs' recent performance in 2014. We are still in a rising interest rate environment and market volatility could increase as congress ponders what to do with the Federal Housing Administration mortgage guarantee program. The approach described above that allows for a quick repositioning of mREIT portfolios for the current investment climate can significantly reduce portfolio volatility and improve dividend predictability and should be carefully considered.
It is also worth noting that the composition of the basket of mREIT stocks can be adjusted to fit investors' goal and temperament.
Disclosure: I am long REM, CMO, NLY. I wrote this article myself, and it expresses my own opinions. I am not receiving compensation for it (other than from Seeking Alpha). I have no business relationship with any company whose stock is mentioned in this article.
Additional disclosure: I plan on adding STWD or an other commercial mREIT stock to my portfolio in the near future.