I'm taking the NASDAQ massacre last April 4 as a great opportunity to buy more Advanced Micro Devices (NYSE:AMD) shares. The fallout from the crash of high-flying momentum stocks will most likely continue this week.

Source: Finviz
AMD, being the most debt-laden among chip makers, should feel some collateral damage from the bearish mood this week. The crash last Friday did not affect AMD but I'm hoping more tech-heavy NASDAQ and NYSE tickers will drop this week.
The market pullback might allow me to find a cheaper re-entry for AMD. However, if AMD remains above $4 by Friday noon this week, I'll just buy more AMD. Recent developments convinced me that the $5 barrier can be breached very soon.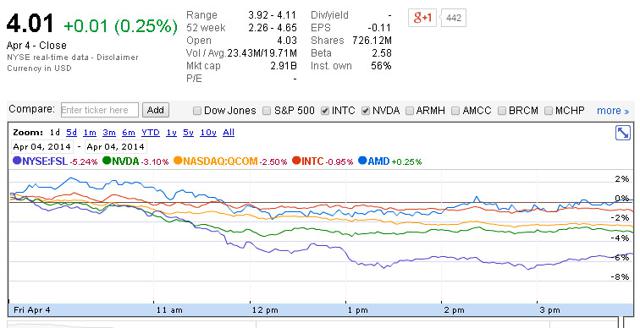 I'm also very impressed that AMD withstood last Friday's sell-off. Intel (NASDAQ:INTC), Nvidia (NASDAQ:NVDA), FSL, and QCOM saw drops while debt-laden AMD did not. The majority of shorts are either bored picking on AMD or the market now looks favorably upon AMD. Either way, I'm more bullish now on AMD because of two new developments.
1. Apple is having a hard time meeting the crazy-high demand for the new Apple Mac Pro. Mac Pro buyers, mostly creative & design professionals, have to put up with 5-6 weeks delivery time. Despite the genius-level IQ of Tim Cook, he was unable to make allowance for the obvious short-supply of the Mac Pro.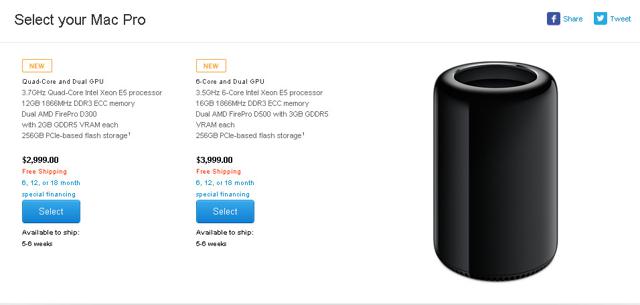 Source: Apple America
The radical look, very dual powerful graphics cards, smaller form factor, and modular upgradeable form factor of the new Mac Pro should have already warned Tim Cook that the product will bring in 10x more demand. Apple's Austin, Texas factory cannot produce enough Mac Pro units, so that many enterprising people are profitably re-selling Mac Pro units on eBay.
The excessive demand for the Mac Pro among customers in the creative industry is a great boon to AMD's GPU business. It is also a good free public relations coup for AMD against Nvidia, which is threatening Radeon's grip on the cryptocurrency mining market.
The $2,999 quadcore Apple Mac Pro contains two AMD Radeon D300 graphics cards, while the $3,999 six-core Mac Pro contains two AMD FirePro D500 GPUs. The geeks at Architosh estimate that two D500 cards give AMD gross revenue of around $2,000. The two D300 cards gives AMD $600 each, or $1,200.
500,000 unit sales of the new Mac Pro for the next two years roughly gives AMD $800 million. Those in the creative industry are zealously Mac-lovers and the sales figures may even be higher.
$2,000 + $1,200 / 2 = $ 1,600 average selling price dual AMD cards for Mac Pro
$ 1,600 x 500,000 units = $800,000,000
AMD can also earn more from Apple products by seducing Tim Cook with cheaper GPUs for the Apple MacBook, Mac Mini, and iMac. Apple is using Intel Iris graphics for its MacBook Pro. Nvidia cards are inside the iMac. Rory Read can surely come up with lower-priced Radeon cards which are comparably as powerful as those provided by Intel and Nvidia.
2. AMD is closely collaborating with Adobe (NASDAQ:ADBE) to produce better performance of AMD APUs and GPUs for video professionals using Adobe Creative Cloud software suite. Adobe CC artists like myself will reap faster workflow from AMD's OpenCL-acceleration of Adobe's Mercury PlayBack Engine. This feature is already implemented for both Windows and Mac-based graphics workstations which use Adobe Premiere Pro CC.
Adobe and AMD have worked together to deliver faster workflow for 4K and HD video editors. AMD's OpenCL acceleration is now also available for Adobe SpeedGrade CC, Adobe Media Encoder CC, and Adobe After Effects CC. Premiere and After Effects editors who use AMD processors and GPUs can expect smooth playback and faster rendering even when working with high resolution RED camera and Blackmagic files.
The creative industry is high-ASP market. Creative professionals will pay top-dollar for any workstation if it means faster workflow. Complex projects like those for Hollywood movies and advertising companies require maximum speed. Adobe's support of OpenCL acceleration is much appreciated by yours truly.
Conclusion
I expect AMD to sell a lot of its powerhouse FirePro graphics cards to OEM companies who build graphics workstations for the creative industry. The Apple Mac Pro is a solid long-term revenue stream for AMD's GPU division.
If Rory Read can charm Tim Cook, AMD graphics will also soon be found on the iMac, MacBook Pro, or the iMac. Not all designers can afford a $2,999 Mac Pro. AMD's FirePro graphics and Adobe-supported OpenCL should convince Dell to also make an AMD-powered graphics workstation, instead of just focusing on Nvidia/OpenGL.
I'll wait for AMD to become cheaper than last week before I increase my position. If it stays above $4, I'll still buy but not as much as I would like to. I love AMD because it has very low Price/Sales and EV/Revenue ratios. The market doesn't appreciate AMD GPU wins as much as it does with Nvidia.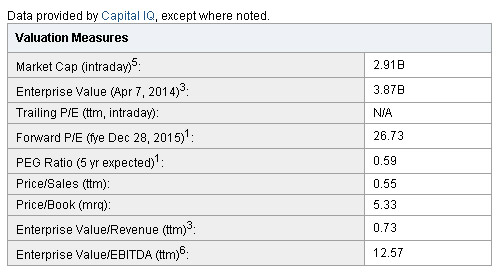 Disclosure: I am long AMD. I wrote this article myself, and it expresses my own opinions. I am not receiving compensation for it (other than from Seeking Alpha). I have no business relationship with any company whose stock is mentioned in this article.