AT&T Inc. (NYSE:T) is a premier communications holding company and the second largest wireless services provider in the USA after Verizon Communications (NYSE:VZ). AT&T recently announced its approval of a plan to repurchase 300 million shares or about 6 percent of its outstanding stock. I am writing this article to ascertain what kind of potential AT&T can offer its investors and to determine whether or not it should be invested in.
Shareholders' Return
AT&T has been quite generous towards its shareholders since it has maintained a trend of increasing its dividends year over year. Moreover it is paying a dividend at a payout ratio of 52.55%; that is almost 3.4 times the industry payout. This is why its dividend yield stands out from the industry at a level of 5.25% compared to the industry yield of just 0.92. The following graph illustrates the company's dividend profile and indicates the company's dividends increasing year over year. However, the growth rate is declining, reflecting the downward trend of the net income of the company.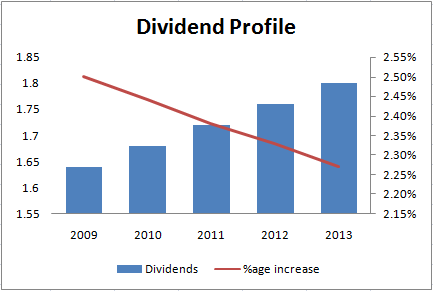 Source: 1stock1.com
Apart from dividends, share repurchase is the other form of rewarding shareholders that is continuously used by the company. AT&T had a 300 million share repurchase authorization back in December 2010, July 2012, and March 2013. Under the March 2013 authorization the company had already bought back 175 million of its shares by March of this year leaving behind 125 million more to be bought. Since 2012 the company has bought 775 million shares. Now the board of directors of AT&T has authorized an additional share repurchase plan of 300 million shares with no expiration date. This leaves the company with 425 million shares left to repurchase and at the current price of the stock at $35.07 it will cost the company almost $14,904 million. The current share repurchase authorization reflects 6% of the company's outstanding shares and will definitely help its EPS improve because of reduced share count.
Acquisition of Leap Wireless by AT&T
This is the era where the top and bottom lines of telecommunication companies can only be maintained through continuous innovation, efficient operations, newer products or at least new ways of marketing products. AT&T is focusing on almost all of these dynamics. In order to improve its operational efficiency, AT&T has launched a program called Agile that will improve its operations. On the marketing front the company no longer seems eager to sell its product and services based on speed, rather it is banking on the reliability of the services it provides as a tool to attract customers and subscribers. No doubt there are many people who are willing to opt for a service that may not be fast enough but ensures consistency and reliability. Also Verizon is charging higher rates than AT&T's offerings and this is again something that can attract subscribers looking for a fairly priced deal. The aggressive marketing of the company in response to the price war initiated by T-Mobile (NASDAQ:TMUS) was also evidence of the fact that the company has the guts to defend itself from competitive rivalry. However the previously considered merger of T-Mobile with Sprint (NYSE:S) will reduce the 4 large wireless carriers in the US to three and may shake the company's top and bottom lines.
AT&T finally received consent from the Federal Communications Commission to acquire Leap Wireless International (LEAP). The deal is going to be priced at $1.2 billion and is anticipated to bring $2.8 billion in revenues. Leap Wireless was the sixth largest wireless carrier in the USA. AT&T's acquisition of Leap Wireless will be a breath of fresh air to the company. Through this acquisition the company will have access to more airwaves to offer mobile services and will jumpstart and expand its prepaid services. Leap has about 5 million subscribers. AT&T aims to retain the Cricket brand and this way the Cricket brand can utilize the company's widespread 4G LTE network and become geographically diversified. People may access the Cricket brand in various cities in the USA, something that was not possible under the ownership of Leap. More interesting is the fact that the company aims to launch a new Cricket brand but will maintain the lucrative part of it for customers (simple, low cost rate plans).
Comparative Analysis
The following is a comparison of AT&T Inc. to its competitor Verizon in terms of shareholder returns. AT&T is paying a more robust dividend yield but in terms of total return Verizon and the S&P 500 are beating the company.

In terms of price multiples, AT&T is priced at a steep low. With regards to the price to earnings ratio, AT&T is trading at just 10.3x of its earnings while Verizon is trading at 11.89x in an industry where the benchmark price to earnings ratio is 13.23. The forward price to earnings of both competitors is almost the same.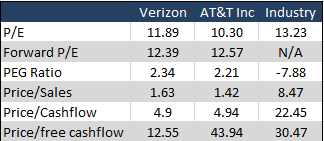 Source: Reuters & Yahoo Finance
Eyeing the other price multiples one can easily come to the conclusion that the stock is undervalued compared to Verizon and its industry benchmarks.
Conclusion
The telecommunications industry has been revolutionized and it is apparent from the fickle dynamics of the industry. Consumers are moving away from landline services to on-the-go wireless services such as text messages and voice services. Therefore the companies playing in this industry will also have to evolve and create innovative services in order to maintain their share or to lead the market. AT&T's acquisition will enable it to continue its play in the industry and will help it to capitalize and gain more from the lucrative pre-paid market. In my opinion AT&T is headed in the right direction. Moreover the rewards it offers to its shareholders in the form of dividends and share repurchases are lucrative enough to enter the stock. The undervalued status of the company is also a plus in this regard.
Disclosure: I have no positions in any stocks mentioned, and no plans to initiate any positions within the next 72 hours.
Business relationship disclosure: The article has been written by a Gemstone Equity Research research analyst. Gemstone Equity Research is not receiving compensation for it (other than from Seeking Alpha). Gemstone Equity Research has no business relationship with any company whose stock is mentioned in this article.