LinkedIn (NYSE:LNKD) is a rapidly growing professional networking website that specializes in job recruitment and job searches. It provides a productivity service that helps in career progression rather than consumption or entertainment related services that are provided by websites such as Facebook (NASDAQ:FB) and Twitter (NYSE:TWTR). There are a huge number of professionals, billions in number, around the world that can benefit from the services of LNKD. LNKD can create a real economic value for these professionals by helping them to access the potential opportunities available to them so as to capitalize on the talent that they possess. For employers the recruitment process is of the utmost importance because they need to hire the right talent to drive their success and LNKD can help them find these potential employees.
FB has about 1.3 billion average active users and TWTR has about 645 million active users compared to the 183 million unique visitors that LNKD had in 2013. No doubt FB and TWTR have huge membership bases compared to LNKD but they are not specifically targeted to professionals. LNKD is the leader of this space providing specialized services and recruitment services. LNKD knows how to find solutions for professionals that can add value to their professional growth through innovative ideas. Considering the huge market of professionals worldwide LNKD has the potential to grow in the coming years.
More Than Just A Job Hunt Site
LNKD is expanding its services further by working on its sales solution segment. This is an ingenious segment that would allow sales professionals to build a network and access greater possibilities for making sales. Sales professionals can't grow without building a network and LNKD will help them to do this. This segment is expected to be a key growth segment in the coming years. LNKD's blog is a new publishing platform for members to publish original content and is spurring excitement among members. LNKD's influencer program is a platform where notable individuals can publish their original content. Contributors include Barack Obama, Bill Gates, and many other influential personalities. This would further increase user involvement and would increase visits and time spent on the website.
Competitive Edge
LNKD has successfully differentiated itself from its closest rival Monster Worldwide (NYSE:MWW) that is the second major player in the job search and recruitment services industry. MWW had made a big entry into this field a decade back and captured the market of recruitment firms and newspaper advertisers and then LNKD entered the market and captured MWW's market share through its differentiated features. In 2008, MWW had $1.3 billion revenues and LNKD had $79 million revenues. After five years, in 2013 MWW's revenue fell to $800 million suffering from a 40% slash and LNKD revenues increased to $1.5 billion, about 19 times compared to its 2008 level. If LinkedIn continues catering to the recruitment needs of professionals and employers around the world revenue is expected to reach $3 billion in the next few years. On the other hand, MWW's revenue projection for 2015 is expected to remain at $800 million.
Segment Performance
LNKD's largest segment is talent solutions that contributed $859.67 million. There was an explosive growth of about 64% in this segment in 2013. Employer organization under contract with LNKD grew by about 50% in 2013 to 24,500 organizations. The talent solutions service provides options and features to recruiting organizations to hire employees from a huge talent pool more conveniently than other similar services.
LNKD acquired Bright with its ingenious ideas in creating insights of data and Bright is expect to run algorithms to help match candidates to the right recruiter. Bright's strength would help to strengthen LNKD's ability to provide superior job-seeking services.
By the end of 2013, LNKD had a huge network of 277 million registered members. This huge network with useful networking features presents a huge pool of talent that employers can access to find the right talent they need.
LNKD's second segment, marketing solutions, contributed $362.4 billion to revenue in 2013. This revenue also grew at an explosive rate of about 40%. This segment allows advertisers to post a targeted paid advert on LNKD. This service earns revenue through adverts the same way FB and TWTR do.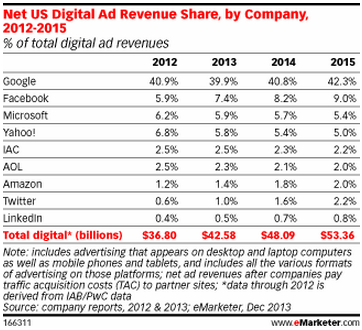 If we look at the market share of LNKD in the US digital ad revenue in 2013 we notice that LNKD has a very minute share of about 0.5% as given in the exhibit above. Total net digital ad revenue is expected to grow by about 13% in 2014 and 11% in 2015 according to eMarketer.com and LNKD is forecasted to grow its market share through these growing revenues. LNKD's market share is expected to increase to 0.8% by 2015.
The third segment, premium subscriptions, contributed $306.5 million to revenues. This segment reported an outstanding growth of over 60% in 2013. The growing popularity of LNKD's premium subscription is also expected to increase revenue in the coming years.
Target Price
Analysts are generally very optimistic about the future performance of LNKD. The lowest estimate of the target price for LNKD is $190 and that is the same as the current market price of the shares. The highest target estimate is $300 and that offers an upward potential of about 58%. Mean and median target price is around $250; that presents an upward potential of over 31% if materialized. Analysts' optimism about the expected price rise supports the argument that LNKD is a good investment opportunity.

Conclusion
LNKD is a business that creates real value for professionals around the world and that makes it a good investment. It offers a set of features to the employing firms to access a huge pool of candidates and optimizes their search to match the right candidates they are searching for. Its explosive growth means that it's offering better recruitment solutions than other competitors. Its sales solution segment is expected to see huge growth since it provides networks to professionals that need to build networks the most. Original content blog for members and articles published from influential people will increase user interest and involvement. With an attractive target price LNKD is an appealing investment.
Disclosure: I have no positions in any stocks mentioned, and no plans to initiate any positions within the next 72 hours. I wrote this article myself, and it expresses my own opinions. I am not receiving compensation for it (other than from Seeking Alpha). I have no business relationship with any company whose stock is mentioned in this article.