I am old enough to remember many classic Coke slogans, but the ones that always struck me involved some variation of Coke being "the real thing." As the ubiquitous cola giant, The Coca-Cola Company (NYSE:KO) is in fact the real thing. As one of the worlds best known brands, Coke sells more than 3,500 products in more than over 200 countries around the world. Coke has been in business for 127 years and is headquartered in Atlanta, Georgia.
I have been a Coke shareholder since late 2008, and have been very happy with my results. I also recognize that my timing (investing during the financial crisis), was very advantageous. I like to take a look at each of my holdings at least twice per year, to what has changed in their outlook. With that in mind, let's take a look at The Coca-Cola Company.
The Struggles
First let's look at Coca-Cola's struggles, because it's not all sunshine and roses for the iconic brand. Controversy has sprung up recently concerning Coca-Cola's planned incentive package for their management. David Winter, founder of Wintergreen Advisers, is leading the charge against a proposal by Coke's management to pay themselves incentive bonuses of as much as 14.2 percent of Coke's outstanding shares. At current prices the incentive bonuses amount to about $24 billion dollars. Management says the incentives would only so large if performance qualifications are met, which would benefit shareholders. I am still studying up on this proposal, but am inclined to vote against it. In the big picture I consider this "controversy" merely a distraction, but I would not like to have my shareholder interest diluted.
The more concerning matter is the recent decline in the consumption of Coke's products on a per capita basis. The combination of less disposable income, increased government regulations, and more health conscience consumers, have led to a reduction in the volume of Coke products consumed in the North American operating segment. See the chart below from Coke's 2012 Annual Report.

The Positives
The struggles above not withstanding, Coca-Cola has had an amazing track record for providing value to shareholders over the past decades. Even more recently, the company has done a great job of buying back stock and raising dividends annually. Take a look at the 10 year chart (below) from GuruFocus.com.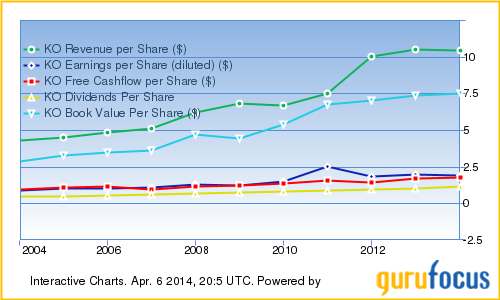 I understand that a 10 year time period is extremely short for long term investors, but I contend that the company's track record over the past decades speaks for itself. The current streak of annual dividend raises, now over 50 years, should bring a smile to even the most dour shareholder. Additionally, we can all take heart at the geographic diversity of Coke's customers. Decades ago the United States made up the majority of Coke's customer base. See the graphic below from Coke's 2012 annual report, which shows the total sales volume broken down by global region.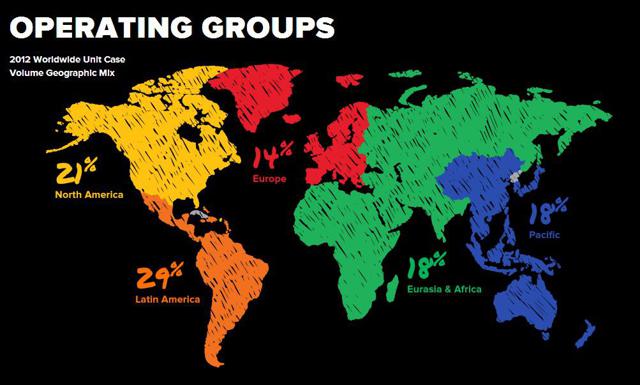 It is great to see so much of Coke's business (by volume) located in emerging and developing regions, like Latin America and Africa. Even more reassuring are the growth and margin statistics. According to the chart below (from the 2012 annual report), substantial growth (11% overall) occurred in the Eurasia/Africa operating segment. Additionally, 5% overall growth occurred in both the Pacific and Latin America operating segments. For a mature business, like Coca-Cola, these growth figures are encouraging. It would be much easier for a young upstart, coming off a low sales base, to post higher growth statistics. What I find encouraging is that the profit margins for Eurasia/Africa (39.3%), Latin America (61.3%) and the Pacific (46.1%) operating segments are all much higher than North America's profit margin (11.6%). (Those margins can be found on page 56 of the 2013 annual report). Europe was the only operating segment which experienced an overall decline between 2011 and 2012. Despite the European operating segment's 61.5% operating margin, I am not concerned about the decline. Europe is slowly coming out of recession, and I expect better profits and growth in the future.

Overview
Coke's chief competitor is PepsiCo (NYSE:PEP), an enormously powerful company in its own right. If you're interested in my thoughts on PepsiCo, I recently penned an article called PepsiCo: A Balanced Behemoth for Seeking Alpha. In the article, I admired the balance between PepsiCo's food and beverage businesses. Similarly, I very much appreciate Coke's balanced (global) customer base. While past profit growth was the result of American and European customers, I feel confident that future growth will be found in places like Latin America, Africa, and Asia. This is especially encouraging because those markets all have dramatically higher profit margins than the US market. Growth in higher margin markets is a very good thing.
Additionally, innovation is not dead at Coca-Cola. While I was scratching my head at Coke's investment in Keurig Green Mountain Inc (NASDAQ:GMCR) a couple months ago, the idea of delivering Coke's products in a new way is certainly enticing. Keurig Green Mountain's single use cups should result in a new market for Coke's cola and tea products. That market may also boast higher margins, as smaller serving sizes tend to have higher profit margins than bulk sizes. Similarly, I am not concerned about governmental regulations (like those in New York), which limit the maximum size of cola containers. While there may be a short term decline in sales volume, I expect that the higher profit margin which accompany the smaller containers will cover most any shortfall. Plus, I believe that people are creatures of habit and exhibit remarkable brand loyalty. I believe that Coke drinkers will continue to drink Coke's products, whether by habit or addiction, in spite of higher prices and government intervention.
Last but not least, I need to say something about price. When bought at the wrong price, even the best company becomes a poor investment. Coke is trading very close to it's historical average valuations, as you can see from the Morningstar.com chart below. Furthermore, Coke's stock has not participated in the massive 1.5 year rally enjoyed by the broader market, as you can see in the Yahoo Finance stock chart below. Coke's stock price is essentially flat over the last two years. These two facts have me thinking that Coca-Cola may represent a value relative to the broader market. I will buy additional stock if the price falls into the low $30s.


Courtesy of Morningstar.com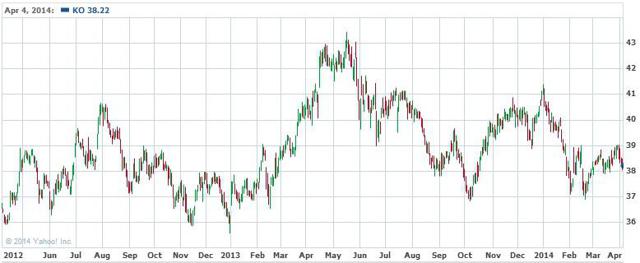 Courtesy of Yahoo Finance
Disclaimer: This article is for informational purposes only and should not be considered a recommendation for anyone to buy, sell, or hold any equities. I am not a financial professional. The information above is provided by Yahoo Finance, Morningstar.com, GuruFocus.com, and Coca-ColaCompany.com/Investors.
Disclosure: I am long KO. I wrote this article myself, and it expresses my own opinions. I am not receiving compensation for it (other than from Seeking Alpha). I have no business relationship with any company whose stock is mentioned in this article.