CAMAC Energy (CAK) recently completed its transformation by acquiring the remaining economic interests (it now owns 100% of current production and all future production) in OML 120 and 121 offshore Nigeria from Allied Energy plc. In addition to that, Dr. Lawal recently announced a stock purchase plan for up to 2,000,000 shares. While there are many reasons to sell shares, there is only one reason for insiders to buy shares. Since the closing of the deal, I feel like it is time to review where the company currently stands and where it is headed.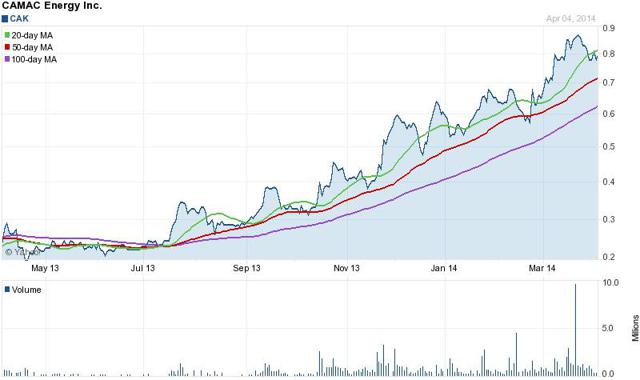 Outstanding shares
As part of the deal, investors received a stock dividend of 1.4348 shares per share owned. That, along with shares provided to Allied Energy plc as part of the acquisition consideration, and shares issued to the Public Investment Corporation of South Africa (PIC) in exchange for their equity investment increased the total outstanding shares from 157 million to 1.072 billion. When the PIC funds the second and final tranche of $135 million, the total outstanding shares will be approximately 1.2 billion. Thanks to these transformational events, the market cap of the company has increased from approximately $150 million when the deals were announced last year to $900 million today.
Cash on hand
At year-end 2013, the company reported $163,000 in cash, and has since received the first $135 million of a total $270 million equity investment from the PIC.
How 'bout them shorts?
Value Digger wrote an article on 13th January about how he felt the company was overpriced and ripe for a short position. I subsequently wrote a piece outlining the fallacy of the position. In order for the short position to work out, after the share dividend, the price would have to pull back to a price of $.55. And that is just to break-even. Since then, CAK has continued to climb.
The market has been very bullish on CAK, showing no signs of slowing down. Right now, the market is giving Dr. Lawal enough confidence and freedom to carry out his plan for the OML fields.
So here is where the short interest stands:

(Source: Nasdaq)
At first glance, it would appear there has been a massive increase in the short position in the stock, however, this is a result of the share dividend, and does not take into account the new level of outstanding shares. Those that shorted the stock, now also have to account for the share dividend that has been paid to shareholders, which is where the increase is coming from. So 3,637,618 shares X share dividend of 1.435 = 5,219,981 additional shares that are shorted. This becomes a total of 3,637,618 + 5,219,981 = 8,857,599 shares short. So it looks like there has been a little covering between that and the 8,442,445 short interest, but not a significant amount.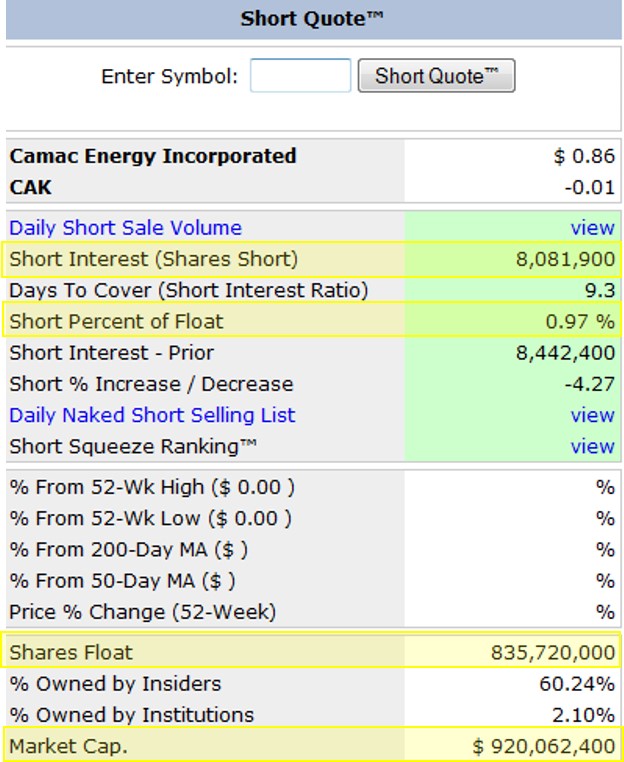 (Source: Shortsqueeze.com)
Secondary Listing on the Johannesburg Stock Exchange
As part of the deal, CAMAC Energy has commenced trading on the Johannesburg Stock Exchange (JSE) under the ticker "CME".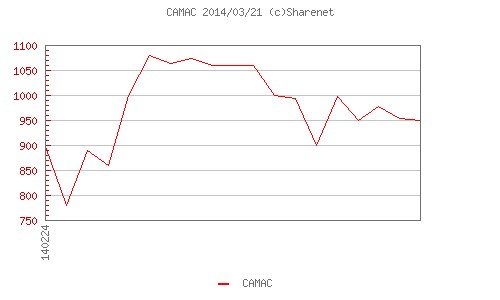 (Source: Sharenet)
Understandably, the trading volumes of CAMAC Energy on the JSE is not as prolific as the primary listing on the NYSE. The current exchange rate is approximately 10.69 South African rand to 1 USD.
Operational Plan
CAK is continuing the development of the OML blocks with the drilling and completion of two wells this year, Oyo-7 and Oyo-8, and has plans to drill all the way through Oyo-12. It has already contracted for the Northern Offshore drillship Energy Searcher, which is scheduled to arrive to the Oyo Field in the first half of 2014, at a rate of just under $100,000,000 for the first one-year term, plus mobilization fees, or around $275,000 per day, with an option to extend the contract for an additional one year.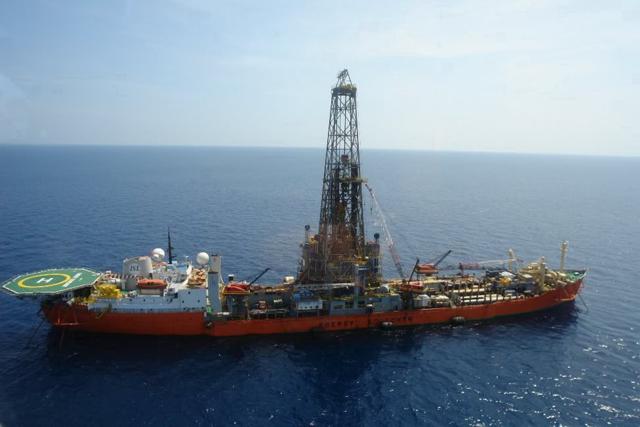 (Energy Searcher, Source)
The Floating Production, Storage, and Offloading vessel (FPSO), Armada Perdana, which is already on site supporting existing production, has been secured for up to an additional seven years.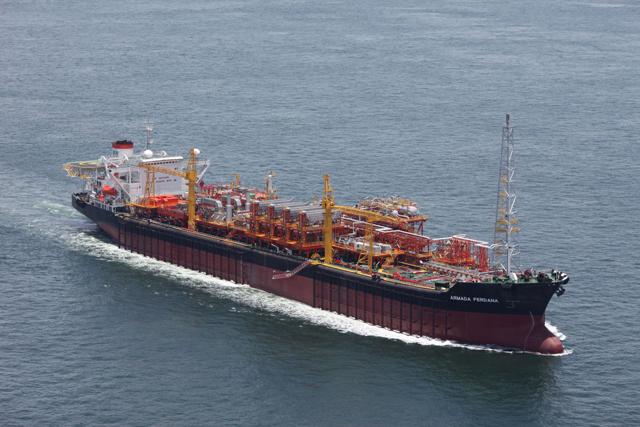 (Armada Perdana FPSO, Source)
Last November, the company successfully drilled the Oyo-7 well, confirming the existence of two formations, the Pliocene reservoir, and the deeper Miocene reservoir. This has given the company an estimated gross oil pay of 133 feet (net oil pay of 115 feet), and gross gas pay of 103 feet (net gas pay of 93 feet) in the Pliocene, and 65 feet of hydrocarbons in the Miocene. Oyo-7 still needs to be completed by drilling the horizontal, and the company is going to use the Energy Searcher to finish this well. Right now, Oyo-7 is projected to commence production in 3Q2014 and Oyo-8 is projected to be finished by year-end 2014. Each well is estimated to generate an initial production rate of 7,000 bopd net thanks to the Allied Energy acquisition.
Now that CAK owns 100% of the economic interests, the development expenses will now fall 100% on the books of CAK. The drillship is contracted at approximately $275,000 per day through roughly April 2016, and the FPSO is contracted for up to seven additional years.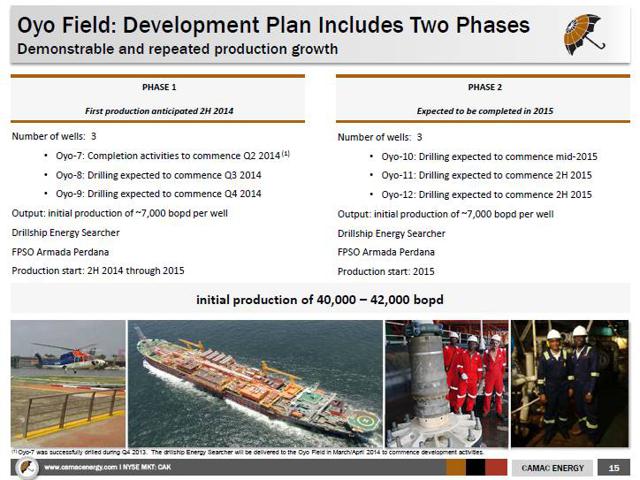 (Source: Company website)
The company is still making plans through 2015/2016 to use the drillship in the oil fields, including spudding the first Miocene exploration prospect, which is shown by the company in the mid-year Competent Person's Report to hold in excess of 100 mmbbls of oil. Assuming Oyo-7 through Oyo-12 commence production at 7,000 bbls/d, total initial production, that would represent around 42,000 bbls/d. The Armada Perdana FPSO can process up to 40,000 bbls/d, and has storage capacity of 1.1 mmbbls. So far, the company has been successful in reaching oil, so it is projecting to continue the success rate (7 for 7), which may be a lofty goal. I remain cautiously optimistic about the chances of the company to reach those goals.
Profitability
So in order to determine the profitability of this deal through the end of the year, I'm going to make a few assumptions:
-I am assuming current production from Oyo-5 and Oyo-6 continues at 2,000 bbls/d net to CAMAC Energy until Oyo-7 comes on line.
-I am not taking into account administrative and overhead costs.
-I am only looking at revenue for Brent crude at $107 per barrel, and changes in that price will affect the outcome.
-I am assuming the first well will be completed on 1st July and the second well completed on 1st December.
-I am assuming CAK continues its safety record and there are no accidents that take place.
*I also understand that drilling wells for oil is a very upfront, high-cost business, and the subsequent cash flow makes up for the costs. Many companies operate at significant losses until they become cash flow positive. The point of this is to see how close CAK is to a break-even point between drilling costs and cash flow.
With that in mind, the company has some very heavy operational costs to carry until it can reach the level of production where cash flow makes it profitable. In the long run, this will be very profitable for the company.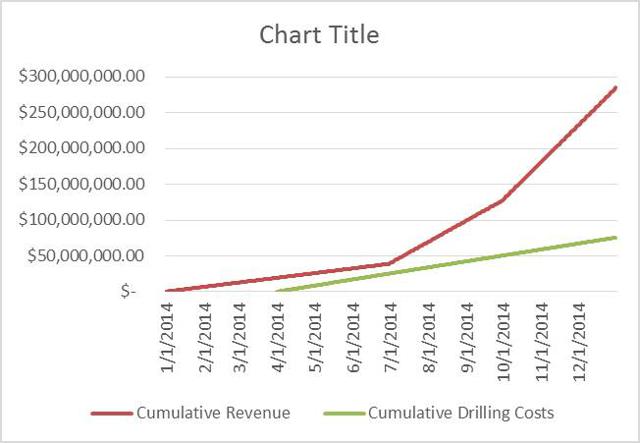 The ability of the company to bring Oyo-7 on line is critical for the company to reach the break-even point in drilling costs vs. revenue. While the company was able to add significantly to the bottom line with the first $135 million of a total $270 million investment from PIC, profitability will come with bringing the new wells on line. Through 2015, and into the first part of 2016, when the Oyo 9, 10, 11, and, 12 wells are brought on line, the company will have significant cash flow to expand the other prospects the company has in Kenya, The Gambia, and Ghana, as well as to drill the first Miocene exploration prospect.
If the drilling costs can truly be covered at just over 2500 bopd, then completing the first well will more than cover the drilling costs. That's assuming the goal of a production rate of 7,000 bopd is reached. Keep in mind that prior wells in the Oyo Field have IP'd as high as 9,500 bopd, and peaked as high as 16,890 bopd.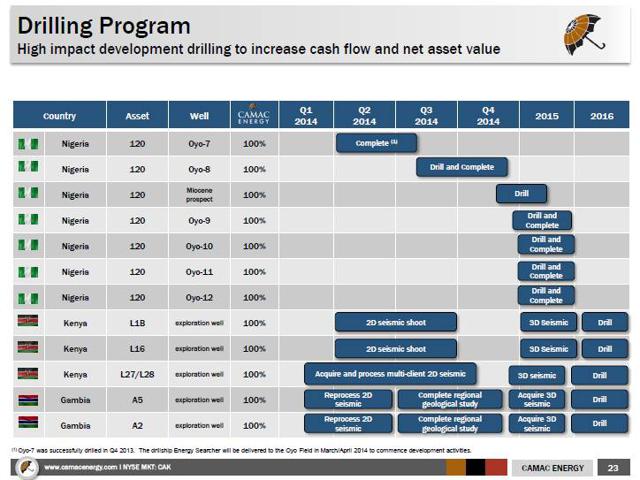 Catalysts and Risks
So with any investment and company, there are both catalysts and risks.
Catalysts:
-Bringing on line Oyo-7: Like the company is projecting, and barring any unforeseen events, it will be completed and come on line in July. I believe this will be a significant catalyst for the stock price, not only for the increased cash flow, but the increased confidence in management to carry out their plans and continue to demonstrate they can execute.
-Completion of Oyo-8: For the same reasons of finishing Oyo-7, except CAK will not have to wait for the drilling rig to arrive.
-Announcements on Kenya, The Gambia, and Ghana: I don't believe these will move the stock as much, since they are still in the very early development stages. However, as we move further into 2014 and 2015, and the reserves and prospects become better identified, it will allow the company and investors to better estimate the value of these frontier exploration regions of West and East Africa.
Risks:
-Operational risks: There have been recent events with piracy in Nigeria. While offshore oil production has been safer than onshore production, there are still indications companies are taking the safety seriously. Whether that is through hiring local security forces, maintaining close ties with the Nigerian Navy, etc., the risk is very real. Any incident would be viewed negatively. It is worth noting that CAMAC Energy has never had one day of operations' interruption due to this. This risk is mitigated due to its indigenous status (which also provides tax advantages, royalty advantages, and investment tax credits), it operates deep offshore vs. onshore, and over half of all employees are located in Africa.
-Drilling risks: While drilling has become safer, I would view any environmental disaster as catastrophic for the company. While the company, along with the drillship, certainly carry insurance to cover such incidents, I'm not sure a small-cap company could recover.
-Dry holes: The company has found hydrocarbons on every well so far offshore Nigeria. Drilling these wells is relatively expensive, but the targeted production makes it well worth the effort. However, the possibility of making a non-commercial discovery, or having lower-than-expected production will alter the projected cash flow and profitability of the company's plan.
Conclusion
I remain very bullish on CAK. So far, it has been able to carry out its plan for transforming the company and increasing the market cap and equity value for shareholders. Dr. Lawal has stated his intent to bring in partners to further assist in the development of their acreage while sharing in development costs, and have a track record of success with various partnerships through its affiliate Allied Energy (BP, Statoil, Conoco, Eni, etc.). Right now, I believe the company is on a track to be able to generate additional current production and cash flow through further development drilling in the Oyo Field, and shoulder those costs without having to share in the revenues. I expect some of the upcoming catalysts to move this stock will be finishing Oyo-7 and Oyo-8, and the announcement of the initial production levels of each well. As the company continues to execute on its growth plans, and now that it is approaching a $1 billion market cap, I expect we will see the initiation of equity research coverage soon. This will further increase institutional investor exposure and awareness, and will lead to further institutional buying, which of course, puts additional upward pressure on the stock.
Disclosure: I am long CAK. I wrote this article myself, and it expresses my own opinions. I am not receiving compensation for it (other than from Seeking Alpha). I have no business relationship with any company whose stock is mentioned in this article.
Editor's Note: This article covers one or more stocks trading at less than $1 per share and/or with less than a $100 million market cap. Please be aware of the risks associated with these stocks.