In a few weeks I will be headed out to Las Vegas for the annual ReCon ICSC Shopping Center Conference. While there, I plan to interview a few leading Retail REIT CEOs in an effort to gain valuable insight into the various REITs and also the growing evolution of the retail and shopping center industry.
There has been a number of new shopping center REITs that have listed over the last few years including Brixmor (NYSE:BRX), Wheeler Real Estate (NASDAQ:WHLR), Excel Trust (NYSE:EXL), and Retail Opportunity Investment Corp. (NASDAQ:ROIC). In addition (and as I recently reported), American Realty Capital Properties (ARCP) intends to spinoff its shopping centers into a new public-listed REIT called ARCenters.
I find it interesting to watch the evolution of the Retail sector and evaluate the growing number of REITs that have all become differentiated based upon their geographic, tenant, and management expertise. It's quite clear that each of these REITs are trying to carve out their own unique business models - aimed to successfully create value by building a strategically-enhanced and everlasting platform of differentiation.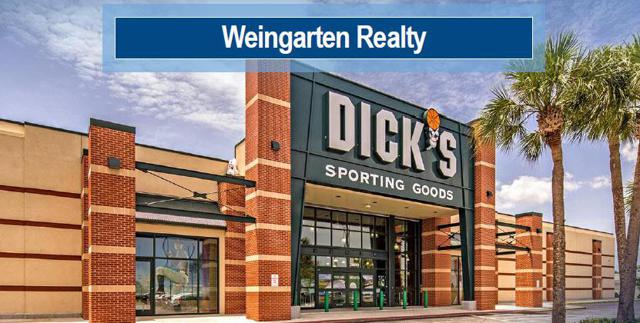 Weingarten - Evolving Into a Powerful Platform of Repeatability
Weingarten Realty Investors (NYSE:WRI) was founded in 1948 by Harris Weingarten. The company, originally known as Weingarten Markets Realty, commenced operations by building the family's grocery stores and later expanded into developing shopping centers. Around 1980, the Weingarten family exited the supermarket industry and the realty company, headed by Stanford Alexander, one of Harris' grandsons, and began to focus on relationships with retailers, drug stores, and others.
Weingarten became a publicly-held company in August 1985 and was listed as "WRI" on the New York Stock Exchange. Over the past six decades, the company has focused on investing in shopping centers and today the Houston-based REIT owns around 270 properties with over 50 million square feet.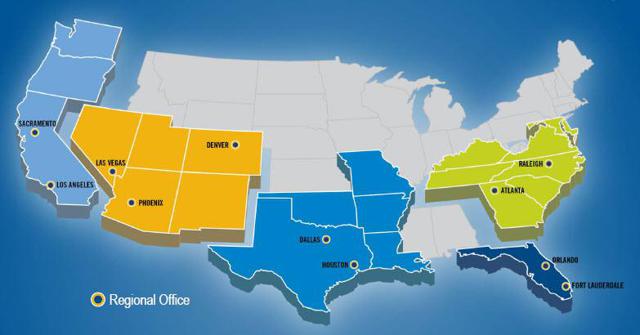 Over the last several years, Weingarten has been successful at growing its "circle of competence" and two years ago the company sold off most if its industrial assets (9.6 million square feet to DRA for $382 million) to focus on its strategic initiatives of being a dominant shopping center landlord in major metropolitan markets.
Weingarten's geographic footprint is positioned to capture a disproportionate share of new job growth. Almost 50 percent of all the jobs created in the U.S. over the last 12 months have occurred within the states that Weingarten operates its portfolio.
The well-positioned properties are located in Texas, Florida, and California - that make up over 55 percent of the Weingarten portfolio - as well as eighteen other states from coast to coast.

Weingarten has transformed its investment model by focusing on markets with strong demographics including solid rent growth, educated employment, and high density locations. Accordingly, Weingarten targets markets with strong barrier to entry attributes - today 90% of the company's ABR is in these targeted markets: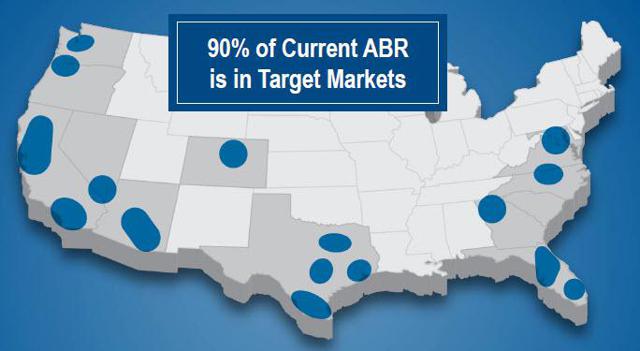 Weingarten is based in Houston and that is also the market where the company has the highest concentration (16.6% of ABR). Other top markets include Orlando, Los Angeles, and San Francisco.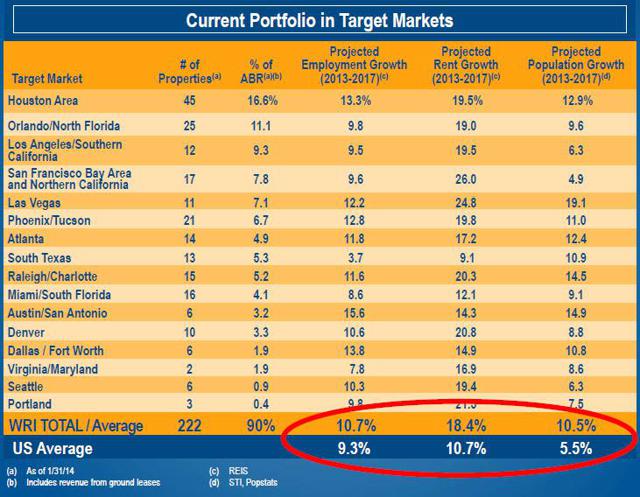 Weingarten's disciplined growth strategy has enhanced the safety of the balanced platform. Most of the investments (since 2008) have been supermarket anchored centers in high barrier-to-entry trade areas.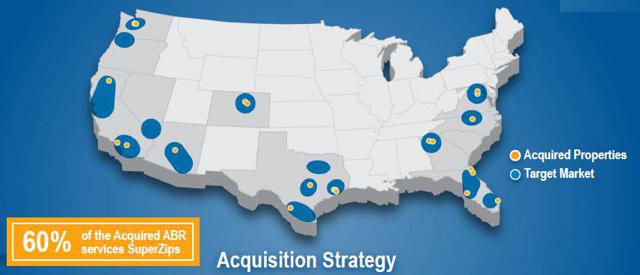 Alternatively, Weingarten has reduced exposure to non-target, tertiary markets where there are low barriers to entry. That strategy has led to reduced tenant risk and higher overall safety.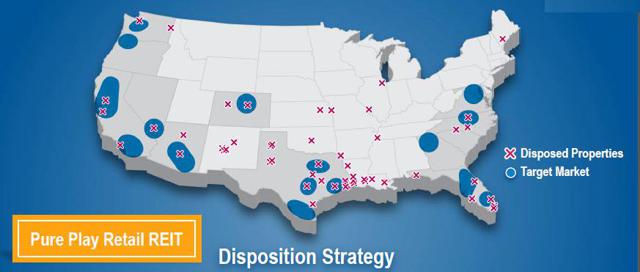 The results of Weingarten's capital recycling platform has been overwhelmingly successful. Here is a snapshot that illustrates the activity during 2008-2013.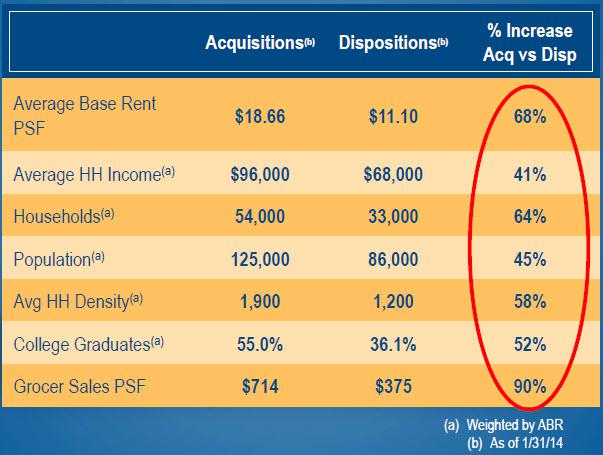 Since 2008 Weingarten has sold off 98 properties while adding 28 net new properties. The results of the capital recycling transformation has been extraordinarily successful as evidenced by the snapshot below: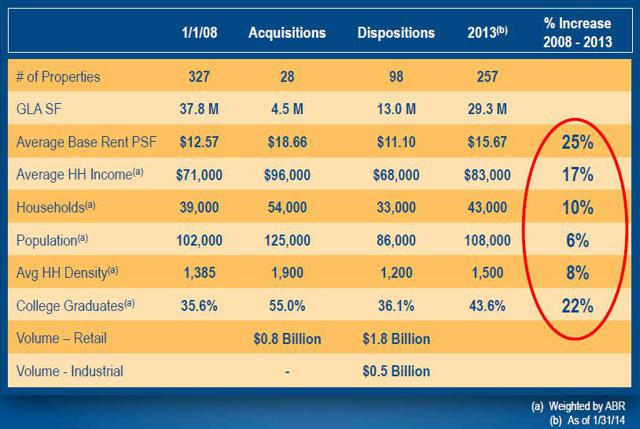 Weingarten Realty - Building a Best-In-Class Brand
Weingarten's uniquely-positioned model is centered on highly productive grocery operators that generate very stable and reliable income. Over 75% of the company's ABR is in shopping centers with a grocer component. Here is a snapshot of Weingarten's grocery tenants: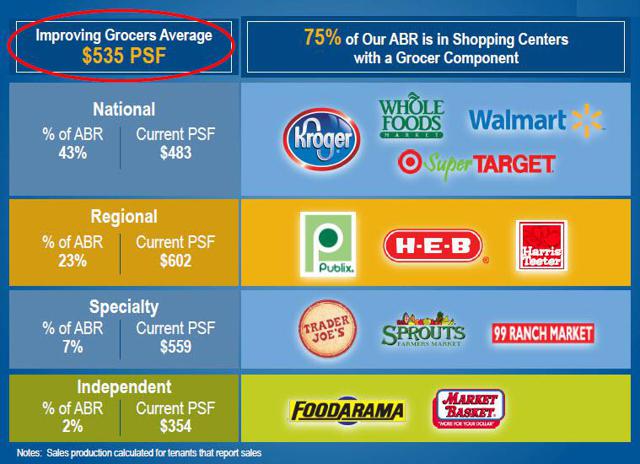 Kroger (NYSE:KR) is the company's top tenant (3.2% of revenue); however, the REIT does not have significant concentration with any one retailer. As evinced by the snapshot below, Weingarten has unrivaled tenant diversity with only 17.3% of revenues that are generated from the company's top 10 tenants.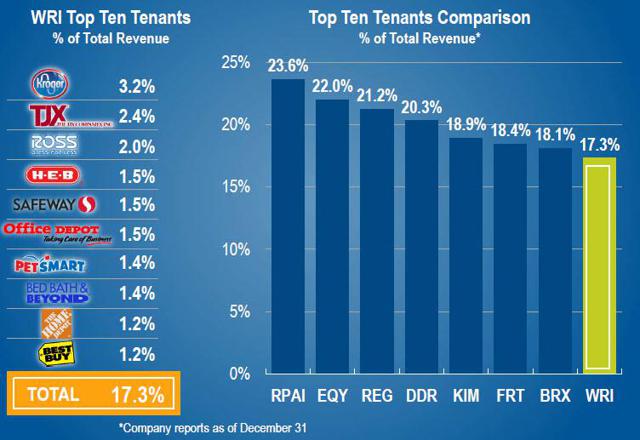 As part of the focused reinvestment strategy, Weingarten has substantially increased its shop occupancy from 85.6% in 2010 to 89% in 2013.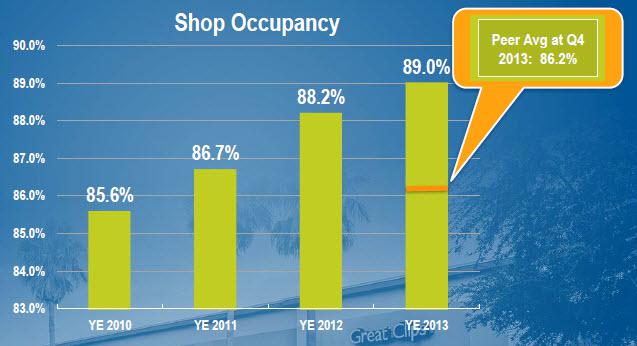 Weingarten's shop tenants make up a diverse source of tenants within a variety of operating categories.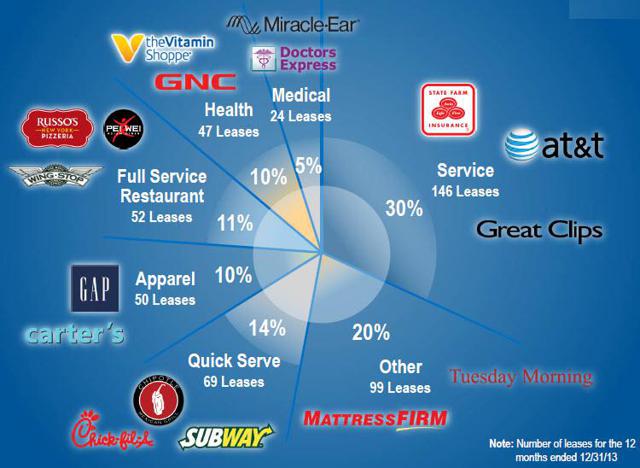 The company's transformation has also increased the number of national and regional tenants. In 2007 Weingarten had around 66% national/regional tenants and today the company has 77% in higher quality tenants.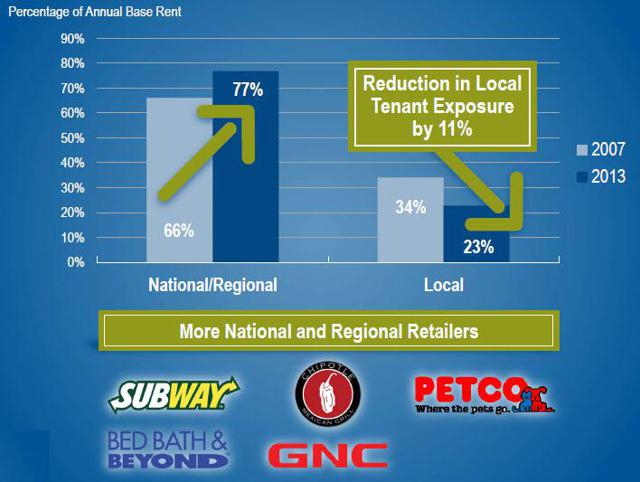 Weingarten's focus is on internet resistant tenants that provide necessities, services and discount clothing. Accordingly, the company's retailers have found growth opportunities serving budget constrained consumers who still must buy necessities that are focused on value offered by many retailers like TJX (NYSE:TJX) and Ross (NASDAQ:ROST). Barnes & Noble (NYSE:BKS) dropped off Weingarten's Top 25 list, so the company has muted exposure to the struggling book chain.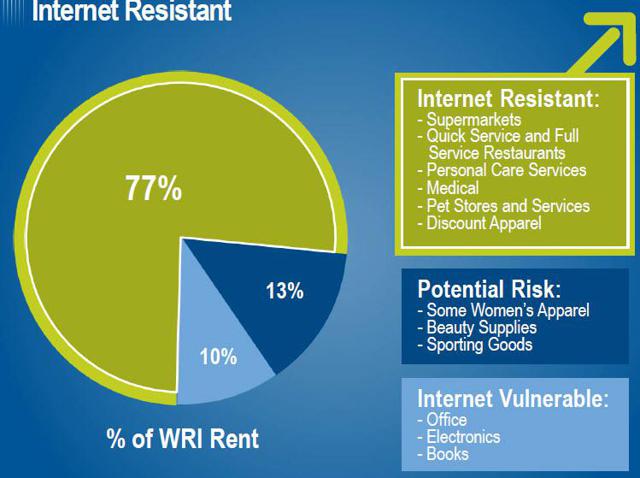 Weingarten Realty - Solid Operating Platform
Weingarten's Same Property NOI finished the year at 4.2% for the second straight year.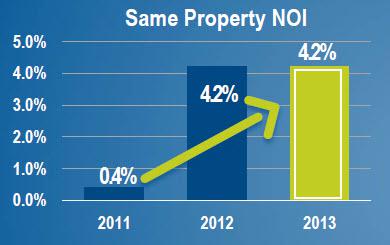 Leasing velocity remained steady, even as occupancy climbed to 94.8%. Rent growth on new leases was 13.1% for the fourth quarter and 12.7% for the year.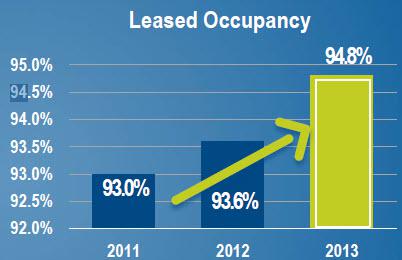 Average Base Rent increased to $15.66, from $14.51 in 2011.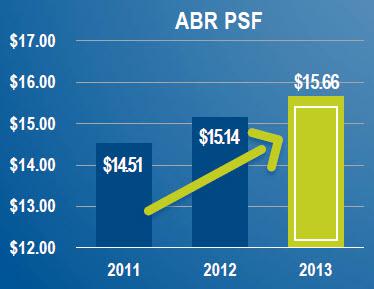 Weingarten completed a successful $250 million offering of 4.45% 10-year bonds in October (2013). This transaction pre-funded the majority of the January 2014 debt maturities, which totaled $285 million. With the repayment of the $285 million in January (2014), Weingarten now has less than $100 million maturing in the remainder of 2014.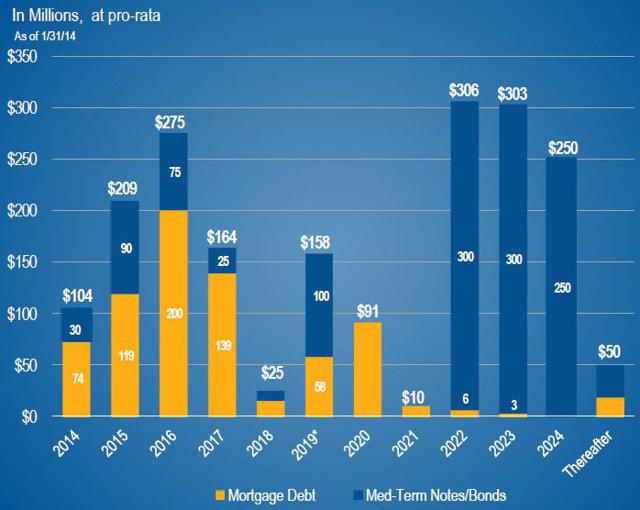 Weingarten's net debt-to-EBITDA was 6.3x.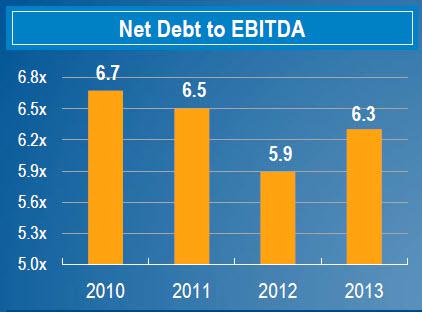 Weingarten's net debt plus preferred to EBITDA (which many believe is a more important measure of leverage) was a strong 6.78x.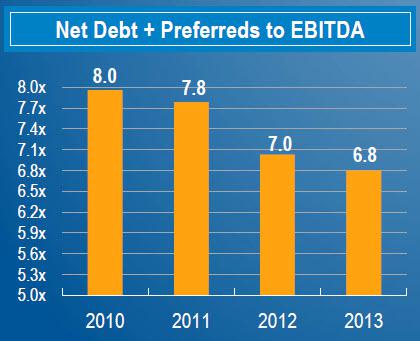 Weingarten's debt to total market cap (as of Q4-13) was only 39.4% in spite of the redemption of the preferred shares and the downward pressure of restock prices around year end.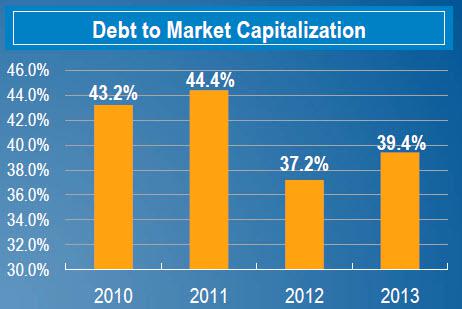 Weingarten has made great strides with reducing its reliance on secured debt.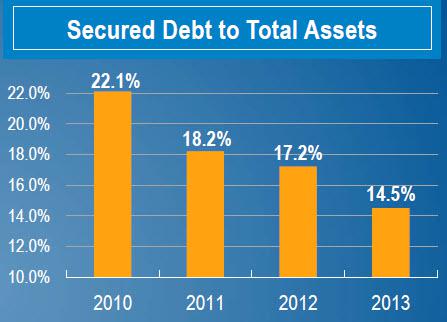 Also the company compares favorably with the peer group based upon Total Debt to Total Capitalization.

Here is a snapshot of the company's investment grade ratings: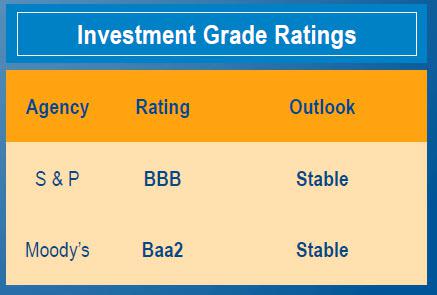 Let's Look at Historical Dividends
As the FAST Graph illustrates below, Weingarten (like most REITs) was forced to cut its dividend as the company's funds from operations (or FFO) fell 35% (in 2009). Prior to the Great Recession, Weingarten was able to generate strong cash flow and FFO and since the Great Recession, the company has increased its dividend, and both the dividend and funds from operations have grown rapidly since - as depicted on the graph below. (Chart provided by FAST Graphs™):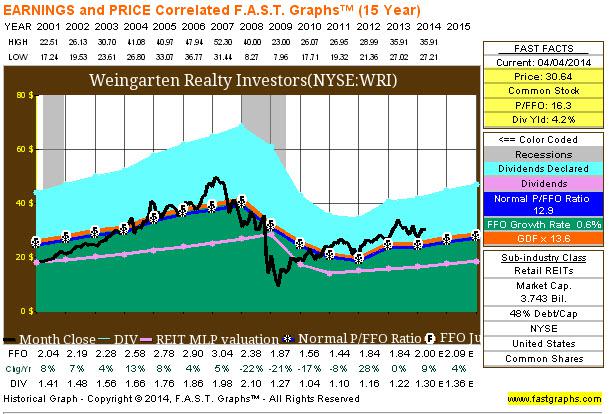 Here's a snapshot that illustrates Weingarten's dividend history:

Here's a snapshot that illustrates Weingarten's more recent dividend history: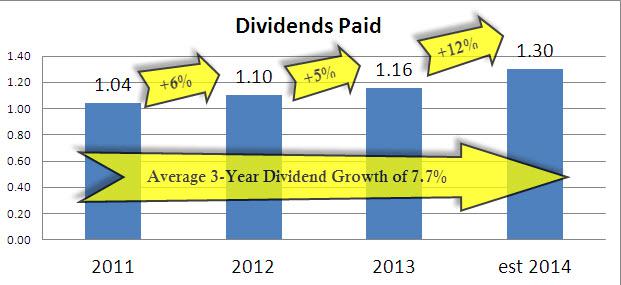 Here 's a snapshot of Weingarten's dividend history as compared to others in the peer group:

As illustrated below, it's clear from the price (the black line) and FFO (orange line marked with an F) correlated FAST Graph that the price has closely tracked FFO. The blue shaded area represents Weingarten's dividends distributed to shareholders. This consistent level of growing income is an important aspect of the investment merit of Weingarten's stable "necessity branded" model.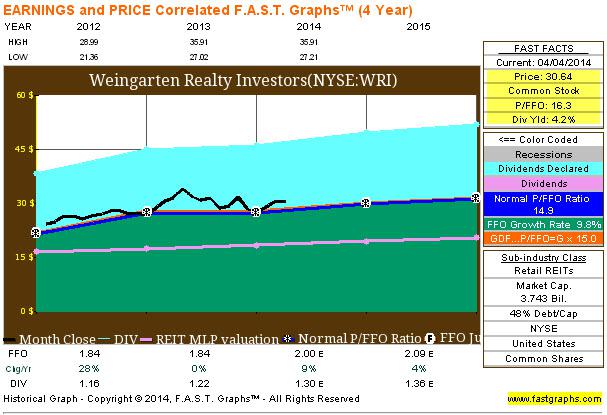 Is Weingarten a Buy?
Based upon the peer chart below, we can see that Weingarten is currently trading at fair value. With a P/FFO of 15x, Weingarten is trading in the middle of the peer group.

The current share price is $30.64 and that translates into a dividend yield of 4.24%. This appears to be a safe yield (payout ratio of 67%) as the company recently increased its dividend by around 6.5%. As illustrated below, Weingarten intends to continue pruning assets (dispositions of around $300 to $400 million in 2014) and selectively investing in new development ($50 to $75 million) and acquisitions (around $200 million).
It's also important to point out that Weingarten has significant inside ownership as the founders own and control significant stock in the company.

Weingarten has returned 11.3% to shareholders over the last 90 days and I believe that the stock will see more momentum this year. I would like to see a better "margin of safety" in the share price as I recommend a BUY price when shares drop below $30.00.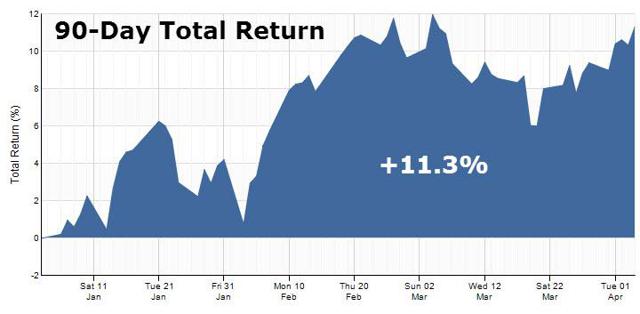 For more information on my "sleep well at night" ("SWAN") REIT picks, check out my newsletter HERE.
Other REITs mentioned: (WHLR), (NYSEMKT:WSR), (NYSE:IRC), (NYSE:UBA), (NYSE:AMRE), (NYSE:RPAI), (NYSE:KRG), (NYSE:KIM), (NYSE:EQY), (NYSE:DDR), (NYSE:REG), and (NYSE:FRT).
Sources: SNL Financial, FAST Graphs, and Weingarten Realty Investor Presentation.
Disclaimer: This article is intended to provide information to interested parties. As I have no knowledge of individual investor circumstances, goals, and/or portfolio concentration or diversification, readers are expected to complete their own due diligence before purchasing any stocks mentioned or recommended.
Disclosure: I am long O, DLR, VTR, HTA, STAG, UMH, CSG, GPT, ARCP, ROIC, MPW, HCN, OHI, LXP, KIM. I wrote this article myself, and it expresses my own opinions. I am not receiving compensation for it (other than from Seeking Alpha). I have no business relationship with any company whose stock is mentioned in this article.