GM could certainly use a little good press nowadays. I mean, the company is going to be alright long-term, but this recall thing is really ugly.
As Mary Barra continues to testify before congress, the questionable headlines regarding the company's recent recall have been everywhere. The stock continues to feel downward pressure from both the recall and the lingering effects of winter.
Despite still showing gains of 26.5% over the last 12 months, GM has been hit hard, off 14.8% this year.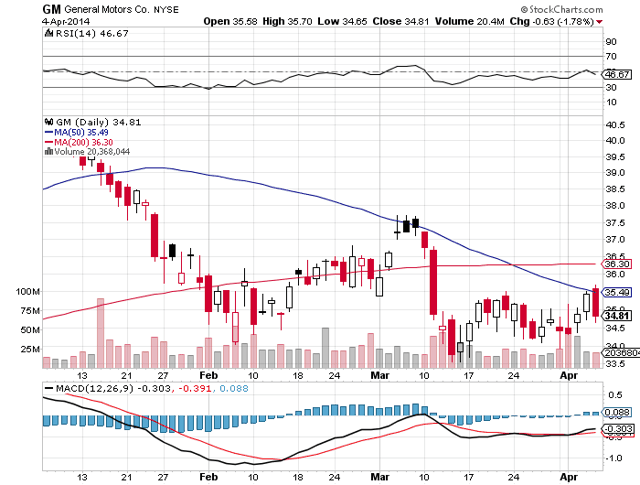 Click to enlarge
While the entire world continues to focus on the broadening scope of the recall, GM has actually picked up a little momentum heading out of March. It was reported at the beginning of the month that their March sales beat estimates catalyzed by Buick sales. Must be golf season.
Seeking Alpha reported:
General Motors (+0.3%) beat estimates for March sales with the Buick and GMC brands showing some momentum.
Sales of the Buick Encore soared 76% to 5,279 units and the Regal model doubled sales to 2,424.
The Silverado-C/K Pickup line showed another steady month with sales up 6.8% to 42,247.
The new Sierra provided a good portion of the growth at GMC with a sales gain of 22% to 16,863.
The automaker ended the month with 83 days' supply, compared to 87 days a month ago.
It was also reported in recent days that General Motors was going to increase its discount on certain trucks to help compete with Dodge, Chevy, and GMC.
Another piece of good news that was with regard to adding 1,400 jobs in two Michigan facilities. Could it just be good timing, that this is exactly the type of headline that GM needs right now in the midst of the recall controversy? Seeking Alpha reported on the press release, of which details should be available this Tuesday:
General Motors intends to invest $450M in two Michigan operations and add 1,400 jobs as part of the company's plans to build a redesigned Chevrolet Volt hybrid vehicle, the Detroit Free Press reports.
An announcement about the plans is set for Tuesday.
It also makes me wonder if GM happened to notice Ford's "job creation" PR from last week, and how it landed one of their C class executives on CNBC taking the business world on a tour through Ford's plant. As I just wrote about Ford:
Additionally, Ford has made the announcement that they are going to build a 2.7L EcoBoost engine to go into their F-150 in Lima, OH. Ford's President of the Americas was on CNBC this morning, also citing the weather as an issue. He also noted that they're expecting the auto industry to come around this year, especially as the weather warms up. I like the strategy - keeping things modestly sized in the new F-150, a great looking new truck:

Ford Motor Co will spend $500 million and create 300 jobs to upgrade an Ohio engine plant to make the new 2.7-liter six-cylinder EcoBoost engine for its best-selling F-150 pickup trucks, the company said on Friday.

The 2015 F-150 pickup truck will be the first model to use the new engine that will be built at Ford's Lima, Ohio engine plant.
GM needs to keep the good news coming if it wants to come out of this recall mess with some momentum to the upside. Near term, the catalyst for that can be good continued sales numbers. Then, of course, we'd want to see progress in trucks versus Dodge and GMC, as to not have to go overboard with discounts to sell.
Investment Thesis
The fact about "GM the stock" is that if you think the company is going to come out of the recall unscathed, which actually looks like a possibility after watching last week, the company is massively undervalued.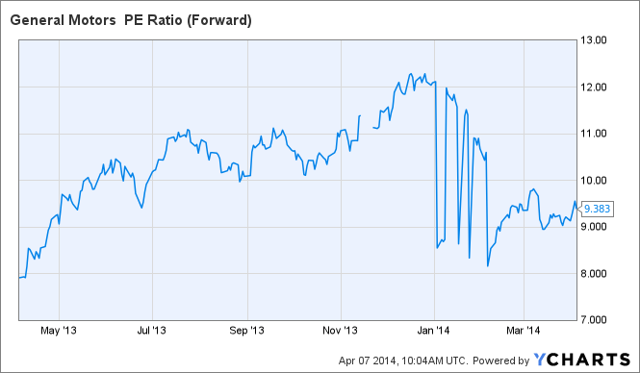 Click to enlarge
GM PE Ratio (Forward) data by YCharts
As International sales were somewhat able to quell the poor domestic sales headlines over the winter, we're hoping that a return to positive domestic sales will catalyst a stock price movement upward from these depressed levels. On the bad headlines, I think we're getting an undervalued price on GM, and that this would represent a time to buy.
Long-term I remain bullish on GM.
Disclosure: I have no positions in any stocks mentioned, and no plans to initiate any positions within the next 72 hours. I wrote this article myself, and it expresses my own opinions. I am not receiving compensation for it (other than from Seeking Alpha). I have no business relationship with any company whose stock is mentioned in this article.