Retail Opportunity Investments Corp – NASDAQ: ROIC ($9.75)
Mkt Cap: $400M (41.6M common s.o.)
Recommendation: LONG – anticipate 40% upside over 12-24 months
ROIC was formed in Q4 2009, transitioning from a SPAC to a retail REIT, and has since deployed $195M of the initial $400M cash. ROIC aims to purchase grocery and drug-anchored neighborhood shopping centers in primary markets on the East and West coasts.
THESIS
ROIC offers a compelling risk/return asymmetry because the name is materially undervalued relative to its peers. On the upside, REITs generally benefit from the spread between private market CRE values and the required return in public markets, that is, cap rates 300+ bps above dividend yields. ROIC is particularly well-positioned to benefit from this spread because of favorable conditions for buyers of one-off properties and small portfolios. Upside is further driven by highly experienced management who can draw on their local knowledge and cash position to build a portfolio of quality properties at distressed prices (below replacement cost) with zero debt to boot. Management can unlock long-term value from property improvements, lease-ups, and operating efficiency. ROIC is trading around book value. Downside risk is mitigated by the realizable value of assets and support from dividend distributions.
MANAGEMENT
One of the most crucial variables for the next 2 years is management's acquisition prowess. If ROIC is able to deploy cash effectively, current income and property appreciation will add significant value for shareholders. I will briefly introduce management (info taken from ROIREIT.net)
Stuart Tanz (CEO, holds 610k shares) – Mr. Tanz has been acquiring real estate on the WC since the 80s. From 1992-2006 Stuart grew Pan Pacific Retail Properties' 13 shopping centers into 138 (making it the largest shopping center REIT on the WC), selling in 2006 to Kimco Realty for $4B. He's on the Advisory Council for the USC Lusk Center for Real Estate and on the Policy Advisory Board of the Burnham-Moores Institute of Real Estate at the University of San Diego.
John Roche (CFO, holds 98k shares) – Mr. Roche served as CFO of Gramercy Capital (NYSE: GKK) from 2007-09 where he oversaw the $3.4B acquisition of American Financial Realty Trust—including 1,000+ properties across 37 states. Previously he was EVP and CFO of New Plan Excel Realty Trust from 2000-07. From 1998-2000, Mr. Roche was SVP of Related Capital Company where he also served as SVP and CFO for three publicly traded real estate entities. Also from 1991-97, he served as VP of Finance at Robert Martin Company, a New York based owner/operator/developer.
Rich Schoebel (COO, holds 35k shares) – Most recently Mr. Schoebel served as VP of property management for the West Region of Centro Properties Group where he was responsible for 8.9 million square feet of community and neighborhood shopping centers. From 2007 to 2009, Mr. Schoebel was a Managing Member of Pacific Spectrum Properties, LLC, a brokerage firm serving shopping center owners. During 12 years with Stuart Tanz at Pan Pacific Retail Properties, he ultimately served as VP Operations where he directed leasing and property management.
COMPETITIVE ADVANTAGES
A compelling feature of REITs is the spread between private/public returns to capital, and ROIC shareholders will certainly benefit from this trend, but ROIC also gives shareholders access to unique opportunities in CRE. Of course, this is not the only cash-laden vehicle looking to buy distressed properties on the coasts. Some joke that the distressed-property-acquisition montage passed in the blink of an eye. Still, I think ROIC can capitalize on certain advantages driven by its deal-sourcing management within the lightweight class of neighborhood shopping centers.
click to enlarge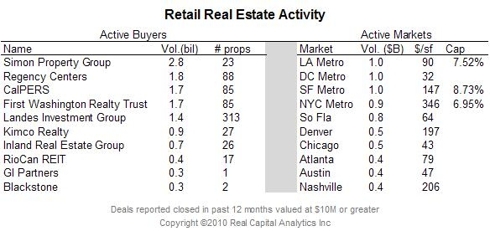 Click to enlarge
Large REITs have taken advantage of surprisingly generous capital markets, raising $20B+ equity and $7B+ debt capital in 2009. Generally speaking, most of the hot money is looking for sizeable deals across office, industrial, and regional/nationwide retail. Smaller real estate vehicles, suffering from overhanging debt and elevated vacancies—similarly to large REITs—cannot easily access fresh capital, so their hands are tied with illiquid assets and no cash. ROIC enjoys the opposite, advantageous position of lightweight size coupled with plenty of cash. A one-off $15M neighborhood shopping center is too small for big REITs to care, and middle-market outfits are substantially paralyzed with legacy properties and mortgages.
ROIC's management team brings substantial advantages to the table. ROIC continues to source deals through relationships on both coasts, and thus far brokers haven't been used. In fact, ROIC's acquisitions have all been initiated before properties list publicly. The property management record is solid so far: ROIC has leased-up its properties, resulting in +2% net absorption to reach 98.6% occupancy as of May.
ROIC currently enjoys a debt-free balance sheet: a material advantage over other property-owning REITs that are drowning in legacy debt. A recent acquisition, Vancouver Market Center, closed on June 17th and was originally slated to include a $9M mortgage; however, discussions with management reveal that ROIC applied pressure on the lender/servicer and was able to fully pay down the loan with the prepayment penalties waived.
The deal pipeline is critical for shareholders to realize value out of ROIC. One boon to the pipeline: management expects the period of loan modification/extension to fade out with increasing foreclosures and distressed sales; as asset values stabilize and recover, lenders have increased incentive (and balance sheet capacity) to foreclose, take ownership, and dispose. That's where ROIC comes in.
THE PORTFOLIO & DEBT
All closed transactions to-date have been 100% cash (loans on encumbered assets paid down at closing). Base rents are stable or adjusting upward with re-leasing; for example, COO Schoebel noted that 70,000 sq ft due to expire in the next 24 months will likely adjust from the current $22/foot level to $24-30/foot range. On the Q1 call management indicated that the acquisition pipeline looks favorable, with one-off properties and small portfolios coming to market. ROIC initiated the acquisition of its first portfolio of shopping centers in mid June (4 assets across the greater Portland area).

Click to enlarge
Management is seeing cap rates across West Coast markets in the 7.5-8.5% range (50-75 bps lower on East Coast). ROIC has purchased properties at a blended 8.3% cap as of Apr 30—averaging approx $154/foot (Q1 call).
WARRANTS
There are currently 49.4M warrants outstanding (NASDAQ: ROICW, $0.80). Warrant moneyness will, of course, depend on the multiple equity holders are willing to pay (i.e. dividend yield). Management has designated $40M (~mkt val of warrants) to potentially buy back outstanding warrants; this indicates that management is serious about protecting common shareholders. Here are three scenarios:
ROIC uses $40M to buy back all warrants tomorrow: common shares are diluted because $40M essentially vanishes instead of generating returns, but the dilution is realized and capped at $40M.

Management leaves the warrants untouched, ROIC trades above $13, all outstanding warrants are exercised over time, and commons get diluted over time (>$40M). But the dilutive warrants provide ROIC with a fresh stream of capital ($590M).

Management utilizes a liquidating dividend to depress the common share price—dividends kill the value of calls.
Bottom line: the REIT structure (i.e. div payouts) lassos the upside potential of common shares and prevents massive dilution from warrants. Warrant exercise functions as a source of capital, where the cost is contingent on dilution.
VALUATION
As emphasized above, a primary driver of upside potential is the spread between the required return on CRE assets and the required return for common REIT shares. ROIC will continue buying assets at, let's say, a 9-cap and distribute the cash flow to public shareholders who only require a 6% (or less) yield. This "arbitrage" will carry the common stock higher as dividend yield compresses and P/B expands. Here I have compiled a short list of REITs with neighborhood and community shopping center assets (note the dividend yields).

Click to enlarge
The important variables to consider are: the timeline of capital deployment, the aggregate NOI of ROIC's portfolio, the magnitude and cost of debt, the income available to commons as a fraction of NOI, and the multiple/yield the market is willing to pay/earn. My assumptions are as follows:
Capital structure: 400M equity, 330M debt by yearend 2012 (within mgmt expectations)

Cost of debt: 6%, suggested by management to be doable rate

G&A expenses: $10M annually, compared to mgmt 2010 estimate of $8.5M

Dividend yield: extracted from peer shopping center REIT valuations

Downside case: 8.00% cap (return) – 6.50% div yield (125 bps above peer avg)

Base case: 8.50% cap (return) (~ current portfolio) – 5.25% div yield (peer avg)

Upside case: 9.00% cap (return) (management's stated target) – 5.25% div yield
When the target capitalization is reached ($730M enterprise value) ROIC's portfolio will generate $28.5M, $32.2M, or $35.8M in cash available to commons, depending on an 8, 8.5, or 9% return (cap), respectively. These downside, base, and upside cases imply $0.69, 0.77, or 0.86 annual dividends with resulting equity valuations of $10.56, 14.75, and 16.41.


Click to enlarge
ROIC will distribute $1.25-1.60 in dividends across the 10 quarters thru yearend 2012. Let's say $1.40 total is distributed smoothly between now and Dec 2012, the IRR (with a $14.75 base case share price) is ~22%. The current pace of capital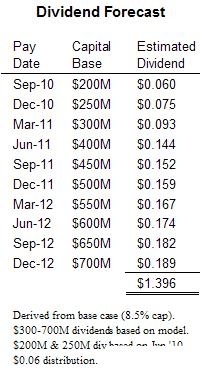 deployment suggests a reasonable forecast is full capital deployment by yearend 2011 (including $330M debt). This scenario would include cumulative dividends of ~$0.90 and an IRR of ~34%.
RISK & DOWNSIDE PROTECTION
Risks to ROIC's fundamental performance include:
Further deterioration of occupancy and market rents. Assets can be impaired.

Inability to acquire $730M in quality assets at attractive prices in a timely manner.

Heightened G&A expenses including high acquisition-related costs.

High costs down the road related to property improvements.

Management's failure to realize their stated goals.

External risks to ROIC shares:

Collapse of risk appetite would push REIT dividend yields up, shares down.

ROIC in particular might trade at a discount to its peers given its recent inception.

Margin of safety:

Management estimates that properties have been acquired below replacement cost.

Management claims to be very conservative in their underwriting. Also a fair degree of diversification protects the portfolio from specific tenant or local market collapses.

All of ROIC's assets produce current income and ROIC is debt-free.

Shares are trading near book value, compared to 1.5x for its peers.
--In conclusion the story is very simple: ROIC will be producing current income from a robust portfolio of diversified assets; the market will pay a premium once the assets are fully in place; in the meantime shareholders have limited downside and get dividends along the way.
Disclosure: Long ROIC