My last article on DryShips (NASDAQ:DRYS) noted why I was going from bearish to bullish on the company. I cited dilution not having too much of an adverse effect on the company, as well as the Baltic Dry Index indicating that dry shipping rates could be finally coming around.
DryShips, Inc. is a company which provides mostly water-based transportation for all kinds of cargo. From DryShips' website:
DryShips Inc. is an owner of drybulk carriers and tankers that operate worldwide.

Through its majority owned subsidiary, Ocean Rig UDW Inc., DryShips owns and operates 10 offshore ultra deepwater drilling units, comprising of 2 ultra deepwater semisubmersible drilling rigs and 8 ultra deepwater drillships, 3 of which remain to be delivered to Ocean Rig during 2013 and 1 during 2015.

DryShips owns a fleet of 42 drybulk carriers (including newbuildings), comprising 10 Capesize, 28 Panamax, 2 Supramax and 2 newbuilding Very Large Ore Carriers (VLOC) with a combined deadweight tonnage of approximately 4.4 million tons, and 10 tankers, comprising 4 Suezmax and 6 Aframax, with a combined deadweight tonnage of over 1.3 million tons
DRYS has posted over 77% gains in the last 12 months, making it a lucrative investment for shareholders - but the question continues to remain whether or not the company is a value at current prices. I'm writing to contend that it likely is.
As I wait for additional funding to come in over the next week, I'm already considering where I'm going to be allocating it. DRYS has presented itself as a potential spot for a small long play. While this is still a little higher than my potential buy-in target, which was previously stated as around $2.85, I'm content in thinking that DRYS may not be heading much lower any time soon.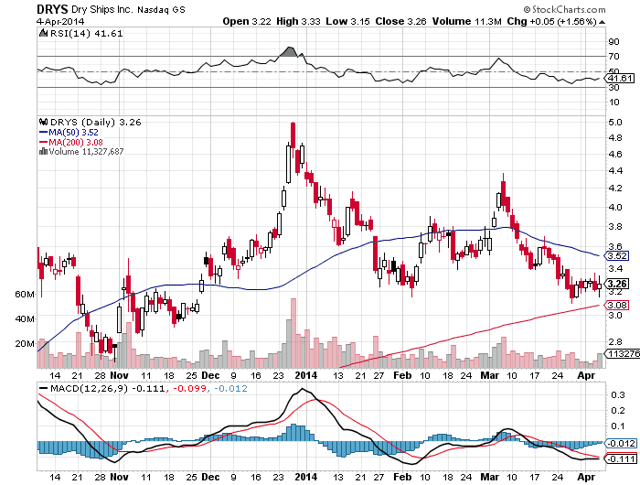 Part of my thesis for going bullish again revolved around the company being in decent financial shape, what appeared to be a small boost in shipping rates - which had been simply awful to start the year - and the stock price taking a dip well off its highs set in December 2013.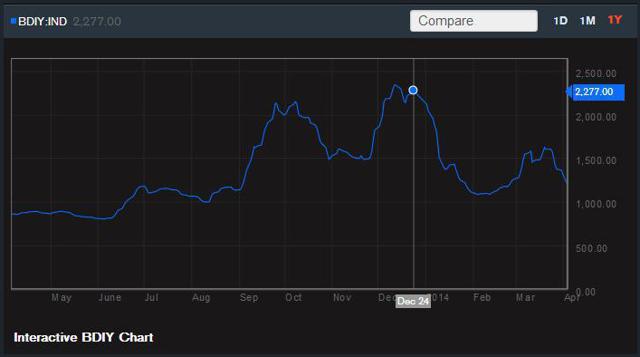 Although these index levels are anything but confidence inspiring for DRYS, the company is in its best financial shape in a while.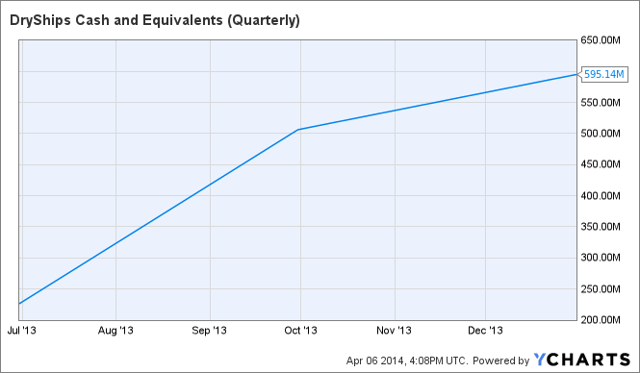 DRYS Cash and Equivalents (Quarterly) data by YCharts
Additionally, as the Baltic Index sputters, China's PMI data released last week looked good for those wanting to get into dry shipping:
Activity in China's services industry rose to a four-month high in March, a private survey showed on Thursday, even as persistent weakness in manufacturing has reinforced fears of a sharper-than-expected economic slowdown.

The Markit/HSBC Services Purchasing Managers' Index (PMI) increased to 51.9 in March from February's 51.0, buoyed by strong employment, a second successive rise taking it further above the 50 level that separates expansion from contraction.

Earlier, the official services PMI showed a slight dip in the sector's growth in March, to 54.5 from February's 55.0, but activity remained well in expansion territory.

"The HSBC China Services PMI suggests a modest improvement of business activities in March, with employment expanding at a faster pace," HSBC chief China economist Hongbin Qu said in a statement accompanying the release.
I think the argument of there being a "perpetual covered call" over DRYS in the sense that they're always looking to do an offering where the stock price rises could hold some water, but I'm not worried about it. With an entry here, I'd be looking for a move up through $3.60-$3.70 before I would consider potentially trimming my position.
I'll likely buy DRYS this month if the price continues to sit where it is now. Best of luck to all investors.
Other shippers affected by the Baltic Dry Index:
Disclosure: I have no positions in any stocks mentioned, and no plans to initiate any positions within the next 72 hours. I wrote this article myself, and it expresses my own opinions. I am not receiving compensation for it (other than from Seeking Alpha). I have no business relationship with any company whose stock is mentioned in this article.