On the heels of bank estimates being reduced at Nomura last week, and then news in regards to $800M worth of potential credit card litigation, Bank of America (NYSE:BAC) ended the week slipping a bit.
However, the bank has still performed beautifully for investors - up 39.4% in the last twelve months, and posting gains of 7.4% since the beginning of 2014.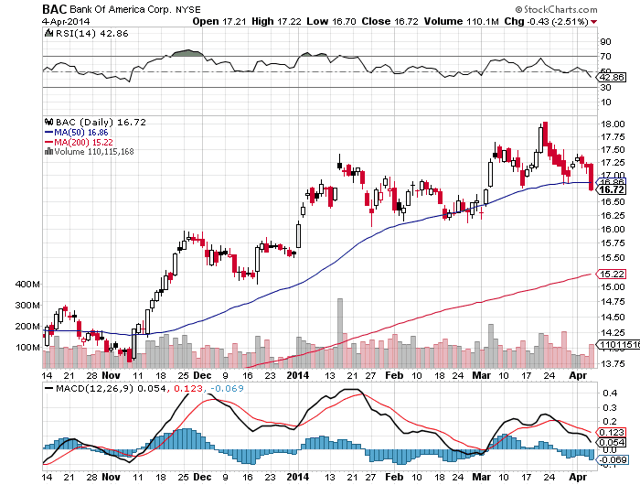 Click to enlarge
The bank's hopes of continuing upward rely on continued targeted cost cutting, as well as introducing innovation that is going to save the bank money while not sacrificing the customer experience.
More important than innovating itself is the timing of innovation.
Embracing new trends and being on the front of the adoption curve when innovating generally gives you a leg up. It means you're hungry and willing to take the risk on that's associated with being the first to do something.

Click to enlarge
One thing that we know for sure from the last season full of earnings reports - foot traffic, this winter especially - has slowed down for retail shops and places located inside of malls.
In accordance with traffic declining, companies like Starbucks (NASDAQ:SBUX) have made plans to deal with rising costs and lower influx in these areas. Banks are also subjected to this issue - many banks are minimizing the amount of retail branches that they have specifically for this reason. Companies like Bank of America, who are on the end of a massive cost cutting initiative, are leading the charge.
The cities are the areas experiencing the most closures of certain bank branches. Areas where branches are concentrated the most are the most susceptible to seeing things thin out. It'll be a tall task of thinning themselves out while still having a brand presence and still being there for long-time customers who'll be less likely to use automated services.
Generally, there are two areas where this is going to take place: virtual ATMs and online checking. Bank of America is one of only a few branches offering both of these - in other words, it's on the front end of the adoption curve, and should likely benefit from it.
This article from Bloomberg view re-iterates the future of banking: ATMs and online checking:
Over the years, former Federal Reserve Chairman Paul Volcker has equipped that the only innovation in the banking industry has been the automated-teller machine.

He's half right: The other one is online banking.

These two changes, however, have had major consequences as can be seen in a new survey showing that a third of all bank customers haven't set foot in a branch office in at least six months. More than a fifth haven't visited in a year or longer.

As the survey suggests, ATMs and online banking promise to do to the local bank-branch office what Home Depot did to family-owned hardware stores, what Wal-Mart did to general merchandisers and big-box category killers did to book stores and electronics retailers (before Amazon.com gave them a second pounding).
There is one article after another pointing out Bank of America's introduction of things like "automated tellers." Fox Business reported on Bank of America's virtual tellers:
ATMs are getting a human touch. Virtual tellers are being offered by Charlotte, N.C.-based Bank of America and Pittsburgh-based Dollar Bank. Along with just dishing out cash, this new breed of ATMs lets you speak with a teller. You simply push a button at the ATM and the teller appears on a video screen. You can deposit checks and get cash back, withdraw odd amounts like $1 in cash or get Spanish translations.

Bank of America has 150 of these virtual tellers in the U.S. ATMs currently don't serve people's needs, says Christian Mande, e-commerce channel executive at Bank of America. This new breed of ATMs provides convenience, speed and access. Bank of America, Wells Fargo and several other banks already offer talking ATMs for the blind.
Additionally, Bank of America is in the "early majority" end of the adoption curve on their "online checking" program, which I wrote about previously:
And now, the bank is also taking a page out of the ING (NYSE:ING) book with its approach to checking. It's trying to add to revenues by charging $4.95/month for a checking account and go down the route of "checking without checks". These days, how many checks do you really wind up writing? I can pay everything, including my mortgage, directly from any debit or credit card with Visa (NYSE:V) or MasterCard (NYSE:MA) logo.
Bank of America has been one of my favorite banks to be invested in, with this as one of the many reasons. Eventually, I felt the banking industry would catch up and start to follow BAC's lead. That's what we're starting to see. Additionally, services like being able to make appointments online for your branch and smartphone check depositing - both of which Bank of America finds itself already immersed in.
Banks are playing follow the leader, and the leader in this innovation is Bank of America.
Now offering dividends, and modestly priced, I continue to contend that Bank of America remains a good long-term vehicle for an investing foray into the banking sector. Brian Moynihan remains one of my favorite CEOs on Wall Street and I believe, through innovation and targeted cuts, the bank can continue to deliver on the bottom line through 2014.
Disclosure: I have no positions in any stocks mentioned, and no plans to initiate any positions within the next 72 hours. I wrote this article myself, and it expresses my own opinions. I am not receiving compensation for it (other than from Seeking Alpha). I have no business relationship with any company whose stock is mentioned in this article.