Reputation Derailed
With safety advocates warning that an ignition flaw in eight General Motor (NYSE:GM) cars, sold a decade ago, continue to cause fatalities, and with lawyers lining up plaintiffs seeking compensation for alleged wrongful injury or deaths, the biggest automaker in the United States may have to pay restitution to victims from a time prior to GM's 2009 bankruptcy reorganization.
What is at stake here is not a new financial crisis for GM, but a new dent in the company's reputation. In terms of costs, GM has the wherewithal to handle the $100 million recall and pay a $35 million fine from the National Highway Traffic Safety Administration. It is also likely to have enough money to handle the unknown costs from encroaching lawsuits.
What truly concerns the company is loss of future sales from customers.
While the company no longer sells the recalled models, lawyers, and consumer advocates are concerned that the internal managerial or engineering issues that caused the errors in the first place have not been properly addressed. GM management is now tasked with convincing the consumer market that the internal issues have been identified and resolved.
Getting Back On The Road
Prior to the latest sting of litigation, GM made strides to get back on track after its bankruptcy-decisions, which could also help the company right itself after this recent recall.
The hiring of new CEO Mary Barra brought fresh visibility to the company. Barra is an outstanding leader in her own right, with a well-earned reputation as a visionary, engineer, organizer, negotiator, and articulate spokesperson-honed from her long years rising through the executive ranks at the automaker.
GM is also rolling out a new line up of technologically remarkable vehicles-which have been enthusiastically endorsed by Consumer Reports magazine and J.D. Power & Associates.
Apology Not Yet Accepted
GM has apologized at great length by explaining how the faulty ignition switched shut off the engines and affected the flow of power to the airbags and has promised to upgrade their safety processes. However, this attempt at reconciliation and reassurance has not been received well.
Trial lawyers are now trying to figure out if there is a way to appeal to the U.S. bankruptcy court to strip away GM's liability shield-a legal immunity, which has protected the company from its pre-reorganization history of defective manufacturing.
GM Investors Should Not Bail
Despite this flurry of bad news, GM stock has shown relative resilience. GM common stock is currently trading near $35 per share and has traded between $27 and $42 per share during the past 12 months. Since GM emerged from bankruptcy several years ago, the company's stock has exhibited a steady increase.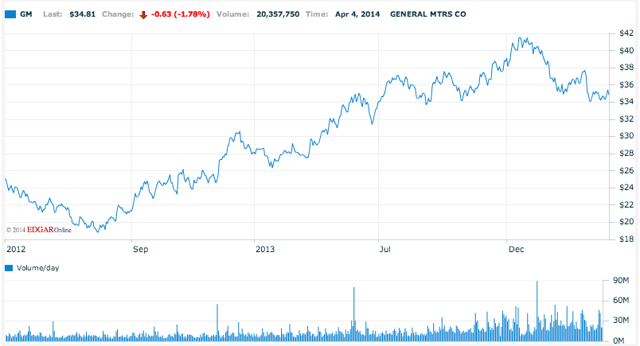 (Nasdaq.com)
If Ms. Barra can produce strong enough evidence for why warnings about the autos' faulty ignition parts were ignored for so long, regardless of its reflection on GM's bureaucracy, this could be a critical step toward convincing the public that the company is transparent and reforming--post-bankruptcy and into the foreseeable future.
Disclosure: I have no positions in any stocks mentioned, and no plans to initiate any positions within the next 72 hours. I wrote this article myself, and it expresses my own opinions. I am not receiving compensation for it (other than from Seeking Alpha). I have no business relationship with any company whose stock is mentioned in this article.