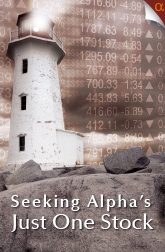 Several times a week, Seeking Alpha's Jason Aycock asks money managers about their single highest-conviction position - what they would own (or short) if they could choose just one stock or ETF.
---
Yale Bock is president of Y H & C Investments, an RIA based in Las Vegas. A CFA, he earned a bachelor's degree in economics and an MBA from University of California-Irvine.
If you could only hold one stock position in your portfolio (long or short), what would it be?
If I could only hold one stock position, it would be Liberty Media Interactive (LINTA).
Tell us more about the company behind the stock.
The company behind the stock is a tracking stock, which simply means an owner of Liberty Interactive's stock will earn the performance of the assets which LINTA owns, but an owner does not have actual ownership rights of those assets. LINTA owns the shopping channel QVC, as well as e-commerce companies: Provide Commerce, Bodybuilding.com, Backcountry.com, and Buyseasons.com.
In addition, they own the Right Start, a company selling goods in the infant market. They also own a venture capital-type investment, Lockerz. Large positions which are non-controlled holdings include Expedia.com (NASDAQ:EXPE), IAC Interactive (IACI), Home Shopping Network (NASDAQ:HSNI), Interval Leisure Group (IILG), and the Tree.com (NASDAQ:TREE).
With respect to Liberty Interactive, the company is the dominant player in the specific retail shopping and online commerce segment. QVC is an $8 billion/year business which generates $1 billion to $1.5 billion a year in cash flow. The e-commerce business is about a $1 billion/year business. So you have a large dominant specialty retail operation, as well as four midsized companies which are growing faster than QVC.
Also included are venture capital-type investments in the Right Start and Lockerz. Finally the noncontrolling positions in the other public companies can be used strategically. All in all, owning LINTA gives an investor a lot of flexibility to find ways to grow and have a successful investment.
How does your choice reflect your (or your fund's) investment approach?
Full Disclosure: I own LINTA for myself, private clients, as well as for clients who follow Y H & C on Kaching.com. I do not own it for those subscribers at Covestor.com. Before purchasing LINTA, please do your own research and consider if the company is appropriate within the context of a well diversified portfolio.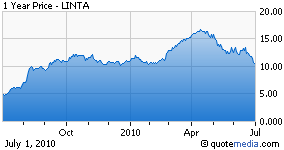 The choice is reflective of my investment approach because I believe what is crucial when investing capital is to find situations where you can buy a dollar bill for 50 cents, or sometimes less. In addition, I want scenarios where companies have huge markets to attack so they can grow revenues and profits quickly for many years. I also am looking for companies to have large strategic competitive advantages, especially in scale or barriers to entry. I want a company which is looking for every opportunity to try and create shareholder value - through any way possible, including acquisitions, swaps, spin-offs, mergers, venture capital situations, etc.
The goal I have for all clients is to do the best I can to create wealth for them and do so in an ethical and professional manner. My approach to investing is there are lots of investing styles one can and should implement for clients, based on their objectives and constraints. As Warren Buffett has said, growth and value are tied at the hip. One is not mutually exclusive of the other. I think growth goes much further for clients whose objectives are to build wealth and can hold equities for long periods of time, so in that respect, I would lean towards growth when investing. Obviously, much depends on the investor. The reality is I want to look at many different pools to find undervalued situations: Merger arbitrage, traditional arbitrage, an undervalued balance sheet, event-driven investing, and distressed equity situations would be just a few different scenarios I want to evaluate.
Can you talk about the sector? How much is your selection based on Liberty Interactive's industry, as opposed to a pure bottom-up pick?
The industry I am looking at with respect to LINTA is specialty retail and online commerce. I think the space is attractive because it is a huge market which will only grow larger and larger. In the case of LINTA, they have the dominant position with QVC domestically, and they are only in four foreign markets, the U.K., Japan, and Germany, with Italy coming live in the fall. I certainly believe QVC, as well as the e-commerce companies, have intriguing growth possibilities almost everywhere - China, India, Canada, Mexico, Brazil, etc. None of the selection is based on the industry, but more on the bottom-up approach.
How is Liberty Interactive positioned with regard to competitors?
LINTA's competitive environment is one where they own the dominant specialty retailer (QVC) on cable and satellite television, as well as one of the top 10 retail sites on the Internet. On television, the second biggest competitor would be HSN (HSNI), which LINTA owns 35% of. A bigger challenge would include Amazon.com (NASDAQ:AMZN) if you include them in the specialty retail universe, specifically on the Internet.
Regarding the competitive environment, QVC is about three times the size of HSN in revenues and about 7-10 times the size in cash flow, so QVC clearly has scale advantages vs. its strongest competitor.
How does the stock's valuation compare to its competitors?
LINTA's stock valuation versus its competitors is interesting because LINTA has a few items which need to be considered given where the stock trades at. On a straight numbers basis:
LINTA: Market Cap/Operating Cash Flow= $6.27 billion/$1.14 billion = 5.5X or Enterprise Value/EBITDA=$11.8 billion/$1.64 billion = 7.19X.
On a P/E valuation basis: using trailing earnings, 10; forward earnings, 13.8.
What is interesting here is LINTA has a net debt position of approximately $4.49 billion, which is long term debt minus (cash + equity investments), or $7.26 billion minus ($1.87 billion + $900 million) = $4.49 billion. Of the $7.26 billion in debt, approximately $2.8 billion is issues which don't start maturing until 2029, or in 20 years. These debt securities range from rates of 8.5% down to 3.25%. Two billion dollars of this debt are below 4%, so one can make a reasonable argument these issues are almost like equity. Indeed, the $7.26 billion in debt should certainly not be a way to penalize LINTA as at least $2 billion is extremely favorable to equity owners.
Here are the related valuations of HSN and Amazon.com:
HSN
Equity/OCF = $1.45 billion/$152 million = 9.54
Enterprise/EBITDA= $1.53 billion/$204 million = 7.5
Trailing P/E = 17Forward P/E = 12
AMZN
Equity/OCF = $50 billion/$2.78 billion = 18
Enterprise/EBITDA = 32.11
Trailing P/E = 48Forward P/E = 28
Does your view differ from the consensus sentiment on LINTA?
The current sentiment on the stock is considered a sell, with Bank of America Merrill Lynch downgrading the stock from a buy to a sell. The yearly estimates for LINTA are that it will earn $0.90 a share for the year, and $0.14 a share for the current quarter, down from $0.16 30 days ago and $0.17 three months prior. My view is the current quarter or year is not significant in my time horizon - but I would usually expect the company to surprise on the upside.
Does the company's management play a role in your selection?
The company's management absolutely plays a pivotal role in the selection of LINTA. John Malone [chairman] and Greg Maffei [president and CEO] have a history of producing exceptional shareholder returns over a long period of time.
According to the Denver Business Journal:
Following John Malone's lead can be lucrative. A shareholder in cable television giant TCI who followed the company's CEO and chairman, investing a portion of their shares in a TCI spin-off company called Liberty Media would have realized returns that beat major market indexes many times over. A Liberty share worth $256 when first offered March 28, 1991 is worth 33 times more now (March 28, 2008). Following 17 years of stock splits and mergers, that one share of stock now translates into 372 shares of nine stocks representing five companies: Liberty Media, Liberty Global, Discovery Holding Co., Comcast Corp. and AT&T. Those common stock shares sold for a total of $8,424 at the opening of trading March 26. Add in the money made from a share cash-out and a special dividend from AT&T mergers and the value of that one Liberty share leaps to $9,499 – a 37-fold increase in value over the initial investment, not adjusted for inflation. (That compares to just over fourfold increase in market value by S&P 500 Index and DJIA since Liberty Media first went public. (Denver Business Journal, "Malone equals money, for those who stuck with him," March 28, 2008)
Mr. Malone does an excellent job of structuring businesses so best practices are shared across all units, and managers are incentivized to run businesses based on operating results. Mr. Malone and Mr. Maffei also are consistently looking to buy excellent businesses having strong, defensive business models which are synergistic with existing holdings.
What catalysts, near-term or long-term, could move LINTA significantly?
In August the LINTA agreement with HSN expires, so it is possible Malone and Maffei could try to buy controlling interest of HSN. As they already own 35%, the 50% threshold is well within their ability to attain, as long as the price is right.
Also, one never knows what can happen with Mr. Malone as he has plenty of assets to swap for a potential acquisition, as well as cash, so an investor may wake up one day to find they own another company in the LINTA stable. Other positives are that Mr. Malone recently bought around 900,000 shares at 12 bucks a share, so when someone with his track record spends nearly 12 million dollars, he must feel there is good value. It should be noted, the purchase will not be a catalyst to move the stock, but more of an indication that maybe LINTA is worth looking into at this price.
And in fact parent Liberty Media announced it was spinning off the two other tracking-stock units (Liberty Capital (LCAPA) and Liberty Starz (LSTZA)), supposedly to increase transparency in a company criticized for being opaque. Does that spin-off help enable that HSN deal? Maffei denies it ("The market doesn't believe us; watch August come and go. There's no plan or intention to do anything other than to keep our options open").
The spin-offs essentially turn LINTA into an asset-backed security, and the intention of Mr. Malone and company is to reduce the discount the market has on LINTA - meaning they believe the stock is worth more, as evidenced by Mr. Malone's 900K share purchase, if one believes in that being a strong tell.
Regarding HSN, I believe Mr. Maffei and John Malone would like to take hard control of HSN, but not at too rich a price. Malone will get HSN on his terms, and not overpay. It may take six months, maybe a year, maybe two years, but ultimately, unless another buyer overpays for HSN, it should wind up at Liberty, and combined with QVC, LINTA would have two cable, satellite, and online distribution vehicles, each with room for growth and cash generation capabilities totaling nearly $2 billion a year.
What could go wrong with your pick?
The pick could go wrong if one has a short term time horizon. The company is not something to own if you want the stock to move by three weeks from Friday. With the European and Japanese economies stagnant, the international operations are 25% of revenues, so those problems could represent a lasting issue for increasing growth. For investors with a long term time horizon, call it three years or more, LINTA is worth a serious look.
The spin-offs prompted Fitch Ratings to downgrade QVC's debt, and S&P and Moody's have begun reviewing LINTA's ratings for possible downgrade. The concern is that without those other units, it falls on QVC's assets to back LINTA's debt. Any fire behind this smoke?
The debt being transferred is exchangeable debt, so current holders of the debt are being offered the ability to hold the debt or exchange it for other debt or assets Liberty owns.
As noted in the conference call, LINTA owns about $2 billion of nonstrategic assets (stock of IACI, IILG, TREE, EXPE) as other ways to pay off debt, if necessary.
John Malone has been issuing and handling debt issues for over 30 years - I don't ever recall an issue with missing payments, etc. I believe he has more credibility than the rating agencies combined, who may have huge liabilities with their participation in mortgage-backed and asset-backed securities of the housing crisis.
Thanks, Yale, for sharing your choice with us.
Disclosure: Yale Bock is long LINTA in personal and client accounts.
Read more Just One Stock articles »
If you are a fund manager and interested in doing an interview with us on just one stock or ETF position you'd hold, please email Rebecca Barnett.