At the end of 2013, the S&P 500 (ex-financials) cash and marketable securities balance grew 13.9% year-over-year to an incredible $1.41 trillion. Companies are stashing cash at record levels and this trend is continuing to grow. Cash reserves give a company flexibility for capital expenditures, acquisitions, share buybacks, paying down debt and paying shareholders through dividends. But the question remains why so many companies are hoarding cash and not utilizing these vast sums of money to reward shareholders.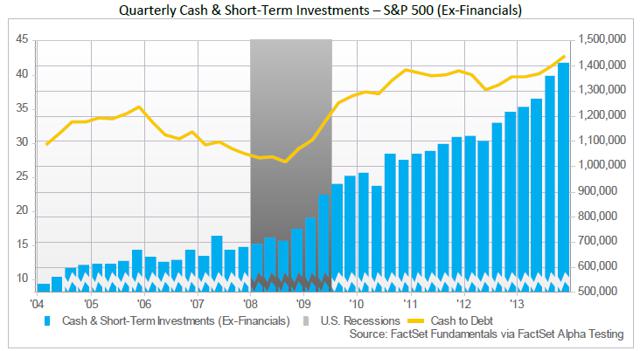 Click to enlarge
In this article, I will examine Apple's (NASDAQ:AAPL) use of cash and how it has taken advantage of its flexibility to reward shareholders through smart share buybacks and dividends.
Apple is a cash cow to say the least. At the end of 2013, the company had domestic cash holdings of $34.4 billion and another $124.4 billion in offshore cash holdings. Combined the company has a stunning $158.8 billion. With a market cap around $480 billion, the company's cash holdings alone represent one-third of the company's net worth. Back in April 2013, Apple announced a $50 billion increase in the company's share buyback program. While many analyst pounded the company's decision, saying there were far better ways to spend $50 billion through acquisitions and R&D that would result in organic growth. However, Apple has done a great job over the past 12 months of buying back shares while the stock price was low, resulting in an increased number of shares retired. What's even more impressive is the company has accomplished this without hurting its enormous cash hoard. In fact, over the past 12 months the company has spent $26.7 billion in share buybacks and roughly $10.6 billion in dividend payments while increasing its total cash holdings $14.1 billion.
| | | | | |
| --- | --- | --- | --- | --- |
| ($ Billions) | F2Q2013 | F3Q2013 | F4Q2013 | F1Q2014 |
| Total Cash | $ 144.7 | $ 146.6 | $ 146.8 | $ 158.8 |
| Cash Flow | $ 12.5 | $ 7.8 | $ 9.9 | $ 22.7 |
| Share Buybacks | $ 0.8 | $ 16.0 | $ 5.0 | $ 5.0 |
| Dividends Paid | $ 2.5 | $ 2.8 | $ 2.7 | $ 2.7 |
Source: Apple Conference calls and FactSet data
Share Buyback Program

Click to enlarge
Source: FactSet
Apple spent over $10 billion more than any company last year on share buybacks. During this time period, the company was able to remove 5.0% of total outstanding shares. Investors and analysts tend to view share buyback programs poorly, but over the last 12 months, Apple has done a great job of managing this program while the stock was down.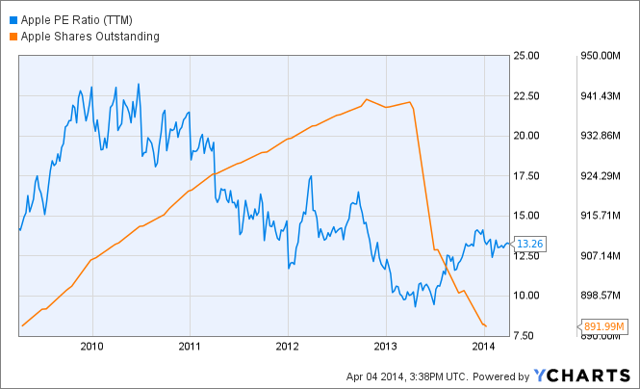 Click to enlarge
Looking at the historical 5 year P/E ratio, Apple's stock repurchase program started when the company was at 5 year lows and ended the year still below historic norms. The company may not see P/E ratios above 20 again, but the majority of the repurchasing occurred when the P/E ratio was between 10-13. Typically companies have been historically bad when timing stock repurchase programs, but Apple was able to leverage its cash reserves to perfectly time its program.
When the company purchased $16 billion in stock in F3Q2013, it was estimated to have been done so at an average price of $444. Again, in late January and early February after the company reported a disappointing F1Q2014, Apple stock dropped roughly 8%. During this drop, the company repurchased $14 billion in stock over a two week period. Because of the company's vast cash reserves, Apple has the ability to be "aggressive" and "opportunistic" with its repurchase program, according to CEO Tim Cook.
Dividends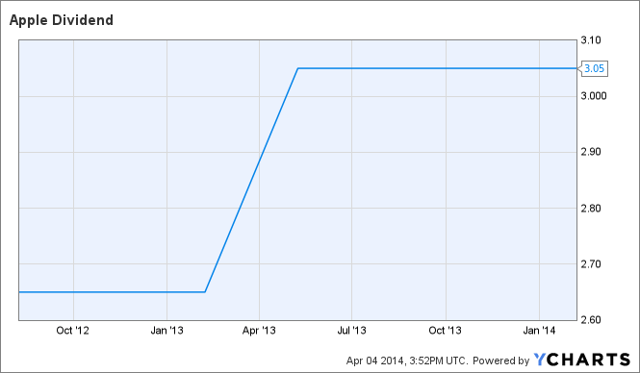 Click to enlarge
Starting and increasing dividend payments is the other side of Apple utilizing its cash. After a 7 year dividend hiatus, the company instituted a quarterly dividend in 3Q2012. In 2013, after a quarterly dividend increase of 15%, the company spent just over $10 billion in dividends. At current rates and with billions still left on the current share repurchase program, the total dividends paid will steadily decrease as outstanding shares are removed. Many analysts expect Apple to increase its dividend payments next quarter. It's been 1 year since the last increase and the company doesn't want to look like it's getting complacent with returning value to shareholders. Another 15% quarterly dividend increase would easily be supported and would put the quarterly dividend at $3.50.
Conclusion
It's almost hard to wrap your mind around just how much cash Apple has on its books. The company has been able to execute its share repurchase program in an extremely opportunistic way due to its huge cash balance. Shareholders will continue to benefit from this program as shares are continuously removed at ideal times and in return driving up EPS. Many investors dislike share buyback programs due to the company's inability to responsibly manage the program in a manner that best removes shares when prices are historically low, but Apple's tremendous financial flexibility has allowed for a masterfully run program. Cash is king at Apple and always will be. The company has demonstrated it is willing to utilize its cash reserves in the best interest of the company and is heavily betting on its own future. Investors can look forward to the company continuing to use its cash to increase dividends and opportunistically and aggressively buy back shares.
Disclosure: I have no positions in any stocks mentioned, but may initiate a long position in AAPL over the next 72 hours. I wrote this article myself, and it expresses my own opinions. I am not receiving compensation for it (other than from Seeking Alpha). I have no business relationship with any company whose stock is mentioned in this article.