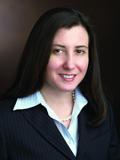 Natalie Trunow is senior vice president and chief investment officer, equities at Maryland-based Calvert Investment Management.
Harlan Levy: What do the March surge in new private sector jobs and the lackluster performance in the public sector tell you about the job market and the economy?
Natalie Trunow: This is what we've been talking about for the last three or four years - that we will gradually see a gradual decline in the public sector and a gradual improvement in the private sector. That's exactly what we hope to see in an improving and healthy economy, because the private sector jobs offer a much better multiplier effect and results in better Gross Domestic Product growth in the long run.
Q: Isn't unemployment the No. 1 problem in our economy?
A: No, but that's a good question. It's really a few things that are interrelated. I don't think unemployment is at a terribly bad level, especially given the fact that the trendline is positive, and unemployment numbers are improving gradually and consistently. It's really on a good path toward recovery.
The biggest issue I'm concerned with is income growth for the consumer. Of course it's related to job availability, but jobs aren't the only driver. We just haven't had much of an income pick-up.
Another issue is the recovery in the housing sector. If unemployment stays where it is and only improves a little bit, it would not be the end of the world, but if the housing market stays where it is and only improves a little bit over time that would be a problem. Economic recovery hinges on the housing market continuing to improve.
What I'm worried about a little bit, not a great deal, is that the housing numbers in the fall have softened, so the degree of improvement in the last several years after the financial crisis is not that robust. Permit data, new-starts data, the acceleration in housing price improvement are not robust.
Some of that may be driven by the fact that institutional investors are reducing their purchases in the housing sector. They were a factor in housing price improvement over the past couple of years. They are becoming less of a player, so that may be why we see a bit of a softening now.
But the spring season is on us and then the summer season should help. Spring is usually a good season for the real estate market. I'm hopeful individual investors will pick up the slack in activity. If housing prices continue to improve, then consumers have less pressure from negative home equity which impact consumer sentiment and consumer spending.
Q: It seems impossible to get Congress to spend much on infrastructure repair and similar public ventures, which would create a load of new jobs. What do you think of that?
A: It would be a good idea for this country to allocate capital to retool and improve its aging infrastructure. That approach would add jobs and add to GDP growth over the long haul. As to the political willingness and political climate which would allow for that to happen, I would hope we could get there, but I'm not sure that there is a political consensus to increase spending.
However, as the economy improves and tax revenue improves there may be more political will to spend on these areas, because honestly it's hard to spend when you have less to spend even when you have a good long-term goal. but when the budget doesn't look healthy, it's hard. I can't necessarily blame the political leadership today for their reluctance to spend when the budget issues are so severe.
Q: What do you see for the overall US. economy this year and next year?
A: I'm still quite positive on the U.S. We had a bit of a disruption earlier in this year from severe weather conditions across the country which dampened economic activity, but I think that's reparable.
Expansion is very much part of my forecast. I'm actually looking for acceleration in GDP growth. I would probably come out on a more optimistic side of the consensus at the 3 percent level, and possibly 3.5 percent is in the realm of possibilities.
That's despite the fact that we might see a hard landing in China.
Q: A hard landing? Really?
A: Their economic data is quite weak. I don't know if it's going to happen this year or next year. They can put a lot of Band-aids on for a long time. It's unclear when it might happen, but it's very probable that it will happen. That won't be positive for China as the second largest economy and not positive for the global economy and for emerging markets.
If it does happen it could take a while to get repaired, It could potentially cause social unrest, and the situation could become more complicated than just an economic issue. It could probably cause additional weakness in places like Australia, Russia, and Brazil, because they are dependent on exports to China and commodity-related products.
Q: How might the Russia-Ukraine situation affect the U.S. economy?
A: There are several layers there. There's an impact on the global economy and the stock market as well as the U.S. economy.
The impact on the U.S. economy could actually be positive to the extent that the U.S. is a supplier of oil and natural gas and can be a natural substitute for the oil and natural gas now flowing from Russia to Europe. So U.S. suppliers could benefit.
The impact on the global economy may be marginal unless Russia decides it needs more of a geopolitical crisis to drive oil prices up. If they go up significantly, or if we have another crisis in the Middle East, then the entire global economy and the U.S. economy will be hit negatively. If we hit $140-a-barrel or higher then the U.S. expansion would be over, and we could enter a recessionary period. But everything in between could happen depending on how severe a geopolitical crisis we get.
Everything being equal, it is in Russia's interest to have conflict in the Middle East. That drives oil prices up, and that's the primary source of Russian economic activity.
The impact on stocks might be difficult. We might have a successful resolution of Ukraine's situation, but there may be rippling effects through the market.
One scenario we could have that's not out of the question is the Russian administration using threats to additional territories in the Ukraine aside from the Crimea as a bargaining chip. I don't think they really want to annex other territories beyond Crimea, because that would create a significant standoff between Russia and the West, but in negotiating with the West, the West might say let's appease Russia, let them have Crimea so they don't go into other territories. That's likely.
If that happens, what the markets will hear is that Russia is considering going into these other territories, That's what Russia will say, that these territories want us to protect them, the same playbook as in Crimea. At the end of the day they won't want to do it, but they will talk as if they might.
For the market that talk would sound awful and could trigger a market sell-off. People could say Russia is going to start a third world war, and that could spook the market.
Q: What do you think of high-speed computer trading?
A: If the regulation makes participants in the markets be fiduciaries, the brokers will behave differently, and other participants will behave differently and there will be less incentive to screw the other guy. Activity designed to front-run other players is a scam and shouldn't have been allowed or available. There should be no free lunch. It puts them in the position where they never lose money, and somebody is on the other side, and that's you and I, the little guys. If regulators are so concerned with the well-being of the little guy by regulating the heck out of pension funds and mutual funds they should do the same with high-frequency traders. It should not be legal to skim a little bit off the top of every trade, and that's what these mechanisms are designed to do.
High-frequency trading in and of itself is not a bad thing. It facilitates the market process, but when it's used in a way that's designed to front-run the investors, it should not be legal.
Q: What sectors of the economy look strong and which ones are weak?
A: Under a normal expansion, you'd generally expect some of the cyclical areas like materials and industrials to do well. In the previous expansions you also had China expanding, and China just drinks commodities and drives to a large degree the industrial, materials, and commodity space. So what could be different is that these sectors will not participate as they normally might do. Those sectors could underperform.
On the consumer side, a lot of the recovery on the consumer side of the balance sheet has already been baked in, and I don't see a great deal of acceleration on the consumer sectors, the staples or discretionaries.
Other sectors that could continue to lead are financials, possibly technology, but not frothy areas of technology, not the most expensive areas that led so far, and possibly health care. Those are the "growthier" parts of the economy.
Q: What do you expect for first-quarter earnings?
A: Some companies already pre-announced and guided lower, basically using the weather as an excuse, so expectations have already been impacted. Because of that guidance, when the earnings actually come out after bad guidance and lower expectations, those earnings could beat expectations. That's what markets are looking for. It's sort of a bit of big game we've seen for several quarters.
Q: I hear a lot of pundits on TV declaring that stocks are fully if not overvalued and a 10 to 20 percent stock correction is looming. What do you think?
A: Could it happen? Sure. We'll see how earnings season comes out.
Before the bad weather conditions I thought we'd have a significant acceleration in GDP growth. Maybe it will be less so, but I still think we'll end up with a nice year from a GDP standpoint. But what could happen is that some of the earnings data will reflect the negative weather effect, and some investors could extrapolate from that, and could cause a 10 percent correction. That may be a healthy occurrence to flush out some of the froth from the marketplace, but I would treat that as a buying opportunity.
The U.S. economy is improving, and any positive economic activity in a marketplace like the U.S., a more efficient marketplace than most, the multiplier effect is higher.
We have a good system of contracts and infrastructure. We have a reasonably well-diversified economy across different sectors, so any positive economic data creates more acceleration. We are still accelerating, and, long term, these dips are still buying opportunities, unless we have some big event, like oil prices going through the roof. But everything else being equal and nothing negative on the horizon that's too disruptive, we should be in better shape at the end of the year than we are today.
Disclosure: I have no positions in any stocks mentioned, and no plans to initiate any positions within the next 72 hours. I wrote this article myself, and it expresses my own opinions. I am not receiving compensation for it (other than from Seeking Alpha). I have no business relationship with any company whose stock is mentioned in this article.