As an income-driven investor who has a knack for double-digit yields, I've decided to shift my focus to the mortgage REIT sector, and highlight a number of reasons behind my decision to remain bullish on shares of Capstead Mortgage (NYSE:CMO).
Company Overview
With its operations based in Dallas, Texas, Capstead Mortgage Corp operates as a real estate investment trust earnings income from managing a leveraged portfolio of residential adjustable-rate mortgage securities issued and guaranteed by Fannie Mae, Freddie Mac or Ginnie Mae.
Recent Performance & Trend Behavior
On Thursday, shares of CMO, which currently possess a market cap of $1.21 billion, a forward P/E ratio of 9.19, and a dividend yield of 10.77% ($1.36), settled at a price of $12.63/share.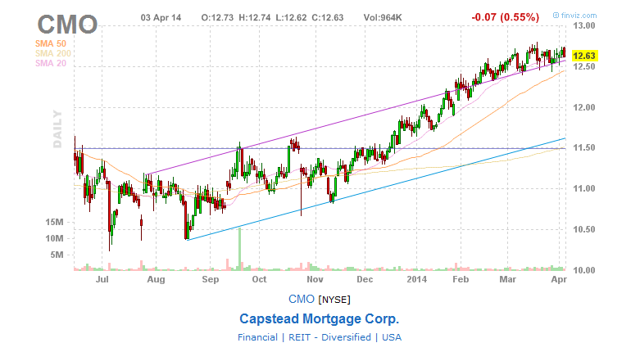 Based on their closing price of $12.63/shares, shares of CMO are trading 0.12% above their 20-day simple moving average, 1.51% above their 50-day simple moving average, and 9.73% above their 200-day simple moving average. It should be noted that these numbers indicate a short-term and mid-to-long term uptrend for the stock, which generally translates into a buying mode for most near-term traders and many long-term investors.
Capstead Has Demonstrated Solid Dividend Growth Over The Past 15 Months
Since December 27, 2012, the company has increased its quarterly distribution twice over the past 15 months (including the company's most recent increase that was announced on March 13). It should be noted that Capstead's most recent dividend behavior hasn't always acted like this, especially since a steady downward trend in its quarterly dividend distribution occurred between June 2011 and December 2012.
From an income perspective, the company's forward yield of 10.77% ($1.36) coupled with its 24-month dividend behavior certainly make this particular stock a very viable income option for long-term investors in search of a higher- yielding mortgage REIT play.
Based on its most recent dividend behavior which has demonstrated significant growth in its quarterly payouts over the last 15 months, I strongly believe that both shareholders and potential investors could see another jump (of between 5% and 10%) within the next 12-18 months.
Why do I think a dividend increase could occur in the next 12-18 months? If the company can continue to demonstrate a sustainable decline in its prepayments (of at least an average of 7.5%-to-10% in each of the next four quarters) while continuing to benefit from the spread in the 5/1 ARMs that make up a large portion of its portfolio, it's very possible that a dividend increase could occur within the above mentioned timeframe of 12-18 months.
Several Comparatives Set Capstead Apart From Its Peers
In my opinion, there are two key comparatives that set Capstead apart from its peers and there are its current forward P/E ratio and its double-digit dividend yield. As of Thursday's close, shares of Capstead Mortgage were trading at just under 9.2x its forward earnings, which was much better than the shares of both MFA Financial (NYSE:MFA) (which carried a forward P/E ratio of 9.71 as of 4/3) and Anworth Mortgage Asset Corp. (NYSE:ANH) (which carried a forward P/E ratio of 13.67 as of 4/3) especially since both companies are currently trading at much higher multiples.
The second of the two comparatives I wanted to highlight deals with the company's current dividend yield. Not only does Capstead Mortgage have a much lower forward P/E than both of its above-mentioned peers, it also carries a much higher yield especially when it's compared to both MFA and Apollo Residential Mortgage (NYSE:AMTG). As of April 3, shares of CMO were currently yielding 10.77%, whereas the shares of both MFA (10.34%, $0.80/share) and Apollo Residential Mortgage (9.89%, $1.60/share) were considerably lower.
A Look Ahead To Capstead's Upcoming Earnings
When it comes to the company's upcoming earnings, there are a number of things potential investors should consider. For example, analysts are currently calling for CMO to earn $0.67/share in terms of FFO (which is $0.01/share lower than the company had reported during Q4 2013 and $0.03/share higher than the company had reported during Q1 2013). In order to meet and or exceed its quarterly FFO estimates, I'd like to see a continued reduction in prepayments (within the range of 10% on the low side and 20% or more on the high side), a fair increase in book value ($0.04/share on the low side and $0.08/share or more on the high side), and lastly an increase in its net interest margins related to its residential mortgage investments ($3.5 million on the low side and $7.5 million or more on the high side). If the above mentioned criteria is met and or exceeded, there's a very good chance that current FFO estimates could be surpassed.
Conclusion
For those of you who may be considering a position in the Capstead Mortgage, I strongly recommend keeping a close eye on the company's recent trend performance, its ability to continue to maintain its dividend, and its ability to continue to enhance shareholder value over the next 12-24 months, as each of these factors could play a role in the company's long-term growth.
Disclosure: I have no positions in any stocks mentioned, but may initiate a long position in CMO over the next 72 hours. I wrote this article myself, and it expresses my own opinions. I am not receiving compensation for it (other than from Seeking Alpha). I have no business relationship with any company whose stock is mentioned in this article.