After three years of a relentless buyback, American Capital, Ltd. (NASDAQ:ACAS) announced that the company has suspended the buyback. Over the years, the company bought shares at substantial discounts to net asset value, or NAV, but the stock never got the deserved respect.
American Capital is a private equity firm and global asset manager that manages $19 billion worth of assets, including assets on its balance sheet and fee-earning assets under management by affiliated managers. Through an affiliate, American Capital manages publicly traded American Capital Agency (NASDAQ:AGNC) with approximately $9 billion of net book value, American Capital Mortgage Investment Corp. (NASDAQ:MTGE) with approximately $1 billion of net book value and recent IPO, American Capital Senior Floating, Ltd. (NASDAQ:ACSF).
Last Buyback
At the end of March, the company announced that it brought another 8.9 million shares during Q114, or roughly 3.3% of the outstanding shares at year-end. In total, American Capital bought 101.6 million shares, or 29.4% of the outstanding shares as of the start of the buyback plan on June 30, 2011. Amazingly, the company has bought an astronomical $1.2 billion worth of stock over that time period. The average purchase price of $11.74 provides a substantial discount to the roughly $19 NAV at the end of 2013. See the below table for the quarterly buyback stats: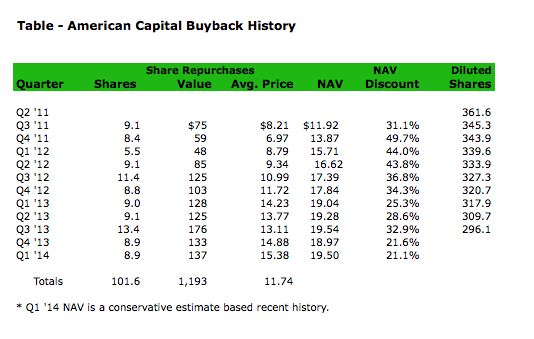 Unlocking Value
While a big proponent of the buyback plan over the years (see articles here), the value created by the capital returned to shareholders hasn't unleashed the stock. Investors want dividends or growth, and American Capital in its current structure doesn't provide either option to investors. The stock has consistently traded at least 20% below NAV, suggesting maybe another plan is warranted.
American Capital has undertaken a process to evaluate its corporate structure in order to unlock value. According to the filing in the 10-K, the options include spinning out a dividend-paying BDC business and keeping the lucrative American Capital Asset Management, or ACAM, under the existing American Capital structure to take advantage of over $400 million in tax losses. When asked a question on the Q413 earnings call, the CFO answered as following:
Jonathan Bock - Wells Fargo Securities, LLC, Research Division

Okay. So, in effect, it is transferable, or it could be applied to the ACAM spinout, I guess, is just the question?

John R. Erickson - Chief Financial Officer, Principal Accounting Officer, President of Structured Finance, and Member of Investment Committee

No. I wouldn't say it that way. I would say that the better way to think of it would be that you would spin out the BDC and leave the asset manager at ACAS. And ACAS really transforms itself to ACAM.
ACAM is an interesting business with several long-term growth drivers, including more revenue from growing the share of agency mortgages under management at American Capital Agency and American Capital Mortgage Investment, and expanding the assets under management via new managed funds vehicles. See the below slide from the Q413 presentation for the assets currently managed by ACAM.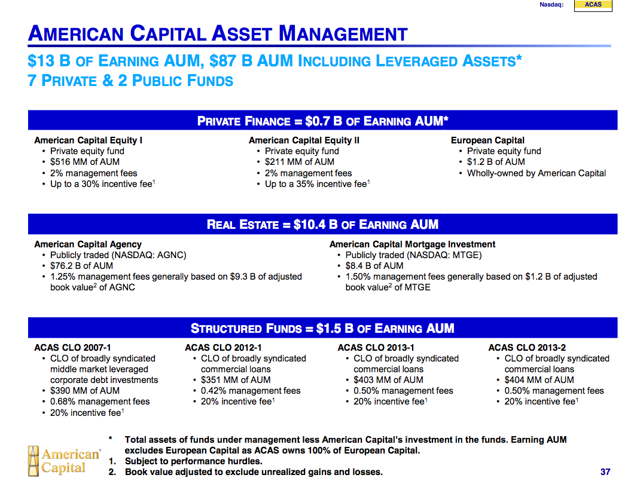 Note the list doesn't even include the American Capital Senior Floating that completed an IPO in January, or some energy assets already purchased in order to create a related fund to manage.
Trading Below NAV
American Capital only valued ACAM at $870 million at year-end, even though it paid out a $103 million dividend for the year. At a 10x multiple of income, ACAM is worth more than listed. At a 15x multiple, the ACAM division is grossly undervalued by American Capital. Regardless, American Capital alone trades at some 20% below NAV, suggesting that the full $870 million value of ACAM is completely ignored by the market.
Unfortunately, the attractive asset of ACAM is mostly lost in the corporate structure of the vast American Capital assets. Despite the substantial growth in ACAM over the last couple of years, the vast majority of assets sits in operating companies and sponsored finance, especially when including the assets of European Capital.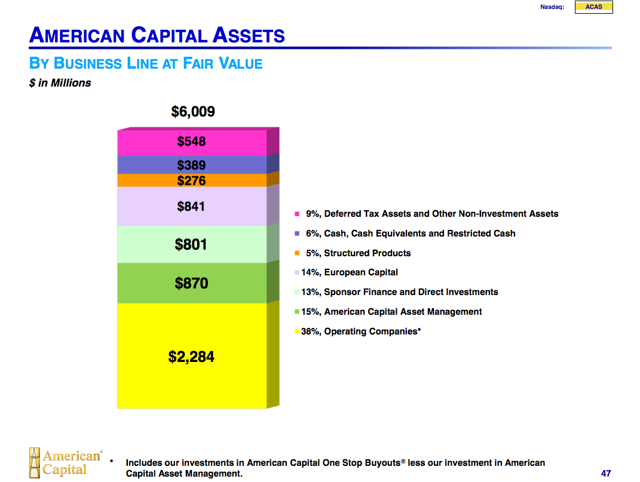 Conclusion
While American Capital has consistently increased NAV by simply purchasing its own stock below NAV is an attractive proposition, the time has come to unlock shareholder value by splitting up the company and simplifying the corporate structure. Though the company hasn't decided any plan yet, it appears clear from the earnings call answers that the intention is to spin-out the BDC assets into a dividend-paying entity that the investment community wants to see. The more lucrative and fast-growing ACAM could theoretically continue buying back stock, but growth investors aren't likely to leave it trading at a discount to value to allow that opportunity.
The split-up clearly isn't a done deal due to complex tax issues, but the company undoubtedly is working towards this new structure. If it doesn't happen, investors get to keep a stock trading below NAV. If it does occur, the combined new assets are likely to get a bump towards or even above NAV, where most asset managers and dividend-paying BDCs trade.
Disclosure: I am long ACAS. I wrote this article myself, and it expresses my own opinions. I am not receiving compensation for it (other than from Seeking Alpha). I have no business relationship with any company whose stock is mentioned in this article.
Additional disclosure: The information contained herein is for informational purposes only. Nothing in this article should be taken as a solicitation to purchase or sell securities. Before buying or selling any stock you should do your own research and reach your own conclusion or consult a financial advisor. Investing includes risks, including loss of principal.