The New face of crude oil and natural gas production in the US sparks rebirth within the Industry
It's no secret that the US has been gaining ground over the last few decades and growing domestic production of natural gas and crude oil continues to reshape the U.S. energy economy. According to the "Annual Energy Outlook 2014" from the US Energy Information Administration (EIA), natural gas production should grow steadily, with a 56% increase between 2012 and 2040; this is when production reaches 37.6 trillion cubic feet (Tcf).
In addition, the projected low prices for natural gas make it a very attractive fuel for new generating capacity. In some areas, natural gas-fired generation replaces generation formerly supplied by coal and nuclear plants. In 2040, natural gas accounts for 35% of total electricity generation, while coal accounts for 32%.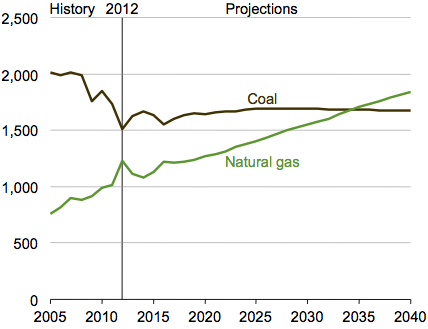 Electricity generation from natural gas and coal, 2005-2040
(billion Kilowatt-hours)
Following one of the coldest winters in the past 20 years, temperatures have continued to tighten heating oil supplies and helped drive up retail prices. Since the beginning of the year, inventories in the Northeast have fallen by almost 6.9 million barrels to reach 18.3 million barrels on February 28; 6.4 million barrels below inventory levels for the same week in 2013 according to the EIA. Cold weather also contributed to continuing large withdrawals of natural gas from storage and a surge in natural gas spot prices, which hit record levels in several markets during periods of extreme cold.
While natural gas has begun to flourish, crude oil production is approaching the historical high achieved in 1970 of 9.6 million barrels per day according to the previously mentioned EIA study. In fact, North Sea Brent crude oil spot price in February averaged near $110/barrel (bbl) for the eighth consecutive month, while West Texas Intermediate (WTI) crude oil prices increased by $6/bbl from the previous month to reach $101/bbl.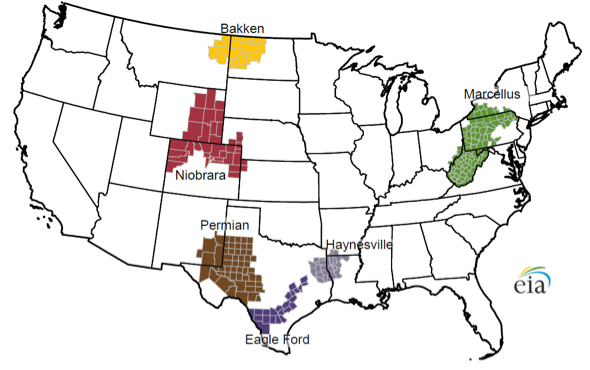 Key oil and shale gas regions
The productivity of oil and natural gas wells has been steadily increasing in many basins across the United States because of the advanced precision and efficiency of horizontal drilling and hydraulic fracturing (fracking) in oil and natural gas extraction. Many resource-producing basins are experiencing an increasing yield over time in either oil (Bakken, Eagle Ford, Niobrara) or natural gas (Marcellus, Haynesville).
In the EIA's March productivity report, five of the six U.S. shale plays tracked by the Drilling Productivity Report (DPR) have seen increases in oil and natural gas production per rig over the past few years. Eagle Ford Shale is leading in expanded production of oil per rig with nearly 500 barrels per day (bbl/d), and the Marcellus Shale is leading in increased production of natural gas per rig, providing more than 6 million cubic feet of natural gas per day (Mcf/d).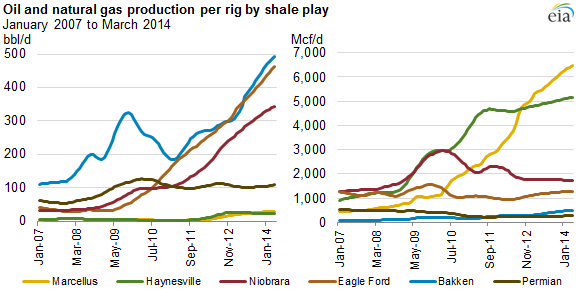 In a March 31st Daily Caller Article, contributor Michael Bastasch cites a recent EIA report which shows that Texas produced nearly 35% of the country's crude in 2013. In fact, oil production in Texas actually exceeded the production levels from federal offshore drilling areas according to the article. EIA explains that in the three years since 2010 Texas' output grew by 119%, which is the fastest in the nation largely from shale in the Eagle Ford.
ICF International released a study at the end of last month (March 2014), which found that sending crude oil abroad would lower gas prices and boost the economy. ICF concludes that exporting U.S. crude oil would save consumers up to 2.3 cents per gallon on petroleum products, including gasoline, heating oil, and diesel; this would equate to a consumer savings of roughly $5.8 billion annually on petroleum products for the next 20 years. The study also suggests that U.S. GDP is estimated to increase by $38.1 billion in 2020 if expanded crude exports were allowed.
Based on global markets, a free market export policy would drive an average of 2.1 million b/d of crude oil exports between 2015 and 2035. Under the current export policy, crude oil exports would average about 580,000 b/d, result in lower crude oil production and fewer long-term economic benefits to U.S. consumers. In fact, Rep. Michael McCaul (R-Texas) introduced a bill on April 1 to repeal the 1970s ban on exporting crude oil.
"Lifting the outdated ban on crude oil exports will result in more production, create new jobs at home and boost America's energy security while providing countries like Ukraine with a dependable supply alternative to energy imports from countries like Russia," said Rep. McCaul.
Opponents of the free trade move expressed concern regarding oil prices after entering into the global market. An article from Shale Daily cites that exporting domestic crude could have unexpected negative consequences, putting the U.S. oil market once again under the control of OPEC. "If we lift the export ban we would in essence be allowing the transport of crude out of a competitive market in this country and into a less competitive global one controlled by a few oil producing states."
The article continues:
"The results would be easy to predict: U.S. crude would flow out of this country and onto the world market, OPEC would reduce supply to maintain high global prices, the United States' use of homegrown oil would diminish, and prices here at home would rise to match the higher global price for a barrel of crude... It's clear who gains from this scenario: the oil exploration and production companies."
Even though there is much debate regarding the US free trade of crude into the global market, one thing remains constant; oil exploration and production companies would greatly benefit. Having over 1.1 million active oil and gas wells in the US alone, opportunity abounds for growth within the marketplace.
Therefore, with so much progress in the way of national production, even taking weather into account, how can you take advantage of one of the biggest oil and gas booms in the US since the 70s? I think it's important to first take a close look at where production is showing the most growth. Based on the information gathered from the EIA, it would appear that the Eagle Ford shale play has shown the most growth opportunity and within the counties of this play, Webb County has been identified as an area of great progress (Webb moved up from the third to the second best gas producer in the state).
There are several major operators in Webb County. Lewis Energy through a partnership with BP (NYSE:BP) has found itself to be one of the founders of the space. In 2002, Lewis Energy completed the first well in the Eagle Ford and in 2009 BP formed a strategic partnership with the company. A release from March 4 shows that BP is actually planning to split its U.S. onshore oil and gas segment into a separate business by next year in a bid to become more competitive with smaller rivals that dominate the region's shale reservoirs.
"With the rapidly evolving environment, our business has become less competitive," BP CEO Bob Dudley told investors in a conference call. According to BP, the new business "will have separate governance, processes and systems designed to improve the competitiveness of its portfolio."
In addition to BP, companies like Chevron Corporation (NYSE:CVX) and ConocoPhillips (NYSE:COP) also hold a stake within the Webb County region. Both of these companies have begun a strong recovery after hitting February lows that were between 10% and 16% below the current prices as of Friday afternoon's close. ConocoPhillips in particular, operates much of the company's North American assets under its subsidiary name Burlington Resources. Conoco reports over 220,000 acres of core Eagle Ford properties in South Texas. Recent wells have produced as much as 1,000 barrels a day and over 1 mMcfd.
Also focusing efforts in Webb County is SM Energy (NYSE:SM); formerly St. Mary Land & Exploration Company. The company made headlines in June 2011 when it sold 15,400 acres to a partnership of Talisman Energy and Statoil for $225 million or $14,600 per acre. After taking a hit earlier in March, SM Energy has come back more than 9% having hit an intra-day high of $75.85 on Friday. Sentiment seem to be high after the company announced Thursday (4/3/14) that its credit facility amount remained unchanged.
"I am pleased to see that our credit facility's borrowing base remained unchanged this redetermination cycle. We were able to hold it flat despite lower gas prices and material divestitures. This is a result of significant growth in proved reserves on our retained asset base. We are well positioned financially to execute on our core development programs and fund success in our New Ventures plays," stated CEO Tony Best.
I am, of course, also focused in the small cap marketplace and though there is a higher risk, the obvious potential for these companies to take advantage of opportunities within growing regions such as Webb County holds strong. Horizon Energy Corp (OTCQB:HORI) came to my attention following a post market announcement on Friday regarding its current operations. Some background I found is that the company itself is no stranger to the energy sector and actually used to have a presence within the solar marketplace; if you've followed me for a while you know I continue to cover solar stocks. Since changing names, symbol, and business model, the company has focused on oil and gas.
Friday's release announced that Horizon has signed an option agreement for an oil and gas lease in Webb County, Texas consisting of two tracts totaling 1,340 acres. This appears to be Horizon's first endeavor toward actual production I'm interested to find out what direction the company will go. Obviously larger corporations like BP and Chevron would be potential partners or possible candidates to buyout Horizon, in my opinion. This would also be in addition to the growth potential of Webb County overall as the company begins to ramp up operations through this new lease agreement.
Other companies within the Eagle Ford Play include EOG Resources (NYSE:EOG), which was identified in SA Contributor, Peter Way's article, "Energy Stocks, Ranked For Wealth-Building, As Seen By Prop-Trade, Block Trade Desks" as having historic performances there were "far better" than the 273 other Energy Industry stocks and ETFs that include them. In addition to EOG, Swift Energy Company (NYSE:SFY) not only has set up shop in Webb County but may also be undervalued at its current levels.
This stock has pulled back in a big way compared to where it was last year when it was trading at over $17 a share. After announcing that there is a first quarter earnings call scheduled for May 1, I'm sure investors are anxious to find out the progress Swift has made over the last 3 months and what they plan to do heading into the rest of the year. In an article by energy contributor, Matt DilLallo, he states that increased production, improved operations, and strategic repositioning have been identified as key contributors to the future success of the company as a Growth stock.
Conclusion
There are many key points that put the US oil and gas industry in the spotlight for growth opportunity. These include increased production from both enhancements in technology as well as the implementation of hydraulic fracturing in many of the major oil plays like Eagle Ford. Additionally, we also find that some locations within these oil plays show more growth than others, IE Webb County. Finally, the push for a ban to be lifted on US crude exports could not only position the country to realize an increase in GDP over the next 6 years but will also create many new jobs in what should be a booming industry. Many oil and gas stocks took a hit earlier this year and have since begun a slow and steady rise, which could position investors to take advantage of many undervalued opportunities within the space.
Disclosure: I have no positions in any stocks mentioned, and no plans to initiate any positions within the next 72 hours. I wrote this article myself, and it expresses my own opinions. I am not receiving compensation for it (other than from Seeking Alpha). I have no business relationship with any company whose stock is mentioned in this article.