Friday's market has a message for momentum stock players. Beware. Six names fell from 2.1% to 5.9% in one day.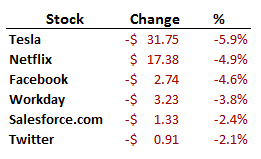 A more persistent sell-off in momentum names may have started and if it has could easily gain its own momentum over the coming months. The market has put values on these stocks that almost certainly cannot be grown into by all of them and many never be grown into by any of them. Let's take a look at a few and the implied growth.
Tesla (NASDAQ:TSLA)
I am a big fan of Elon Musk and the ambitious plans he has for Tesla. I have been bullish on the stock for quite a while. Tesla's innovative design combines long range with fast charging time making its Model S a compelling choice despite its relatively high price.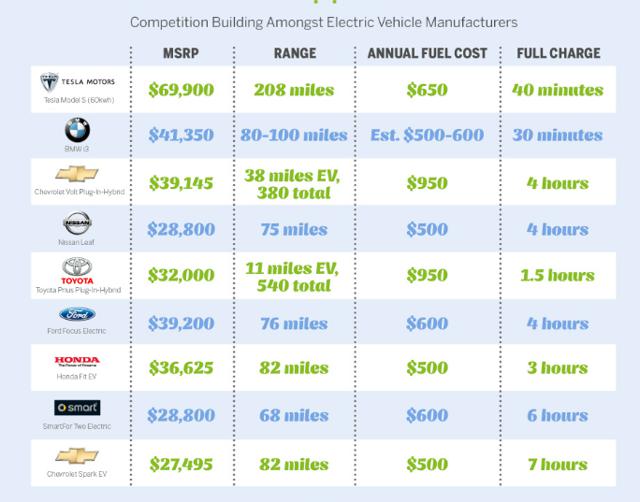 Source: Statista
However, with the stock price now at $212 and a market capitalization of $26 billion Tesla seems a bit ahead of itself. Partners for the massive Gigafactory Tesla plans to supply its assembly plant with its key powertrain component have yet to emerge and the clock is ticking on the project which is vital to the growth Tesla needs to support its market value.
Tesla will likely get its ducks in a row over time, but the near term is fraught with risks of delay and the stock seems overvalued by half, with $150 a share my view of current "value" even if things unfold favorably.
Netflix (NASDAQ:NFLX)
With its market capitalization of $20 billion Netflix is an anomaly among the high momentum stocks since it has the audacity to earn a profit albeit an adjusted profit. Netflix has a strong brand and a growing user base and has turned in 27% growth over the past several years. But with its stock price at $337 or 85 times current year forecast earnings, it is in nosebleed territory. Sustained growth at 27% cannot possibly justify the price of the stock.
Netflix is threatened by stiff competition from Amazon.com (NASDAQ:AMZN) and Google (NASDAQ:GOOG) among others and the persistent threat that Apple (NASDAQ:AAPL) and Microsoft (NASDAQ:MSFT) will become major players in the streaming movie space over time.
Facebook (NASDAQ:FB)
Facebook has done the seemingly impossible by cracking the code for mobile advertising in record time as the shift in its users from desktop to mobile took place, a feat many doubted Facebook could accomplish. Facebook and Google now dominate mobile advertising by a wide margin.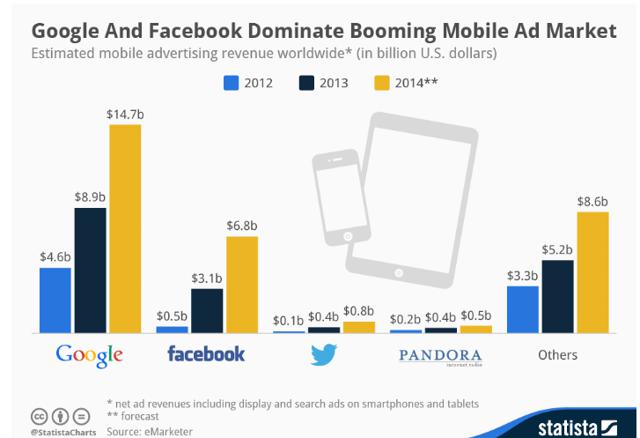 Google, Facebook and Yahoo (NASDAQ:YHOO) are the only web properties reaching over 80% of mobile users today.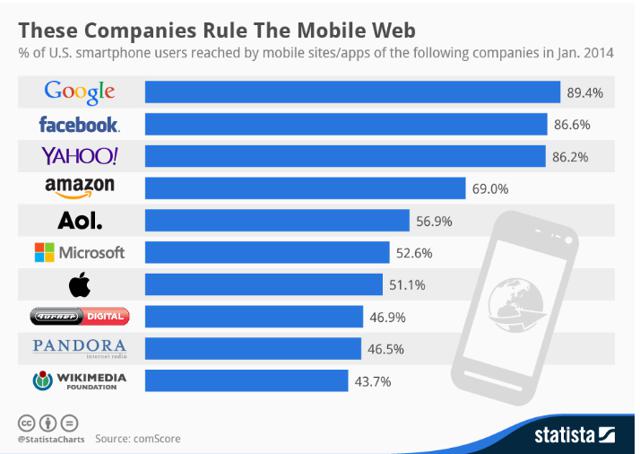 But Facebook may be losing its footing a bit. One of the dangers of a new public company under the control of a young and in many respects inexperienced CEO is evident in Facebook's $19 billion acquisition of WhatsApp a few weeks ago. There is no credible basis for belief WhatsApp had a value anywhere close to $19 billion, and the acquisition calls in to question the governance of Facebook. If WhatsApp was a threat to Facebook, it is evidence that Facebook's hold on users is tenuous and vulnerable, making it a dangerous stock to own. If WhatsApp was not a threat to Facebook, the acquisition is evidence that the CEO is reckless in his use of the resources entrusted to the company by shareholders. In either case, the stock may be overdone.
With a market capitalization of $113 billion and a price to earnings ratio close to 100 times, investor are betting on growth in sales and profits. That growth cannot reasonably come from new users since Facebook already has over 1 billion people on its site and at best could reach 2 or 3 billion over an extended period of time. Growth in advertising revenue is likely, but whether it can be large enough or happen fast enough to support a triple digit multiple seems doubtful.
Workday (NYSE:WDAY)
Workday makes every effort to make Salesforce.com (NYSE:CRM) look like a bargain. With last year's annual revenues of $469 million last year and a market capitalization of almost $15 billion, Workday trades at close to 20 times this year's forecast sales of roughly $750 million. Profits remain an illusion. This stock is vulnerable to the slightest disappointment.
Salesforce.com (CRM)
The market puts a value on Salesforce.com of about $33 billion or 6.6 times this year's forecast sales of $5 billion. Salesforce.com has been growing at 25% to 30% annually in part through internal growth and in part through acquisitions. The company is unprofitable with debt of $1.9 billion of which $0.6 billion comes due this year. Salesforce.com has negative working capital.
If Salesforce.com were profitable with net income to sales of 15% it would earn $750 million this year and at $33 billion market capitalization have a price to earnings ratio of 44 times. By comparison, Qualcomm (NASDAQ:QCOM) is a very profitable company that has also been growing at 25% a year. Qualcomm has a price to earnings multiple of about 16 times.
Salesforce.com competes with Microsoft , SAP (NYSE:SAP), Oracle (NASDAQ:ORCL), IBM (NYSE:IBM) and will run into Cisco Systems (NASDAQ:CSCO) which recently announced its entry into the cloud arena.
Twitter (NYSE:TWTR)
With its market capitalization of $25 billion and serious profits a distant hope this is an outright short, in my view.
Twitter is even more dependent on mobile than Facebook.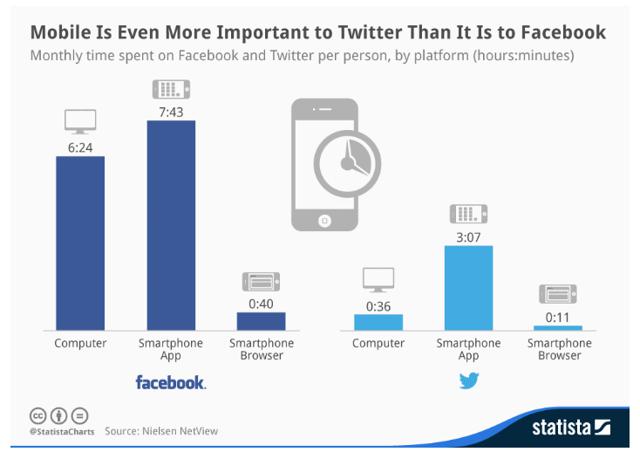 But mobile marketers have not rushed to adopt Twitter as a platform.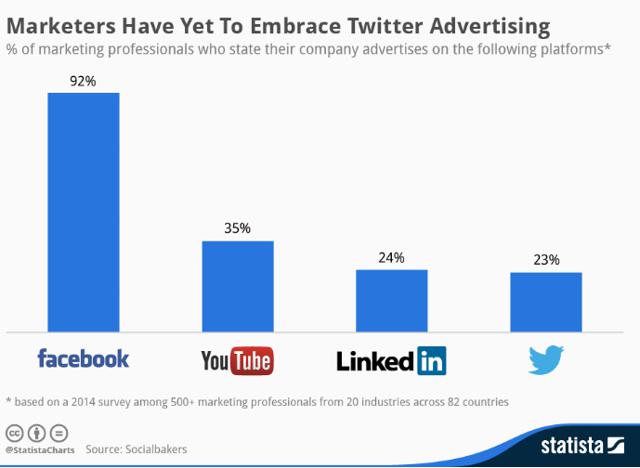 Moreover, growth in Twitter's user base is falling.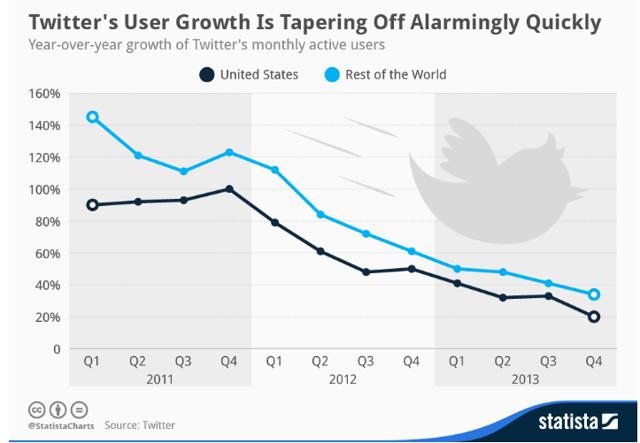 Twitter has become an important medium for real time news and in many ways changed the way we learn of current events in a significant way. There seems little doubt that Twitter will survive and carve out a profitable business as a result. But, Twitter's market value is well out of line with its prospects and in my view will surely correct in any market downturn.
Summary
Markets are flirting will all-time highs while the problems that have plagued the market worldwide are far from resolved. Governments continue to pile up debts rather than reduce borrowing. Quantitative easing has pumped up asset prices and massive stock buybacks have inflated reported earnings while depleting balance sheets. China growth is slowing and some emerging markets are encountering high inflation and currency weakness, in particular Argentina, Venezuela, Brazil, Indonesia, Turkey and South Africa. Russia seems to be moving towards an imperialist posture with ambitions to re-establish the Soviet Union which crumbled not that many years ago.
The stage is set for another shock to financial markets. Whether it arises from a financial default of a Chinese bank; a sovereign debt default; Russian military action; or, an earthquake similar to the one that led to the tsunami that crippled Japan, there are enough risks that investors should be cautious. Bull markets do not last forever. This is an old bull market.
When it cracks - and if history is any guide it will crack - stocks that will lead the fall will be those where shareholders have enjoyed large gains; where valuations are stretched into bubble territory; and, when enthusiasm has prevailed over common sense. Salesforce.com, Workday, Netflix, Tesla, Facebook and Twitter all fit that mold pretty well.
I am short CRM and NFLX. I may short the other names mentioned herein at any time.
Disclosure: I am short CRM, NFLX. I wrote this article myself, and it expresses my own opinions. I am not receiving compensation for it (other than from Seeking Alpha). I have no business relationship with any company whose stock is mentioned in this article. Apple is also mentioned in the article. I have a short position in Apple.