The market in 2014 so far has not worked out like most pundits predicted. Interest rates were supposed to continue to rise in the New Year; they have declined. Three months ago, according to FactSet, first quarter earnings were set to rise over 4% according to the consensus. That same consensus has first quarter earnings declining ~1% currently.
The technology sector is sure different than 2013 as well. Technology stocks like Salesforce (NYSE:CRM), Workday (NYSE:WDAY) and Splunk (NASDAQ:SPLK) that were stellar performers during 2013's huge rally have started to break down recently. Over the last month, these shares have dropped ~15% to ~30%.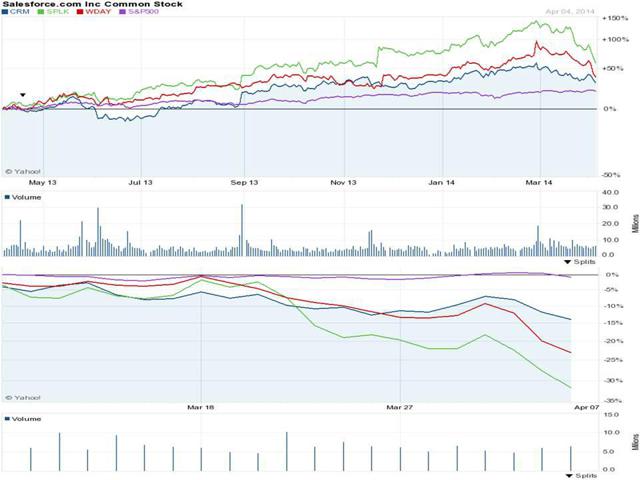 Even after their recent declines, these stocks are hardly bargains which show how frothy some momentum names in the Technology sector had become. Even after its recent pull back, Salesforce goes for over 100x forward earnings and has a five year projected PEG near 4 (3.78).
At least Salesforce has earnings. Splunk lost money last year and is expected to just breakeven this year. The stock also sells for nearly 25x trailing revenues. The company has impressive sales growth but not enough to justify its current valuation in my opinion. Workday sports nearly a $15B market capitalization but will lose money until at least FY2016 according to the current consensus. It is priced at over 30x trailing annual sales.
In contrast, "Old Tech" is doing quite well. Firms that had their glory years in the PC era like Hewlett-Packard (NYSE:HPQ), Intel (NASDAQ:INTC) and Microsoft (NASDAQ:MSFT) have all posted solid returns so far in 2014. It feels like we are early in a rotation out of new technology momentum stocks into old line value stocks within the sector.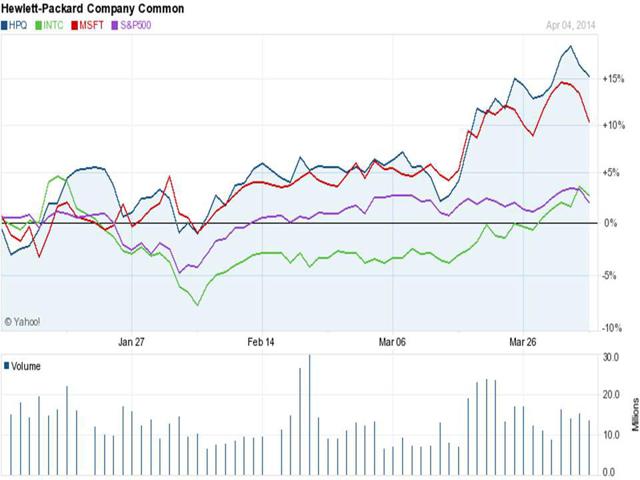 Hewlett-Packard has been on fire for a year as its CEO, Meg Whitman, finally seems to be getting some impressive traction in turning around the company. It began 2013 on a "death watch," but posted much better results than most pundits were expecting.
The shares are still cheap at around 9x trailing earnings. This is not a growth story yet but the company is seeing free cash flow increase nicely and has paid off billions in debt over the past year. The stock also provides a 1.8% dividend yield.
One of more attractive features of Intel is its solid dividend yield (3.4%). The company is starting to gain some traction with its critical mobile efforts. The stock seems fairly valued here - which is much more than I can say about the momentum stocks even after their recent sell-offs - but could offer a safe alternative to investors seeking a nice yield in the leading chip maker.
Microsoft has been a core value holding of mine for over a year. I picked up shares in the mid-$20s and have held on even as the stock has gained some 50%. I like the new CEO's first move to make Office applications available on the iPad. Excel, Word and PowerPoint have been the top app sellers on iPad since they became available and were downloaded some 12mm times in the first week after launch. This should accelerate subscriptions to the company's Office 365 cloud offering.
The company also has an AAA rated fortress balance sheet with over $60B in net cash and marketable securities. Removing this cash from the equation, and the shares are priced at a reasonable 11x forward earnings and provides a yield of 2.8%. If we did get a major break in the market, I would have no hesitation to add to my already substantial stake in Mr. Softie.
The great rotation that is going on in the market right now from momentum to value plays could continue for a while. If it does, Old Tech could easily continue to outperform the highflying "whippersnappers" that have started to break down in the second quarter as well.
Disclosure: I am long MSFT. I wrote this article myself, and it expresses my own opinions. I am not receiving compensation for it (other than from Seeking Alpha). I have no business relationship with any company whose stock is mentioned in this article.