Social gaming concern Zynga (NASDAQ:ZNGA) has fallen some 20% over the last month. Part of this decline is due to the carnage in some of high flying momentum names and sectors that were major contributors to the huge rally in 2013.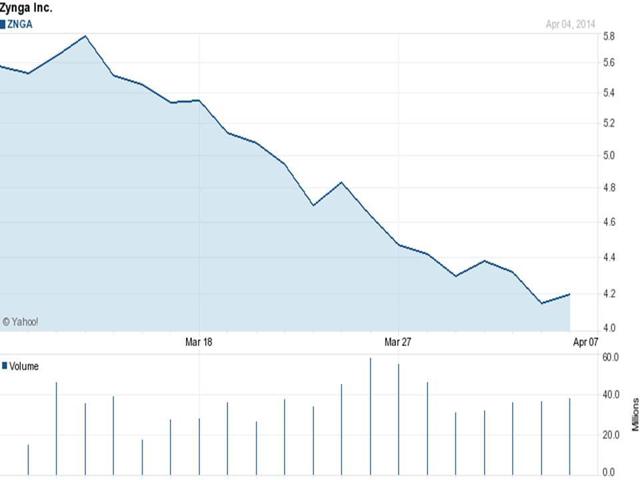 Click to enlarge
The shares were also hurt by the IPO of competitor King Digital Entertainment (BATS:KING), the maker of "Candy Crush." Some money probably migrated from Zynga into the newly public company and the IPO did not perform well hurting the entire sector.
I have very few speculative names in this market and a higher than normal cash position. I continue to hold Zynga as I think it is a solid high risk/high reward play. I am not alone in this assessment. SAC Capital announced it has acquired a better than 5% position in the company at the end of March. Activist fund Jana Partners also holds a better than 4% stake in this social gaming concern.
Wedbush came out this morning with its opinion on Zynga. The analyst firm added the shares to its "Best Ideas" list. Wedbush has an "Outperform" rating and a robust $7 a share price target on Zynga. It expects the firm to "meet or exceed Q1 guidance and reiterate full-year guidance when it reports results on Wednesday, April 23."
It also has a positive opinion of company's CEO who came over from Microsoft (NASDAQ:MSFT) last year and has been positively received by the investment community. This was also one of the key reasons I invested in the company's potential turnaround when it was trading at ~$2.50 a share last year.
The company has a rock solid balance sheet with over $1B in net cash on its balance sheet. This is more than 25% of Zynga's market capitalization at current price levels. Revenues are expected to gain 10% this year according to the current consensus. That should accelerate to the mid to high teens in 2015.
2014 should also be the year that the company breaks even or perhaps posts a small profit as the company's turnaround efforts continue to gain some traction. The company is already profitable from an operating cash flow basis.
The shares once sold for over $14 a share right after the company's IPO in early 2012. For aggressive growth investors, Zynga is a good speculative play that should be very profitable if its turnaround can just get it halfway back to its former glory. The recent decline could be a good entry point to start to build a small position. SPECULATIVE BUY
Disclosure: I am long ZNGA. I wrote this article myself, and it expresses my own opinions. I am not receiving compensation for it (other than from Seeking Alpha). I have no business relationship with any company whose stock is mentioned in this article.