With all due respect to Seeking Profits, a merger between Kinder Morgan Inc (NYSE:KMI) and Kinder Morgan Energy Partners (NYSE:KMP) is indeed possible. While it will be expensive and dilutive short term, doing such a transaction will allow Kinder Morgan Energy Partners to trade at a valuation more inline with its future growth rate.
Kinder Morgan has not rejected a merger outright
What is very telling in this debate is that Kinder Morgan has very much left open the door for a merger between the two entities. When the company responded to questions raised in a February 22 Barron's article, it noted the following:
Q: Would KMI ever merge with KMP the way Enterprise Products merged with its GP?

As was mentioned in our analyst day materials, KMP would consider other options if we get to a point where we cannot deliver attractive returns to LP investors. However, we do not believe we are at that point. We would point out that KMP has a highly attractive total return prospect, with a current yield of nearly 7% and a target distribution growth rate of 5% for the next three years supported by organic expansion capex projects of nearly $14 billion that we expect to place in service over the next 5 years.
If we read between the lines, Kinder Morgan has clearly NOT rejected the option of a merger between KMI and KMP. Indeed, the company noted that this is a possibility only if the distribution/dividend growth rates were to slow down. As of this writing, Kinder Morgan has already reaffirmed its guidance for growth in 2014. However, it can be argued that the this guidance already had some growth slowdown baked in, given that KMI's 8% growth rate is down from 10%, while KMP's 5% growth rate is down from 6 to 7% from prior year levels.
As I noted in a recent article, KMP trades at a massive 45% discount to peer Enterprise Products Partners (NYSE:EPD) (14.0x multiple versus 25x). In fact, KMP trades at a sizeable discount to nearly all of its peers, according to data from MLP Data.
Why does this discount exist? The answer is quite simple: expected future IDR payment obligations. KMI is currently extracting 50% of KMP''s incremental DCF increases. IDR payments to KMI have long reached their cap under the existing partnership agreement.
In addition, when looking at the multiples, KMP is trading at a discount almost identical in magnitude to the IDR payments to KMI. If KMP were able to retain its full amounts of DCF generation, it is my belief that the company will eventually see its valuation become more inline with peers without IDR obligations.
How can KMP acquire KMI's IDR interest?
Credit Suisse noted these three possible solutions to the IDR problem:
(1) Using KMP units and EPB units to simply eliminate the IDR burden from both entities while allowing KMI to continue as an entity. This would be analogous to a LNCO/LINE structure. This option appears to be doable with modest leverage applied (i.e. ~10-15%) and assuming some support from Mr. Kinder initially and flexibility to move the cash flows between entities.

(2) Using KMP units to buy out KMI altogether.

(3) Using KMP units to reset the IDRs.
As I already mentioned in a previous article, I think option number 2 is the best bet for Kinder Morgan overall. My reasoning is that KMI without the KMP GP will basically be a rump company, unable to even independently set its dividend policy as the vast majority of its income will come from KMP units.
For the sake of argument, the let us say KMP does acquire the GP interest from KMI. Any such transaction would likely require KMP to issue 45 to 50% of its equity to KMI. Given the already tight coverage ratio, KMP may need to lower its distribution short-term to make the transaction work.
However, the wildcard here is Rich Kinder. Given that Mr. Kinder owns about 231.8 million shares of KMI (23% of the float), he is essentially the lynchpin for any such transaction. In the EPD deal, insiders waived over $275 million of aggregate cash distributions over a five-year period. In addition, Enterprise GP Holdings, or EPE, made other concessions to lessen the short-term impact of the merger. Given that EPD is up over 88% since the merger, it seems as if this was a very worthwhile sacrifice.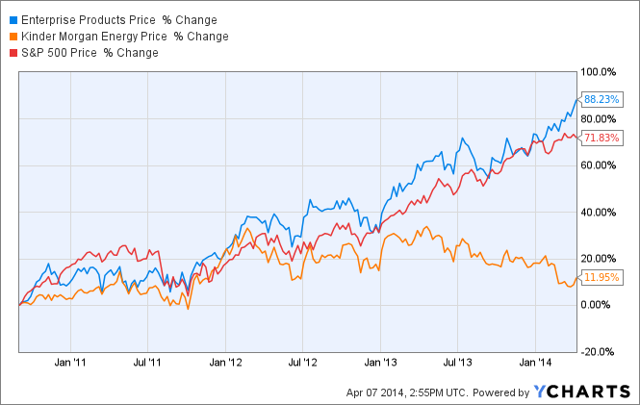 EPD data by YCharts
Disclaimer: The opinions in this article are for informational purposes only and should not be construed as a recommendation to buy or sell the stocks mentioned. Please do your own due diligence before making any investment decision.
Disclosure: I am long KMI. I wrote this article myself, and it expresses my own opinions. I am not receiving compensation for it (other than from Seeking Alpha). I have no business relationship with any company whose stock is mentioned in this article.