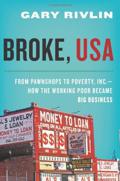 In my previous article, "Understanding The Alternative Finance Sector Through Gary Rivlin's Broke, USA, Pt. 1: Competitive Advantages," I described how one can learn about the alternative finance business by reading Broke, USA, Gary Rivlin's book on the industry. In that article, I noted that the book shows how the strengths of such companies as payday lenders, pawn shops, and rent-to-own stores include high returns on investment, pricing power, and growth opportunities.
That said, it would be wrong to focus on only the industry's competitive advantages. This is an industry that, after all, focuses on making high interest loans to lower and middle class people. As a result, an investor in this industry faces many risks, the most prominent of which is regulation.
Regulation is the best known risk to the alternative finance industry because it can totally eliminate some parts of the industry, especially payday lending. As Billy Webster, the founder of America's largest payday lending chain, Advance America Cash Advance, says in Broke, USA, "it's hard to invest in the future earnings of a company if you don't know if it's going to have a future."
And yet, Broke, USA also shows how regulation is not necessarily the threat to the alternative finance industry that some would believe. In describing the fight to drive payday lending out of Ohio, the book shows why regulation has such public appeal. However, it also shows the ability of companies to work around regulation and continue providing high returns to investors. Examples of this ability can be seen in several parts of the alternative finance industry, including the payday lending and tax preparation businesses.
Payday: The Appeal of Regulation
To understand the threat of regulation to the alternative finance industry, one must first understand why regulation has such appeal. Because payday lending regulation is probably the most popular type of alternative finance regulation, the reasons why people want to regulate payday are representative of why they want to regulate the alternative finance industry as a whole. Broke, USA shows why people want to regulate payday lending in its story of the 2008 campaign to eliminate payday lending in Ohio.
Like in many states, payday lending opponents in Ohio supported a cap on the interest rates that could be charged by payday lenders. In Ohio, the initial proposed maximum rate was 36%. In Rivlin's words, the problem with such a cap was that "the economics of the stand-alone payday shop don't work with a 36 percent rate cap. That works out to a fee of $1.12 per $100 borrowed rather than $15, which wouldn't even begin to cover fixed costs such as salaries and store leases."
Contrary to what one might imagine, much of the impetus for this rate cap came from Republicans. Rivlin describes how a Republican lawmaker named Bill Batchelder was an initial sponsor of the rate cap bill. He was supported by House Speaker Jon Husted, another Republican, as well as Chris Widener, the Republican chair of the Ohio House Financial Institutions, Real Estate and Securities Committee. Rivlin describes how Widener suggested to Husted that "the simplest solution…was to take away what the legislature had granted the [alternative finance] industry back in 1995, when it exempted…[payday] loans from the state's 28 percent usury cap. That was a cap even lower than the [36% rate cap Ohio governor] Strickland had endorsed." With the support of such influential Ohio Republicans, the payday rate cap bill passed with overwhelming bipartisan support in May 2008.
What is noteworthy is that the prominent Republicans who made the rate cap possible were all highly conservative. According to his Ohio senate biography, the aforementioned Chris Widener "has been recognized three times as a Watchdog of the Treasury by the United Conservatives of Ohio for his fiscally-responsible voting record." Bill Batchelder s biography describes him winning the same award. Similarly, Jon Husted s biography as Secretary of State notes that in addition to passing the payday rate cap, "as Speaker [of the Ohio House], Jon was instrumental in passing the most fiscally-conservative budget in 40 years." It is clear that for politicians such as Widener, Batchelder, and Husted, fiscally conservative beliefs-and, presumably, an accompanying belief in limited government-did not stand in the way of supporting government limits on payday lending.
Understanding this seeming paradox is key to understanding why regulation of the alternative finance industry is so appealing. The explanation is simply a visceral opposition to the high interest rates charged by payday lenders. This opposition can be seen in several anecdotes Broke, USA. In describing the triple digit APRs associated with most payday loans, Rivlin quotes the aforementioned Billy Webster as saying that "Most journalists stop at the 391 percent interest rate, and the only question is, 'How on earth can you charge so much?'" Similarly, one newspaper editor who was asked to support a November 2008 referendum to repeal the rate cap said "Look, you can show me all the statistics you want, you can show me all the numbers in the world, but we've made up our minds [to oppose the referendum]." Indeed, despite the efforts of the entire industry, Broke, USA describes how only "one newspaper of any size…[endorsed] the industry's referendum."
In describing such feelings, Rivlin's book illustrates why regulation is such a serious threat to payday lending. Payday lending opponents play upon fears of usury, fears which are nearly universal in the Western world. As one payday opponent quoted in Broke, USA notes, "I don't care what the text, whether it be Jewish or Catholic or mainline Protestant, there's clear statements in each against usury." In the face of such opposition, it is simply irrelevant that payday supporters such as Billy Webster can argue, with some persuasiveness, that the triple digit APR of a payday loan is, as Rivlin quotes him saying, "a meaningless number-like saying salmon costs $15,980 per ton or advertising a hotel room as costing $36,500 per year." The impulse to regulate payday lending out of existence draws upon an instinctive feeling that the high APRs charged by payday lenders are simply unfair. Because of this impulse, the November 2008 referendum against the payday rate cap was unsuccessful, and it seemed as if payday lending's days in Ohio were over.
Thus, at first glance, the story of the Ohio payday rate cap seems to show why regulation is such a threat to the alternative finance industry. After all, how can an industry survive in the face of such visceral opposition, especially when the opposition draws upon the core beliefs of Western society?
However, Broke, USA also shows another aspect to regulation of the alternative finance industry. Though Rivlin's book shows why regulation has such appeal to so many people, it also shows why such regulation might not keep the industry from continuing to offer high returns to investors.
Payday: Working Through Regulation
The alternative finance industry's ability to survive in the face of regulation and continue offering high returns to investors can be seen in its response to the Ohio payday lending rate cap. As mentioned earlier, the November 2008 referendum to defeat the Ohio rate cap failed, establishing a 28% interest rate cap across the state. Even so, Broke, USA describes how in February 2009, "despite the express wishes of the Ohio state legislature and more than 60 percent of the electorate, all the big payday lenders were still making short-term cash loans in Ohio…[and] some were charging rates that worked out to more than 391 percent annually." Rivlin describes how "there was no preventing a lender from charging a loan origination fee or making a borrower pay a fee for a credit check. The more aggressive companies went one step further, issuing the advances in the form of a check and then charging a steep fee to cash it."
In response to this, the book does note that "Bill Batchelder and others worked on legislation that would eliminate…'loopholes' in the law." However, such legislative efforts faced the tenacity of the payday lending industry. Even as of April 2014, six years after the rate cap was imposed, payday lending persists in Ohio, though it is under review by the state Supreme Court.
This story of how opponents of payday lending successfully made it illegal in Ohio, and how the payday lenders continued lending anyway, shows why regulation might not be the clear and present danger to the alternative finance industry that one might think. The ability of payday lenders to work around regulation has not been unique to Ohio. Broke, USA notes that payday lending persisted in North Carolina for five years after it was made illegal in 2001. Even after then, out of state banks such as Regions Bank and Wells Fargo continued making payday loans for years afterwards, taking advantage of the fact that as out of state banks, they were not subject to state law. It was not until January 2014 when the FDIC shut down payday lending by interstate banks in North Carolina, nearly thirteen years after a ban was passed.
Similarly, payday lenders have successfully evaded restrictions on their business in Texas. There, many have rebranded themselves legally as "credit services organizations," describing the interest charged on loans as a fee for credit repair services. One publicly traded corporation that has done so is EZCorp (NASDAQ:EZPW), which notes in its 2013 10-K that "288 of [the company's] U.S. financial services stores and two of [its] U.S. pawn stores in Texas offered credit services to customers seeking consumer loans." In other words, nearly 60% of the company's non-pawn shop locations avoid payday regulation using the credit services designation. Though the company notes that it "[does] not participate in any of the loans made by the lenders," it does "earn a fee for helping customers obtain credit." This fee totals "15% - 22% of the loan amount" for a single-payment loan or "13% to 14% of the initial loan amount" for each bi-monthly payment of an installment loan. For the former, that amounts to an APR of over 200%, for the latter, it can be an APR of over 300%. In other words, despite not being able to officially offer payday loans in Texas, EZCorp has managed to rebrand itself to work around regulation and earn the same high returns as other payday lenders anyway.
Payday lenders have also worked around government regulation by moving to other high interest products. Particularly popular are installment loans, which are offered by many of the largest payday lenders in states where rate caps exist. QC Holdings (NASDAQ:QCCO) launched its installment loan product in 2006 in Illinois after the passage of payday lending regulation. Today, it offers such loans in ten states, including New Mexico, California, and Colorado, all of which limit payday lending. Indeed, QC Holdings 2012 annual filing specifically notes that its "new products [such as installment loans] in Illinois, New Mexico, as well as in Virginia and other states, have been in response to changes in payday loan laws in those states making payday lending unprofitable."
Other payday lenders have also transitioned into new products to avoid regulation. In its final annual filing before going private, Advance America noted how it tailored its products "depending on applicable legislative and regulatory restrictions." Similarly, as well as installment loans, Cash America International (NYSE:CSH) offers a line of credit product that is not regulated under payday lending laws, but which has a payday like interest rate of 299%. That latter product was specifically cited in a 2013 ProPublica article titled "Whack-a-Mole: How Payday Lenders Bounce Back When States Crack Down." The article notes how the alternative finance industry "[has] reacted to laws targeted at one type of high-cost loan by churning out other products that feature triple-digit annual rates." The article quotes EZCorp CEO Paul Rothamel in describing such products as installment loans, auto title loans, and lines of credit as the "second generation" of alternative finance.
The growing popularity of such new products is not only significant because it lets the industry to work around new laws. Rather, it reflects the most important way in which alternative finance companies can persist in the face of regulation-diversification.
As noted previously, many payday lenders have expanded into alternative loan products, such as installment loans, to avoid rate caps on short term loans. This expansion is only part of a broader trend towards diversification in the industry. As I mentioned in my previous article, many alternative finance companies have diversified to take market share from pure plays and banks. Not only have alternative finance companies diversified into each other's businesses, with pawn shops offering payday loans and payday lenders offering tax services, but they've also diversified into traditional financial services such as insurance and issuing debit cards. For example, Broke, USA describes how both Check Into Cash and Advance America have gone into money transfers, partnering with Western Union and Moneygram, respectively.
However, though I emphasized such diversification as a source of growth in my previous article, this broadening of businesses lines has also occurred due to regulation. In Rivlin's words, "diversification has been the watchword for the forward-looking fringe financier in recent years." One such financier profiled in Broke, USA is Check Into Cash founder Allan Jones, who is described in the epilogue as moving into the used-car sale and pawn shop businesses to hedge his bets against payday lending difficulties. Jones describes diversification by saying "Before we were just focused on taking care of our customer… Now we're trying to survive." In other words, the previous impetus for diversification came from a desire for growth, but it now comes also from a desire for risk mitigation, especially in the face of regulation.
This trend towards diversification offers significant potential for the payday lending industry to survive rate regulation. As mentioned earlier, the reason why rate caps are so destructive for payday lenders is their cost structure, which requires high APRs to make up for the cost of a storefront. Diversification allows payday lenders to remain profitable at a lower price point. Broke, USA mentions the State Employees' Credit Union of North Carolina, which offers payday loans to its members at an interest rate of 12%-roughly a twentieth of what an ordinary payday lender would charge. Despite such a low rate, the head of the credit union describes payday loans as "the single most profitable loan [they] make." The reason for this is because, in Rivlin's words, "their tellers do more than just write payday loans, and their branches are supported by revenues from a wide range of services, from car and home loans to more routine banking functions." As a result, payday lending at such a branch remains profitable despite an interest rate below any conceivable rate cap.
Of course, it would be wrong to generalize the experience of the State Employees' Credit Union of North Carolina to the rest of the payday lending industry. On average, state employees are probably better credit risks than the average payday lending customer because they are probably paid more, have greater job security, and are better educated. However, the anecdote does show how diversification might allow payday lenders to mitigate the risk of regulation by changing their cost structures, thus making rate regulation less damaging for them.
Such diversification will most benefit the largest operators, who, as I mentioned in my previous article, will be able to grow at the expense of pure play payday lenders and pawn shops. Such operators include most if not all of the publicly traded companies in the alternative finance industry, which is why investors in those companies may be able to look forward to greater returns than the industry as a whole. In this case, public investors have a natural edge because they can only invest in the largest companies in the industry, which are probably the best operators and thus the ones that will benefit most from regulation. In contrast, smaller or less capable private operators might be driven out of the alternative finance space, or at least the most heavily regulated parts of it, because of the additional costs created by regulation.
The historical example of the tobacco industry supports this belief that regulation might actually aid the best operators. In a 2006 New York Times article, Joe Nocera profiled then Altria (NYSE:MO) vice president Steve Parrish to understand why the cigarette manufacturer would be in favor of tobacco regulation. He found that Altria subsidiary Philip Morris USA believed that as the top operator in the tobacco industry, it would be able to gain market share from competitors by taking advantage of the compliance costs imposed by regulation. Matthew Myers, an anti-smoking advocate profiled in the article, described it thusly:
I remember sitting in the room negotiating with the tobacco companies in 1997 and discussing government regulation. It was clear from the behavior of the Philip Morris representatives that their attitude was 'Just tell us what the rules are, and I can beat my competition.' It was equally true of the behavior of the R.J.R. folks that they believed, 'Just tell Philip Morris what the rules are, and they'll beat the pants off us.'" That's one reason that Altria is unruffled by prospect of regulation: it assumes Philip Morris USA can win no matter what the business environment.
Of course, it is not possible to entirely generalize the experience of Philip Morris to the payday industry. After all, there aren't any states where tobacco is totally banned in the way that payday loans are. However, I believe it is possible to generalize a lesson about how the top operators in an industry respond to regulation. Specifically, such operators can take advantage of regulation to gain market share against weaker competitors.
This ability is why I feel that high returns are possible going forward for public investors in both payday lending and the alternative finance industry as a whole. The companies in which such investors can buy shares are, by their very nature, the largest in the industry. Such companies are likely the best operators, and will therefore probably be able to navigate any regulation of the industry to their advantage. Thus, despite the risk of regulation, I feel that future investors in alternative finance will be able to look forward to many years of high returns to come.
In summary, Broke, USA offers a twofold lesson on the risks of regulation to the alternative finance industry, particularly the payday lending industry. On the one hand, regulation is a serious risk to the industry. The idea of triple-digit APRs is-rightly or wrongly-repugnant to many people, including lawmakers in both parties, and as a result there will always be a strong impetus towards interest rate caps. On the other hand, the largest companies in the industry may be able to take advantage of the compliance costs created by regulation. In doing so, not only will they survive by diversifying into other products, but also thrive to deliver high returns to shareholders.
This ability of companies in the alternative finance space to work around regulation can be seen in two recent industry developments. These developments are the experience of tax preparation companies as they respond to the banning of refund anticipation loans and the experience of DFC Global as it responds to payday lending regulation in the United Kingdom.
Refund Anticipation Loans
Payday lending is, of course, not the only part of the alternative finance industry that has been subject to increased regulation in recent years. One area that has come under scrutiny is the offering of loans to individuals against the value of their tax refunds, or refund anticipation loans, also known as RALs. Such loans, which have historically been offered by banks such as Republic Bank and Trust (NASDAQ:RBCAA) through tax preparers such as H&R Block (NYSE:HRB), have been criticized for bearing high interest rates on a largely risk free loan. As a result such loans were banned in 2012 after the FDIC forced Republic Bank to stop offering them, with most other banks having agreed to end the practice years earlier under similar regulatory pressure.
In some ways, the story of the end of refund anticipation loans is a textbook example of how regulation can reduce returns for the alternative finance industry. Both the banks that offered refund anticipation loans and the tax preparers have been hurt by losing that product. Republic Bank and Trust's return on equity dropped from 22.51% for 2012-the last year in which it offered the loans-to only 4.65% in 2013. H&R Block's tax services revenues fell by more than 2% in 2011, the year it stopped offering the loans, and continued falling in subsequent years. This may have been due to the role such loans played as an incentive to have one's taxes done at H&R Block. As Broke, USA describes the model of the storefront tax preparer, "RAL [was]…the primary reason these stores exist," since "the RAL brings people in the door," even if "it's the $300 or so the chains typically charge a customer to prepare their taxes that account for the lion's share of revenues."
However, as with the Ohio rate cap, this tale has a deeper element. Though H&R Block and other tax preparers can no longer offer refund anticipation loans, they have used several alternative products to help fill the void. Chief among them is the refund anticipation check, or RAC, which not only guarantees a refund payment within 21 days, but also lets a customer take his or her tax preparation fee out of the refund. In the same year that H&R Block stopped offering refund anticipation loans, its revenues from RACs more than doubled, nearly making back all of the lost revenues from losing RAL participation fees.
Moreover, some of the smaller tax preparers have been even more daring in stepping into the void created by the exit of bank offered refund anticipation loans. In 2013, Liberty Tax Service introduced a product similar to an RAL called the Instant Cash Advance. Other companies have considered factoring services that buy tax refunds at a discount, something functionally equivalent to an RAL. Of course, it is too soon to tell if these alternative products will be able to fully replace the RAL. However, this ability of the tax preparation industry to diversify into alternative products in response to regulation is reminiscent of the payday industry's efforts to do the same.
Thus, the lesson offered by the end of bank-offered refund anticipation loans is a microcosm of the lesson offered by Broke, USA on alternative finance regulation as a whole. On the one hand, regulation will, in many cases, affect the ability of companies in the industry to do business as they once did. However, in many-if not all-cases, companies will be able to manage their way through regulation and maintain their returns to shareholders.
Regulation Abroad: The DFC Global Experience
Another company that illustrates the adaptability of the alternative finance industry highlighted by Broke, USA is DFC Global (NASDAQ:DLLR). DFC Global is fairly unique among US based alternative finance companies in that its operations are largely located not only outside of the United States, but also outside of North America. The company earns over half of its revenues in Europe and the United Kingdom, and most of the rest in Canada.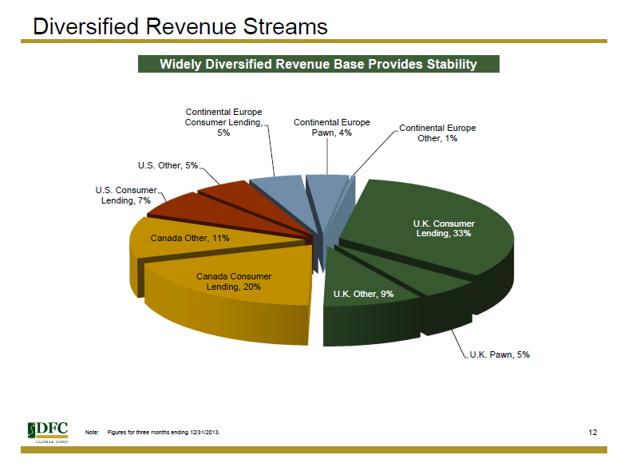 Source: 2014 Q2 DFC Global Corp. Presentation
From a regulatory perspective, this diversification in revenues offers protection because it means that changes in any given political jurisdiction cannot affect the entire company. More importantly, though, DFC Global has used its scale and experience in dealing with varied regulatory environments as a competitive advantage against its smaller rivals. In doing so, the company illustrates Broke, USA's lesson of how the largest operators will be able to work around regulation through diversification.
It is possible to see how regulation has created competitive advantages for DFC Global in the way it has responded to stricter consumer loan regulation in the United Kingdom. In early 2013, the UK's Office of Fair Trading provided guidelines on responsible lending to the alternative finance industry. These guidelines anticipated regulations that would be issued by the Financial Conduct Authority once it took over consumer loan regulation in April 2014.
In the short term, these regulations created difficulties for DFC Global. In a conference call on the company's preliminary results in the third quarter of 2013, when the regulations began to affect business, Jeffrey Weiss, the company's CEO, described how many of the company's competitors responded to the regulatory changes by "opening the doors and being as aggressive as they [could] in lending." Weiss guessed that they did so because "they [knew] sooner or later they're going to have to stop or shut down." Moreover, changes to the company's collections policies and ability to roll over loans also impacted the company's results. The company's ability to pursue borrowers was reduced, obviously making collections more difficult. Similarly, the fact that many payday lenders in the United Kingdom had to simultaneously cut off credit to borrowers at the same time due to the new rollover policies created a "credit crunch," in Weiss' words, that increased non-payments. Regardless of whether one thinks that the regulations brought out in 2013 were good for society as a whole, in the short run, they caused DFC Global's revenues and profits to fall. This reflects the first part of Broke, USA's lesson on alternative finance regulation-such regulation is popular, and can restrict business.
In the long run, though, DFC Global argues that such regulations will actually help the company compete with rivals. Since the regulatory changes, a consistent theme in the company's conference calls has been confidence that its scale and experience in dealing with regulation in other countries will let it handle the changes in regulation in the UK. Here is CEO Jeff Weiss in the third quarter of 2013:
We believe that is a publicly reporting global company, we are well-positioned to comply with any regulatory requirements in any jurisdiction in which we operate. As longtime shareholders know we had been down this road before with regard to regulatory changes throughout my more than 20 years with the company we also have to navigate through regulatory changes in both United States and Canada.
Moreover, Weiss' comments from the same conference call support the theory that more diversified companies benefit from regulation because of the wide variety of products they can offer:
In each case, our multi-product business model has provided us with a necessary flexibility to successfully adapt to the changing operating environments. We believe the regulatory transition we are currently going through in the UK is no different than what we have previously faced in our other markets and we fully expect our UK business but also reemerge from this transition much stronger and even better positioned against our competitors.
As can be seen, Weiss' comments support the lesson offered by Broke, USA that larger, more diversified companies in the alternative finance industry will be able to better work through the impact of regulation than their smaller, more monoline competitors. This has been borne out by the fact that many of DFC Global's competitors in the United Kingdom have had to shut down for being unable or unwilling to comply with regulatory changes. This can be seen in the company's 2014 Q2 presentation: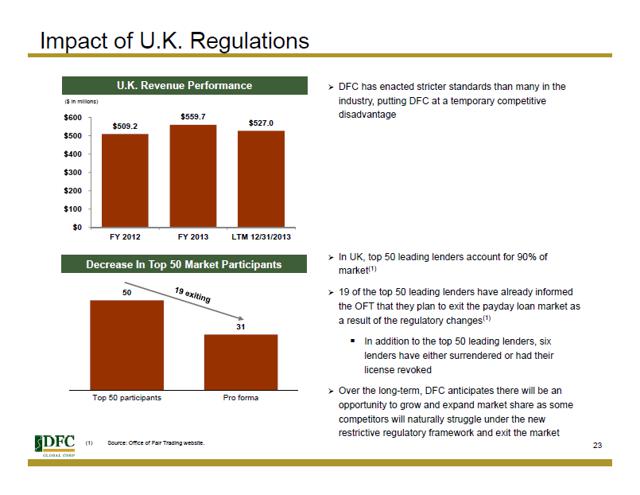 Source: 2014 Q2 DFC Global Corp. Presentation
It is, of course, necessary to take assertions from a company's management about the company's ability to work through regulation with a grain of salt, since management is usually biased towards optimism. However, this belief that increased regulation will drive out competition is also supported by other sources. A March 2014 BBC news story notes that up to a quarter of payday lenders in the UK may end operations as a result of the new regulations. This will give growth opportunities to the remainder to take the market share that the exiting companies once held.
Moreover, DFC Global's management does have credibility in discussing alternative finance operations in a regulated environment. The company's presentation notes that the majority of its US operations are in Florida and California, two of the most heavily regulated states that still allow payday lending in the US.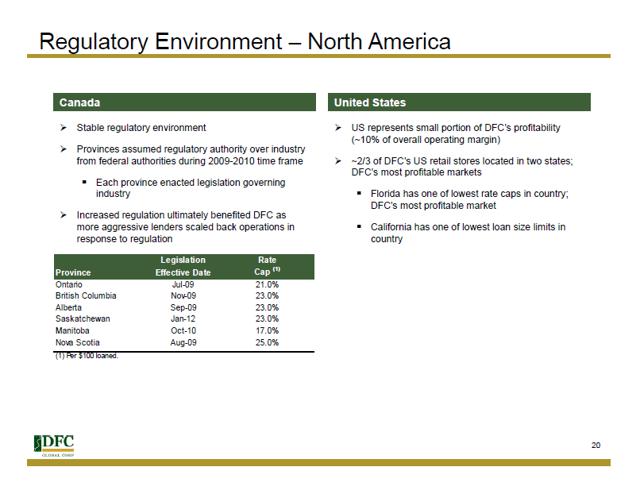 Source: 2014 Q2 DFC Global Corp. Presentation
The Florida example is particularly noteworthy because that state is mentioned in Broke, USA as a place where payday operators have succeeded despite stringent limitations on rates and on the number of outstanding loans a person can have at any one time. Despite such limitations, DFC Global describes the state as one of its most profitable markets. The company has not only survived, but thrived in highly regulated environments around the world, including Florida, Canada, and now the UK. This supports the idea that the experience of dealing with regulation around the world offers a competitive advantage to the largest operators, who can apply that experience to new regulatory challenges as they appear.
Thus, DFC Global's experiences are an example of regulation's effect on the alternative finance industry's largest operators. On the one hand, regulation does have a drastic short term effect on revenues and earnings. On the other hand, as Broke, USA shows, companies can successfully adapt to regulation. If DFC Global is indeed successful in using increased regulation as an opportunity to take market share from smaller competitors that are less able to meet new requirements, it bodes well for other investors in publicly traded alternative finance companies. Such companies, as generally the largest ones in the industry, should be able to use their size to navigate changing regulatory environments in the future as well.
Going Forward
In considering the threat of regulation to future investor returns in the alternative finance industry, I am reminded of the writings of one of my favorite investment bloggers, Brooklyn Investor. In a September 2012 post, the writer of the Brooklyn Investor blog paraphrased famous value investor Richard Pzena in noting that "Corporations are businesses run by people and not static entities. If there is low growth, they will manage for low growth. If there is inflation, businesses will manage for inflation. So whatever comes [their] way, businesses will manage through it."
The alternative finance industry has demonstrated its ability to manage through regulation. Broke, USA illustrates how such regulation is popular because it draws upon a visceral opposition to the industry's most important part-its high interest rates. However, the book also illustrates how, despite rate legislation's wide public appeal, the industry has not only endured, but thrived. Moreover, Rivlin's book shows how the largest operators in the industry have diversified to avoid the risk of regulation. In doing so, it offers a vision of how, going forward, the largest operators in the industry, including most of the publicly traded companies, may be able to continue offering high returns to investors despite the risk of regulation.
Of course, regulation is not the only risk to face the alternative finance industry. The industry faces many other threats, including threats from corporate misbehavior, competition, and changes in gold prices. These threats will be profiled in my next article, "Understanding The Alternative Finance Sector Through Gary Rivlin's 'Broke, USA': Pt. 3 - Corporate Misbehavior."
Disclaimer: The content here is not meant as investment advice. Do not rely on it in making an investment decision. Do your own research. The content here reflects only the author's opinions. Those opinions might be wrong. This content is meant solely for the entertainment of the reader and its author.
Disclosure: The author has no positions in any stocks mentioned, and no plans to initiate any positions within the next 72 hours. The author wrote this article themselves, and it expresses their own opinions. The author is not receiving compensation for it (other than from Seeking Alpha). The author has no business relationship with any company whose stock is mentioned in this article.
Editor's Note: This article covers one or more stocks trading at less than $1 per share and/or with less than a $100 million market cap. Please be aware of the risks associated with these stocks.